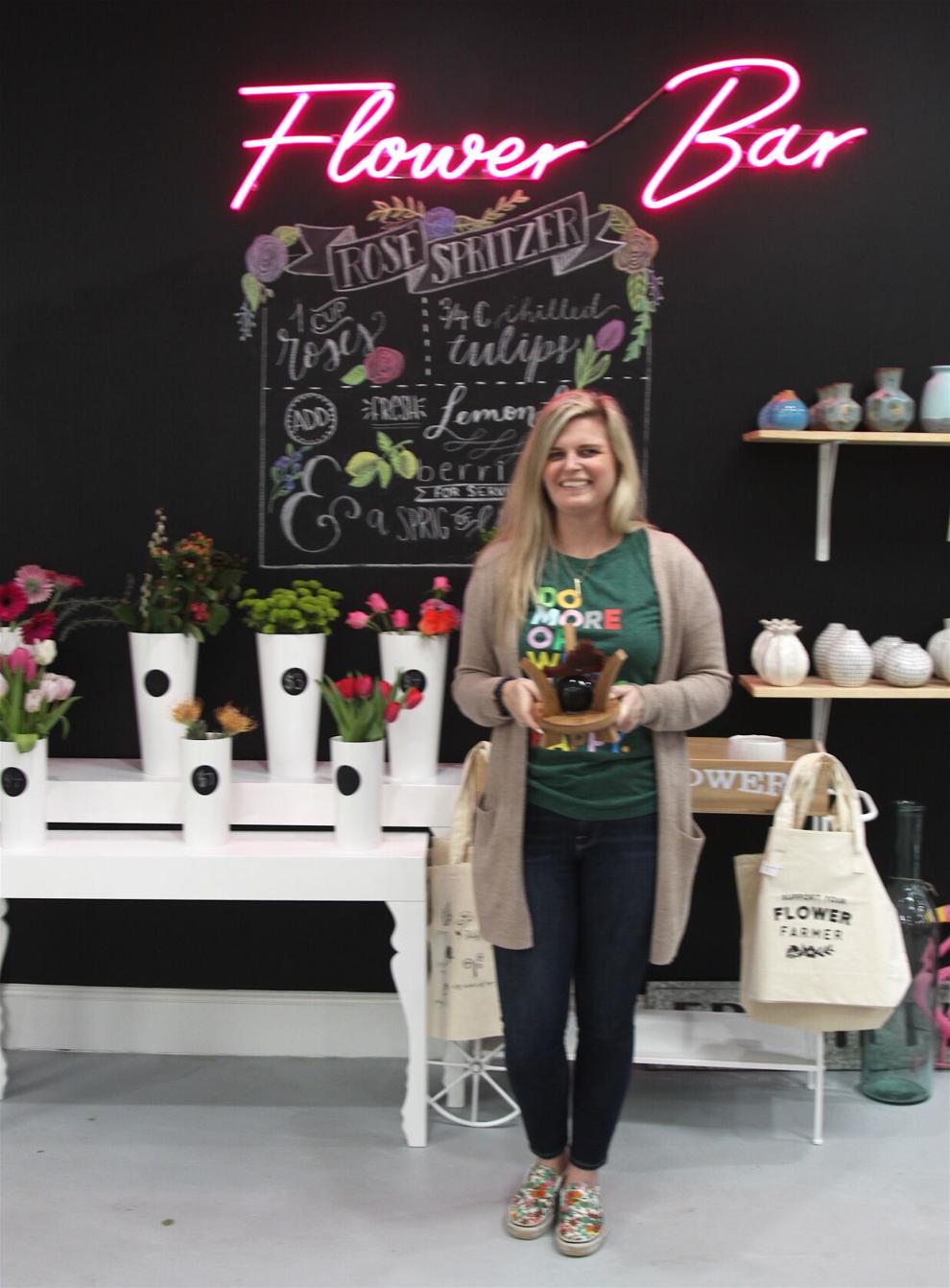 Spreading joy and cheer in downtown South Boston is what Amanda Day Rose, owner of Wister's flower shop, aims to do, from the bright blossoms in her flower arrangements to the smile on her face as she greets her customers.
"I want people to walk in and feel happy. If they're having a bad day, I want them to feel like they can come in here and feel joy," Rose said. "People say they come in here and it helps them relax."
Rose was named Young Professional of the Year at the Halifax County Chamber of Commerce's virtual annual awards banquet last week.
"I was really surprised and honored," Rose expressed. "I am really grateful and thankful to everybody for the support we've gotten in the past year…Downtown South Boston is a really fun community to be a part of. We all go into each other's businesses throughout the week, and everybody really supports each other."
Rose opened the doors of Wister's in January 2020. Her flower shop at 441 Main St. brightens up downtown South Boston in more ways than one. The bright and cheery atmosphere of the young entrepreneur's shop featuring an array of various-colored flowers is designed to put a smile on customers' faces when they walk in the door.
In keeping with the fun atmosphere, Wister's has a unique offering different than traditional florists — a flower bar giving customers the option of selecting blossoms to make their own bouquet. Each flower stem in the buckets on the flower bar has a price on it so customers know the cost of the bouquet they are creating before they head to the cash register to purchase their items.
Over the weekend, the cheer that Wister's brought to shoppers in downtown South Boston extended outside the doors of the flower shop. Rose put up a flower wall across from her shop outside town hall on Friday. The blooming wall featuring flowers from Wister's not only livened up the Main Street landscape but also paid tribute to unsung community heroes.
"We did the flower wall to spotlight the heroes that have been in our town for the past year. We have people in our lives who aren't getting any recognition for what they're doing," Rose explained. "So we took donations for the flower wall and made a poster listing everybody we received a donation for. A lot of people donated for a parent or a child."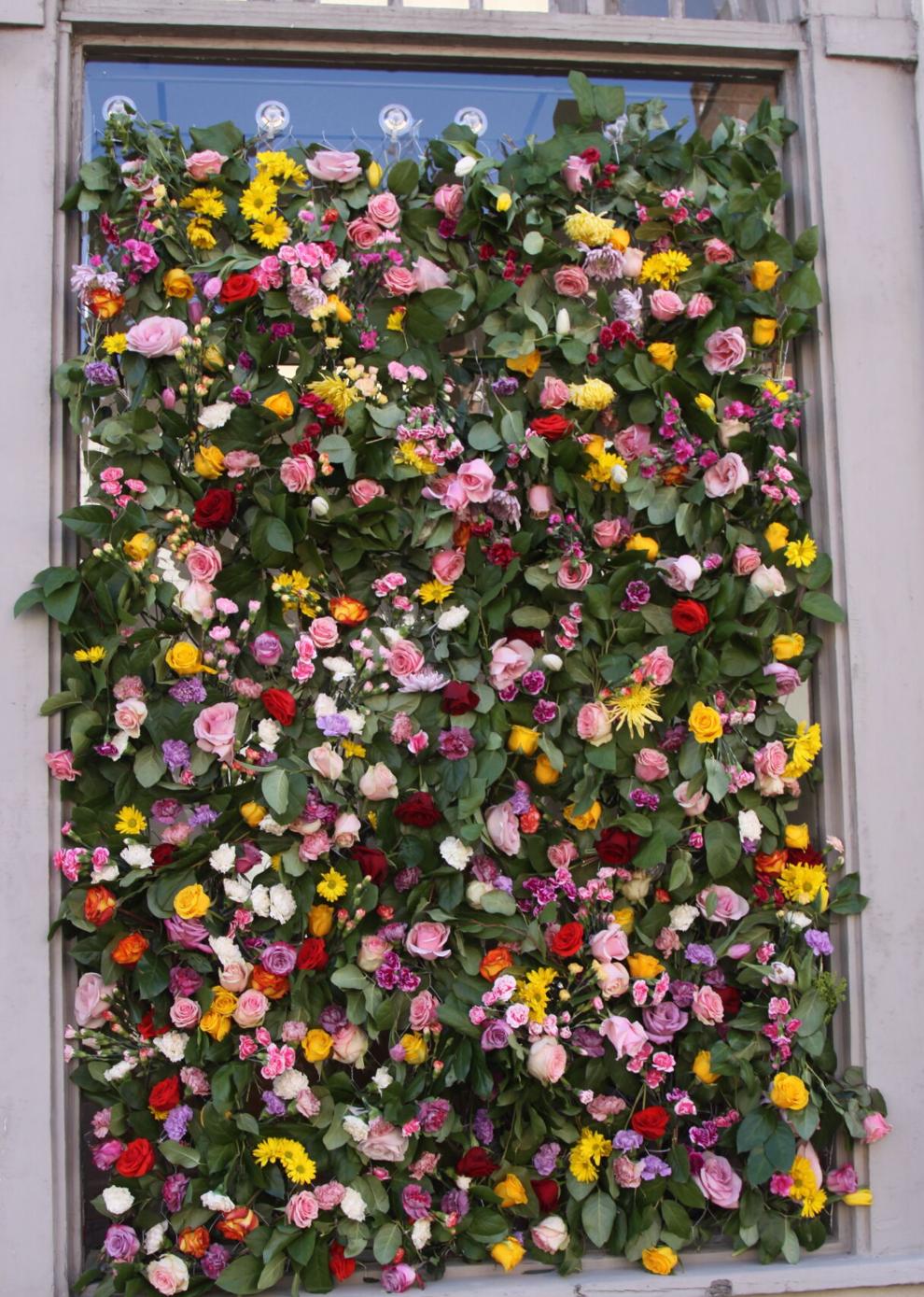 After purchasing flowers for the wall, Rose donated the remainder of the funds to the Halifax County Small Business Recovery Assistance Fund. Rose explained that community engagement is important to her, and it was part of her business plan for her flower shop.
"Wister's embodies community and innovation. Amanda thinks outside of the box and strives to bring joy to everyone's face," said Tamyra Vest, executive director of Destination Downtown South Boston. "Our downtown is a brighter, more welcoming place for its presence with Amanda and Wister's. A definite gem for our community and a true asset to our downtown district."
Rose also embodies "entrepreneurial spirit," Jeremy Holt, recipient of last year's Young Professional of the Year Chamber of Commerce award, commented as he presented the award to Rose at the virtual awards banquet. Rose's entrepreneurial spirit and fortitude were put to the test shortly after she opened Wister's, when the COVID-19 pandemic forced small businesses nationwide to close their doors in March 2020. But Rose found a way to keep her small business up and running, and a year down the road, Wister's is thriving.
"Having to work around the pandemic made us stronger as a business," Rose said. "COVID hit two months after we opened. We just had to adapt to the new surroundings. We started doing virtual sales on Facebook. We kept the lobby of Wister's open. People would order the flowers, and I would put them out on the table for them, and they would come by to pick them up. It was contactless but still gave you that feel of going out."
Now that springtime is here again, Rose said foot traffic in the store has increased. She also is starting to host how-to flower arrangement workshops, keeping membership in the workshops small so everyone can socially distance. The next workshop is planned for April 24.
Overall, Wister's is flourishing. Rose shared that the shop's inventory has increased significantly since last year, and the shop has added a baby section, small pet section and gourmet food section to its offerings. The shop also offers gift boxes for weddings and birthdays. Wister's success confirms Rose's thoughts that opening the shop on Main Street last winter was the right place and the right time.
The 38-year-old entrepreneur fulfilled her longtime dream of opening a storefront, naming her shop after her grandfather John Wister, who always kept his door open for friends and neighbors and supported her projects and interests. For Rose, being the owner of a flower shop is the best of both worlds. She says she is doing what she loves to do – making flower arrangements – while making others happy in the process, and community members can attest to that.
"She carries herself in her business and around town with the utmost positivity, even when faced with challenges," Vest commented. "You will always find her with a smile on her face."
Wister's is open Tuesday from 10 a.m. until 3 p.m., Wednesdays through Friday from 10 a.m. until 5 p.m. and Saturdays from 10 a.m. until 3 p.m.