Halifax County native Cameron T. Starke had one dream deferred, that as a kicker in the NFL, but the James Madison University graduate split the uprights in his career as a financial advisor.
Starke, now a financial advisor with Edward Jones, officially opened his office at 1993 Hamilton Boulevard on Friday.
"My role as a financial advisor and my mission is to find out what is most important to the individuals of this community and try to find their goals," said Starke.
Whatever specific program Edward Jones puts in place for any individual is geared toward their individual needs, Starke added
"Here at Jones, we use an established process to make sure we put them in a position to succeed and stay with them the rest of their lives to make sure they stay on track, whatever life may throw at them," said Starke.
A graduate of Halifax County High School, Starke spent 2009 as a student at West Virginia University, before transferring to James Madison University, where he graduated in 2014 with a Masters in Science.
Starke, who worked in IT sales in Raleigh, North Carolina, before joining Edward Jones, had first-hand knowledge of the firm through his mother, Nancy, who started with Edward Jones 15 years ago.
He started with Edward Jones in the summer of 2017 in Raleigh but was asked to return to his hometown to work about eight months later.
"Ryan Garrett and Chelsea Garrett called me and asked if I would come back and work in the community, so I said absolutely," recalled Starke, who had been working for Edward Jones in Raleigh, North Carolina.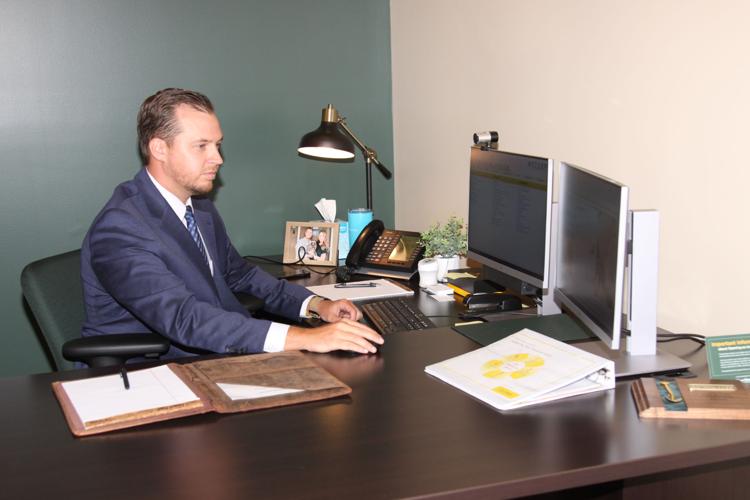 That proved to be a fortuitous move, according to Starke, who spent some time at the Edward Jones office in Halifax before finding office space next to Chris DeGraw on Hamilton Boulevard.
"Being a family friend of Chris DeGraw, I knew the space was available, and I reached out to him," said Starke. "He's been very vital in building this office."
Starke realizes a lot of individuals may not be well versed in financial matters.
Edward Jones has a proven track record in guiding investors along, a sort of proven process, he noted.
"People don't care about how much you know until they know how much you care," said Starke. "Before we ever get into anything like investments, I like to sit down and ask questions like, what are your goals, what's the point of you being here?
"Without a target, without a goal, the investments don't really mean anything. Anybody can sit and give you stock tips and the like, but the purpose behind that person's situation is what really builds that person's portfolio. That's where we start off."
There's a trust factor in his business, as much as any other, particularly where clients' investments are concerned, according to Starke.
"That's really the main focus, that I have their best interests in mind, and the process we have (at Edward Jones) is the best in the industry," he said.
"That's why we've been named number one in investor satisfaction by J.D. Power, not because of gimmicks or anything of that nature, but because people trust us."
The fact that he grew up and went to school in Halifax County should only contribute to the trust clients have in him, Starke pointed out.
"I'm really excited to be back and involved in the chamber of commerce and helping to promote young entrepreneurship," Starke pointed out. "Growing up here, you might think we may not have as much to offer, but truth be told the older we get, there are some exciting things coming to South Boston. There's some good opportunities here for kids looking to start a good career."