Construction on the SOVA Innovation Hub in South Boston — what can best be described as an economic shot in the arm for South Boston and Halifax County — is slated to get underway in November, Tad Deriso, president and CEO of Mid-Atlantic Broadband Communities, told Halifax County Industrial Development Authority board members during a presentation at their regular monthly meeting on Friday.
Earlier this year, Mid-Atlantic Broadband Communities (MBC) and Microsoft announced a partnership to build the SOVA Innovation Hub, with MBC to invest more than $5 million in its construction at the site once occupied by a former tobacco warehouse located on the east side of Wilborn Avenue in South Boston.
Deriso, who said they found evidence the old warehouse, which was destroyed by fire in 2002, may have been built as early as 1893, so he titled his Friday morning presentation 1893-2019 – Progress.
He anticipates being able to move into the hub sometime next fall in September or October.
Site demolition work is expected to wrap up at the site in the next week or two, and bids from J. E. Burton Construction, Blair Construction and other general contractors are currently under consideration, he said.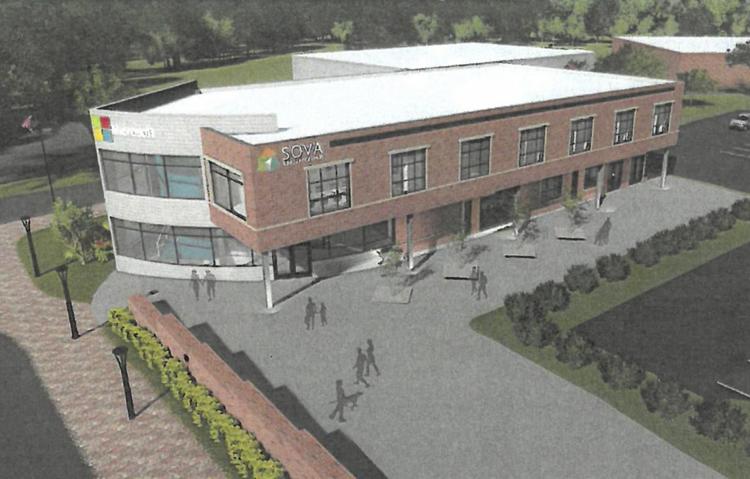 Microsoft, through its TechSpark Initiative, will use the space to encourage innovation and spur economic opportunities in the region, utilizing the SOVA Innovation Hub as a base for its TechSpark efforts, according to Deriso.
He explained they want to customize space at the hub to leverage Microsoft and its Tech Spark program and allow for the addition of partners such as CodeVA.
CodeVA is a non-profit that partners with schools, parents and communities to bring equitable computer science education to Virginia students.
"It will increase digital skills and digital literacy in Halifax County and South Boston," he added.
Microsoft plans to use the center as a convening space to leverage regional partnerships to offer programming, workshops and events that encourage entrepreneurism and expand digital skills and career pathways in the area.
Plans call for Mid-Atlantic Broadband to build a two-story, 15,000 square-foot brick and glass facility at the site once occupied by the former tobacco warehouse, according to Deriso's presentation to the IDA.
Mid-Atlantic Broadband will move from the Southern Virginia Technology Park to the new facility, as will Microsoft and TechSpark staff.
TechSpark and other organizations will be utilizing the facility for different opportunities, such as training and conferencing. TechSmart Southern Virginia is one of the larger TechSpark communities in sheer size encompasses Halifax County, Mecklenburg County, Brunswick County, Charlotte County and Lunenburg County.
Located on the first floor will be co-working space, the Microsoft Experience Center and a partner event space.
The second floor will house MBC headquarters and network operations.
A total of 50 plus parking spaces will be provided along with an electric vehicle charging station behind the facility.
The real impact of the hub will be "regionalism and working as a group to help students, business and our communities achieve more," he explained.
The Innovation Hub's mission is to serve as the focal point and gathering space for the Southern Virginia TechSpark region by bringing together regional non-profit partners, educational institutions and new start-ups, according to the MBCs presentation.
Initial program partners will benefit from the hub-spoke model to further enhance and expand their tech talent pipeline opportunities, and other partners in Virginia or surrounding states can be added as the program develops and expands.
It also will serve to drive economic development in the region, increase community impact and accelerate skills training and connections to jobs.
The SOVA Innovation Hub will operate as a 501(c)(3) organization, with MBC and Microsoft constituting the initial board, according to Deriso.
MBC will fund the new building, while Microsoft will fund the programming. Its goal is to serve as the focal point for innovation for different organizations and partnerships that MBC and Microsoft have put together the past two-plus years.
"It will be a very nice addition to downtown," Deriso said pointing to the benefits of locating in downtown South Boston include the partnership with Microsoft and the higher education center.
"We're excited to put this in downtown South Boston, where it's got those links and synergies with the higher ed center, and the R&D center at Imperial Lofts," explained Deriso. "We thought it would be great to be a part of that."
Mid-Atlantic Broadband Communities will finance construction and initially own the building, Deriso explained.
The building will be designed as a co-working space, with individual offices for people who need an office setup or can't get the right internet service at home, with space for people to come in and lease on a short-term basis, according to Deriso.
It also will feature collaborative work areas, event and training space, high capacity wireless broadband access and technology showcase areas.
And one of its most important attributes of the location of the SOVA Innovation Hub in South Boston is it will act as a magnet for other businesses to locate there, Deriso added.
MBC already has aligned itself with a number of regional partners, including Southern Virginia Higher Education Center, Danville Community College, the Institute for Advanced Learning and Research, Southern Piedmont Technology Council, Virginia Advanced Studies Strategies, Southside Virginia Community College and the Small Business Development Center at Longwood University.
"It's going to be an incredible hub for making things happen in the region, and we're so excited to be a part of it," he continued.
He told IDA board members they want to customize space at the hub to leverage Microsoft and its Tech Spark program and allow for the addition of partners.
Plans are for an innovation center on the first floor of the hub for use by non-profit organizations.
"It'll probably have some of the fastest internet speed on the east coast," Deriso said. "It will have a really good impact on this region."
Brian K. Brown, IDA executive director, said he views this new building as "being a driver for entrepreneuial development."
IDA member Nancy Pool said she is simply excited that Microsoft, a publicly held corporation established in 1975 and headquartered in Redmond, Washington, with revenues surpassing $100 billion and more than 134,000 employees worldwide, knows where South Boston is.
"This is very exciting, and we appreciate this confidence and investment," she added.
Deriso told IDA board members he believes this project "will be a big deal downtown, and hopefully this will make your job (of attracting business and industry) easier. It's another tool in your tool box to attract help with marketing," he added.
He explained that in addition to building the new SOVA Innovation Hub, MBC also pays $180,000 over three years to support SVHEC's IT Academy; supports the Halifax County CometBots robotics program to the tune of $10,000 a year; pays in excess of $500,000 to support the TV White Space Project for broadband access in Halifax County; and funds annual Wanda Jeffress college scholarships to Halifax County High School at a rate of $5,000 each year.
In other action at Friday's meeting, IDA members agreed to meet all day on Friday, Nov. 15, to hold a strategic planning session with a facilitator.
The site of the meeting is to be determined with members suggesting Berry Hill Resort or the Southern Virginia Higher Education Center.