After touting recent accomplishments of Halifax County, members of the Halifax County Chamber of Commerce recognized the Business of the Year, Businessperson of the Year and Young Professional of the Year at a virtual banquet Thursday evening.
Fighting back tears, Anne Eakes of The Busy Bean thanked the community after Steve and Karen Schopen of Molasses Grill announced her establishment as the Business of the Year.
"When the pandemic started, I was extremely scared, but then everyone started calling me asking how they can help. I'll forever be grateful and work hard to not let anyone down," said Eakes.
The Busy Bean is a coffee shop in downtown South Boston, but Steve Schopen said it's so much more than that.
"She created a space for members of the community to gather," said Steve Schopen.
He recognized The Busy Bean's cleanliness and attention to detail while becoming an attraction to downtown South Boston.
In announcing the Busy Bean as the Business of the Year, Steve Schopen said Eakes and her team have embraced the community with a smile.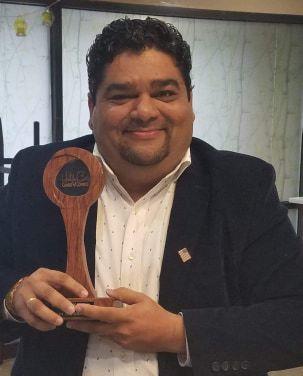 Last year's Businessperson of the Year J.R. Griffin then recognized Quality Inn owner Ankur "AB" Brahmbhatt as this year's winner.
Griffin said Brahmbhatt has made significant contributions to the area including serving on the tourism board, renovating Quality Inn, working with local contractors, reopening Papa Johns, helping Tri-County Community Action Agency and more.
He thanked Brahmbhatt for adopting South Boston and making it home.
In accepting his awards, Brahmbhatt thanked everyone who had helped him in all of his community and business endeavors.
He said everyone played an equal part in ensuring his success.
"You all are responsible for who I am today. Thank you," said Brahmbhatt.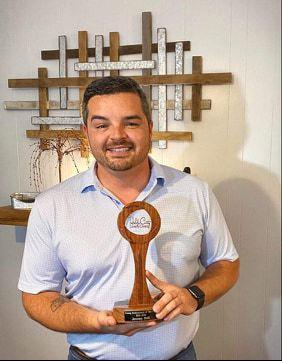 The night then turned to the Young Professional of the Year when Lauren Tetterton announced realtor Jeremy Holt as the recipient.
Tetterton recognized Holt's "unique marketing," his work with the chamber and the Cantaloupe Festival Committee, his voltunteerism with Halifax County Cancer Association and the Humane Society, his donations to various groups, and she noted that he was recently named part of the top 50 realtors under 30.
"I am in complete shock," said Holt, who also said it was a compliment to follow behind Tetterton in receiving the award. He also offered a congratulations to Eakes and Brahmbhatt.
"Thank you. I really appreciate it," he concluded.
Then before ending the night with a virtual wine pull, Dr. Betty Adams with the Southern Virginia Higher Ed Center asked those watching to raise a glass and toast to this year's winners.