Enrollment for nursing programs at the Southern Virginia Higher Education Center is steady despite a mass exodus from the medical field across the nation, yet another fallout from the coronavirus pandemic.
The impacts are leaving many health systems across Southern Virginia facing a worker shortage. In some areas that means hospitals must go on what's known as diversion because there isn't enough staff to cover additional patients.
The same situation is playing out across the nation.
"Facilities nationwide are facing the challenge of a nursing shortage and the overwhelming mental stress in relation to the care of COVID-19 patients," said Melissa Arthur, Southern Virginia Community College's program coordinator for associate degree nursing program and the practical nursing degree program offered through the SVHEC. "There are other factors as well such as the restrictions placed inside health care facilities with the changes in visitation policies."
Arthur has seen a mixed bag with new students. Some are driven into the field because of the pandemic, and others are questioning health care jobs in general.
Still, enrollment in programs — SVCC offers an associate degree in nursing, a certificate program for practical nursing and certified nurse aid classes — remains stable and on pace from previous years.
All students are able to find a position within six months of graduating, she said. Many go to work at Sentara Halifax Regional Hospital or nursing homes in nearby localities.
"The pandemic took the world by surprise and took the medical field on an up-and-down roller coaster ride," Timonee' McCargo, a nursing student at SVCC, told The Gazette. "Applying for nursing school during a pandemic and seeing the toll it was taking on nurses in our own community was definitely eye opening."
McCargo wasn't worried about the educational journey, and even with pandemic, her career path didn't change.
"I witnessed first-hand working at Sentara Halifax Regional Hospital how well our health care workers in this community pulled together to provide the best care, and this only added to my desire of becoming a nurse."
Bailey Hammond, also a nursing student with SVCC, plans to continue his education to become a family nurse practitioner.
"The field of nursing is constantly evolving and with the onset of COVID-19 there is a large learning curve for the entire medical field," he said. "Nurses truly are the frontline defense, continually caring for their community amidst a pandemic."
Hammond says it's a "great field" to enter and praises the local program.
"It's hard to say what the future in the nursing field will look like, but I look forward to doing my part as a nurse to care for others in their time of need," McCargo said.
Overall, SVHEC's enrollment has bounced back after taking a pandemic hit.
"While community college and workforce training programs were able to quickly transition to virtual learning, enrollment during the thick of the pandemic (shutdown) was impacted," Betty Adams, the executive director of the SVHEC, said.
That meant delaying starting some of the workforce training cohorts, impacting enrollment.
"We're happy to report that enrollment bounced back this fall," Adams told The Gazette via email.
Back to class
While online learning has advantages and gained steam through the pandemic, an overwhelming majority of students would rather be in class face-to-face.
"We've heard many students express how happy they are to be back in a classroom setting," Adams said. "Some components of virtual learning will continue as it has provided new opportunities for some students."
The hands-on aspect of classes — especially workforce training — combined with poor internet connection likely will keep students wanting in-person learning down the road, she said.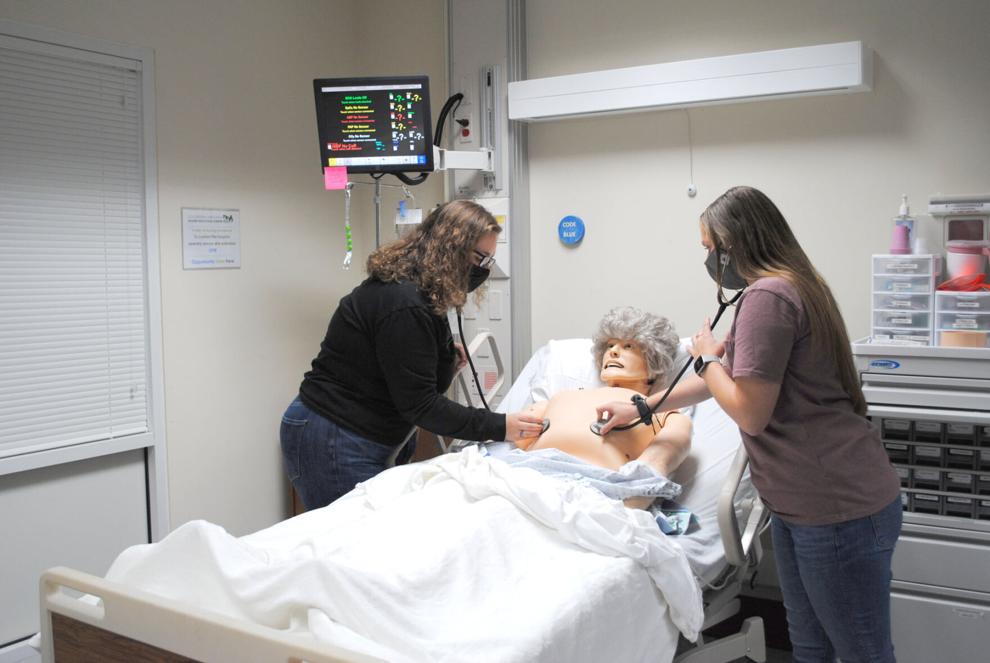 Virtual has its place
But for other classes, the online component — accelerated by the pandemic — provides more access and increases efficiency.
For example, having the ability to livestream to or from SVHEC classrooms means community college partners only need one instruction for multiple locations for the same course, Adams explained.
"This also meant that students had access to classes in their home communities rather than having to drive to Danville, Alberta or Keysville," she said.
SVHEC was already on a path for livestreaming instruction — specifically called Zoom rooms — before the coronavirus hit in March 2020 and shuttered in-person learning for many months. Working over the last three years to upfit classrooms meant the SVHEC was "ahead of the curve" when virtual learning was the only option.
But, the pandemic also made college leaders reexamine online options.
"For SVHEC's non-credit workforce training classes, the pandemic absolutely accelerated virtual class options," Adam said. "Because these programs are hands-on, having a virtual component was not in our immediate plans."
This in turn opened the door to allow more students in a cohort. In the IT Academy, adding a virtual component means they can serve more people.
"The pandemic made us adjust and apply some creativity, and as a result, today our workforce training programs are much stronger and better able to adapt to changes," Adams said.