This week is some of the busiest days of the year for florists as they prepare for Valentine's Day on Monday.
On top of the usual hustle and bustle of this time of year, they continue to face the effects of the COVID-19 pandemic such as shortages in supplies and the struggle of finding help.
Local florists Gregory Florist, Buttercups and Wister's have all been dealing with shortages of supplies and flowers.
Sue Wilkins of Buttercups and Sonja Gregory of Gregory Florists have both been dealing with the struggle of finding oasis.
Oasis is a green foam that is used in arrangements to help stabilize flowers.
"There was an eight to 10 week period where we couldn't find any online," said Gregory.
Wilkins also explained that before they would get low on products, but they wouldn't worry about it, and there have been days when they weren't sure when they would get a specific product.
"Things you never thought of being short of we were short of. We just have to have good suppliers, and it's what you count on," Wilkins added.
The owner of Buttercups also said its been difficult to get easels, baskets and red vases for Valentine's Day.
"I can't get them. I've been trying to get them for a month or two," said Wilkins.
She was able to get some vases, but it wasn't her first choice.
"Supplies have been a big issue," Amanda Day Rose, owner of Wisters added.
"We're finding some of our supplies is on back order for up to a year, and some we don't even know if it's coming back anytime soon. So we've definitely been getting creative with our solutions! Luckily, it's actually made us become more eco-friendly, I think," she added.
Wilkins and Gregory have been in the same situations.
They also mentioned that often times they're able to work together and with other florists such as Puryear's Florist to borrow supplies when needed.
Also, often times what they end up using isn't the most ideal.
"Sometimes your third choice is your only choice, but we've gotten to use to it," said Wilkins.
Rose also said there has been a nationwide flower shortage, and they've had to get a little creative with what flowers they use during the colder winter months.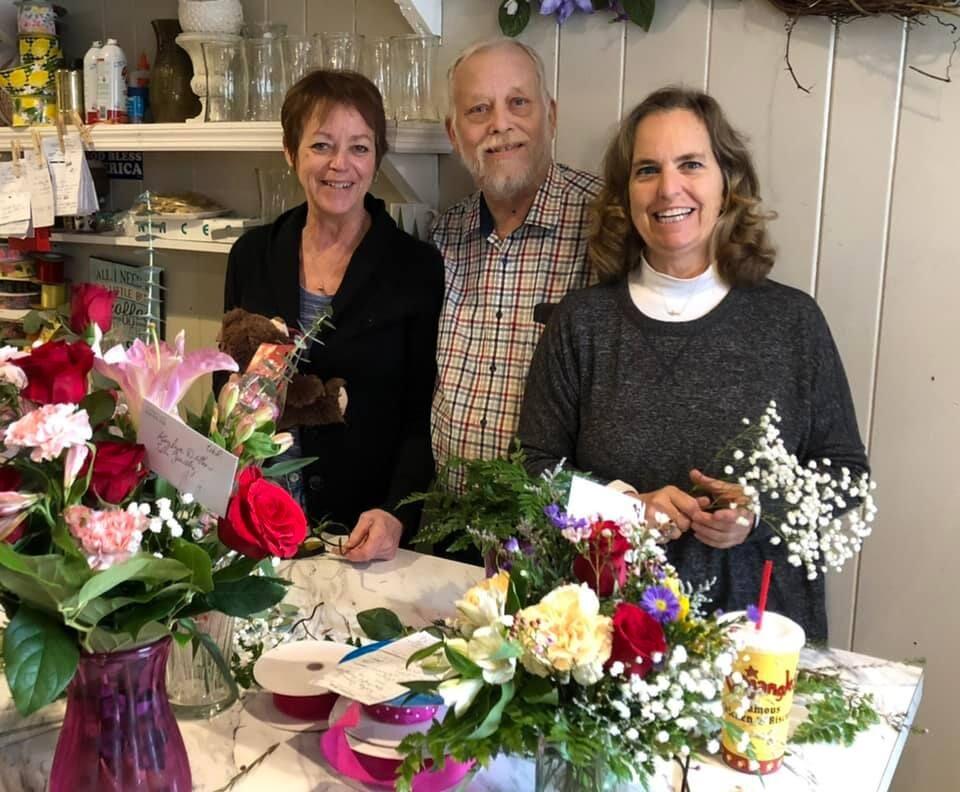 For Rose, it's been difficult getting roses in a specific color, specialty flowers are "hit or miss," and it's been harder to get standard flowers in a specific color.
"Being more open to a color palette rather than a specific flower is sort of how we're approaching it right now," she said.
Gregory also said its been difficult for her to get peace lilies and items for her gift shop such as Russell Stover candies. The last time she ordered Russell Stover candy, she was only able to get a fourth of what she wanted.
"We don't know when we'll get product. At times, it's scary," said Gregory, who also noted that their prices are going up
"Everything's going up, and everything has a surcharge on it," she added.
Business is also something that has fluctuated throughout the pandemic.
Funerals were one aspect of life that was changed throughout the pandemic due to individuals gathering less. Some families are opting to host a memorial at a later date.
Wilkins explained saying, "Funerals are our biggest business, and I know a lot of people are not having them. There's also cremation, and usually with cremation, they don't have as many flowers."
She also said they provided flowers for the gift shop at Sentara Halifax Regional Hospital, but that has closed. Churches closing their doors also were another aspect of the pandemic that Wilkins said hurt her flower business.
Gregory also said, "We've held on, but it's been tough."
In the beginning of the COVID-19 pandemic, she said people were scared to come into her shop, but things are starting to turnaround.
In recent days, calls have been coming in steady to local florists for the Valentine's Day holiday and it's a little trickier this year with the holiday falling on a Monday. Florists don't have the usual days right before to prepare.
When Wilkins first became a florist, she had no idea the amount of business they'd receive for Valentine's Day.
"I had no clue," Wilkins admitted.
This year she's just hoping that she's able to get all the help she needs to get arrangements delivered.
For Wister's, Rose said business has been well, and they started prepping for the Valentine's Day holiday in January.
"It's been a rough couple of years, and it's a great excuse to give and receive fresh flowers to help brighten people's days! We've gotten a lot of preorders, so I'm excited to get started later this week," Rose said earlier this week.