In December, Halifax County added more COVID-19 cases and deaths than any other month in 2020.
Out of the 1,141 cases recorded last year, 325 — or about 27% — were added in December. Nineteen new deaths also went down in the record books, mostly linked to an outbreak at a South Boston long-term care facility first reported in October.
The latest federal filing from the week ending Dec. 20 indicates there were 37 COVID-19 deaths at South Boston Health and Rehab — formerly known as Woodview — an increase of one from the previous week.
That report comes from the Centers for Disease Control and Prevention's online database of long-term care facilities.
As of Friday, only 23 of those fatalities have been recorded by the Virginia Department of Health. That's because state health workers must wait for a death certificate before entering the information into an online database. That process often takes several weeks and creates a lag in the death reports.
Since Thursday, two additional deaths were added to the Virginia Department of Health logs for an official total of 38 so far. That figure is sure to increase as more of the long-term care center deaths are included.
The state reports the former Woodview facility's outbreak that infected 217 people is no longer active. That means two incubation periods — or the time between being infected with COVID-19 and possibly showing symptoms, which is 28 days — have passed without an onset of a new illness.
Over at Berry Hill Health & Rehab Center, an outbreak reported in early November was still considered active as of Friday, as it had not reached that 28-day threshold. The state reports 35 individuals there have tested positive for the illness caused by the novel coronavirus. 
There are no deaths reported at the Berry Hill facility.
Dr. Scott Spillmann, director of the Southside Health District that includes Halifax County, recently noted that "we are still very much in the trenches of this pandemic," and he urged residents to continue practicing COVID-19 prevention methods.
"Continue taking steps to protect yourself and others, such as covering your mouth and nose with a mask, washing hands often, and staying at least 6 feet away from others," he said.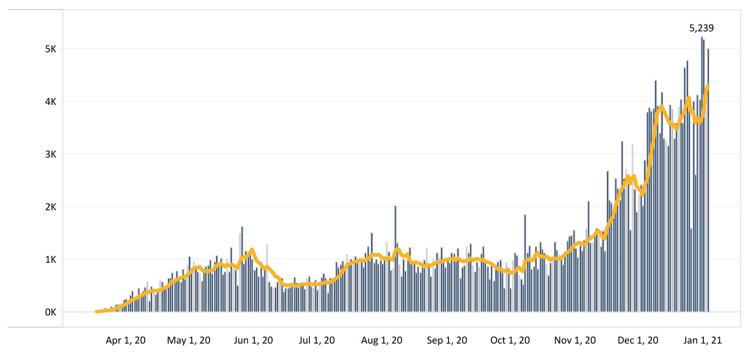 State sets another record
Virginia shattered a daily caseload record on New Year's Eve with 5,239 new infections reported. Two other recent days — Friday and Sunday — saw new cases above the 5,000 mark.
The surging cases come after Christmas when health experts warned that holiday gatherings would lead to a bump in infections.
Those new cases also sent Virginia's positivity rate to 15.3%, the highest level since mid-May. The percent positivity calculates the number of positive results against the overall number of tests administered. A growing positivity rate, as experts have noted before, can indicate an impending surge of cases. High figures also show the virus is not under control in communities.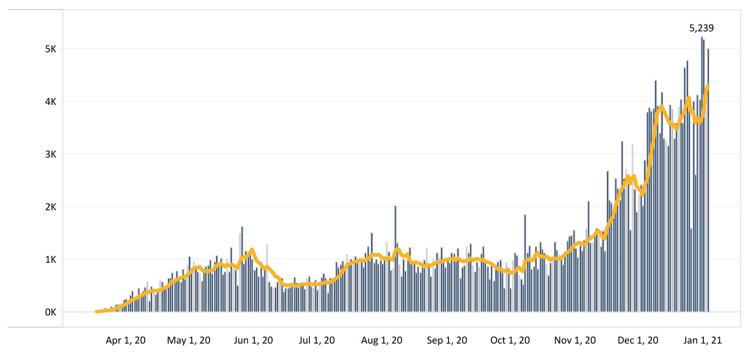 In the Southside Health District — an area that includes Halifax, Mecklenburg and Brunswick counties — the positivity rate is 12.2%, the highest since August.
While more people are receiving positive results, fewer people are being tested, data shows. This happens over holidays when doctor's offices are closed, and there aren't any public testing sites established. In the Southside district, there's an average of 222 COVID-19 tests given per day, a drop from about 420 in mid-December.
The decline in testing is troublesome, according to a previous University of Virginia report, as it could mean people have the illness and are unknowingly spreading it. It also means the official caseload count may underrepresent the spread of the illness. 
Sunday's Data
| Location | Cases | Deaths | Hospitalized |
| --- | --- | --- | --- |
| Halifax County | 1,173 | 38 | 28 |
| Mecklenburg County | 1,328 | 39 | 67 |
| Danville | 2,452 | 63 | 175 |
| Pittsylvania County | 2,774 | 38 | 132 |
| Henry County | 2,757 | 55 | 219 |
| Martinsville | 1,031 | 27 | 99 |
| Virginia | 363,762 | 5,125 | 18,310 |
Demographics
The majority of deaths in the Southside Health District occur in residents 80 or older. About 63% of the fatalities happen in women.
In general cases, it's the 50 to 59 age group that has the most infections in the three-county district. The 30-39 age group is the second range with the highest number of positive tests results.
In the Southside district, children are on the lowest end of the caseload spectrum with 82 positive results in those 9 and younger. Those age 10 to 19 are the second lowest group with 174 cases recorded.
Vaccines
Across the nation and locally, vaccinations have been off to a slow start. Out of slightly more than 400,000 doses of the COVID-19 vaccines in the state, Virginia has administered 87,618 of those.
In Halifax County, 262 residents have rolled up their sleeves to get the first of two shots. Individuals receiving doses in the first round — known as Phase 1a — include emergency medical services personnel, front-facing staff in primary care medical offices, dentists' offices and others who provide direct health services in various settings, specifically those who come in contact with COVID-19 patients.
The local health department is conducting what it calls closed COVID-19 vaccination clinics for those priority groups. That process started on Dec. 23, according to a news release.
The COVID-19 vaccine is not available to the general public, health officials stress.
Also included in the first-round phase are long-term care residents and staff who are being vaccinated through a federal partnership with CVS and Walgreen's.
It won't be until the summer when the COVID-19 vaccine is expected to be widely available for the community, according to the state health department.