Ken Warfield, pastor of Fork Baptist Church in Scottsburg, and his family were sitting around the dinner table getting ready to bless the food they had cooked for their son's 13th birthday when Warfield saw the news on Facebook that Halifax County Public Schools would have to suspend its lunch program for a week.
The school system had to suspend the program after a food service worker tested positive for COVID-19, and eight employees had to be quarantined.
After he read the information, he looked at his son Drew and asked him, "wouldn't it be nice to bless the kids?"
His son replied, "I would really like to do that."
Another Facebook post and two hours later, 30 volunteers were ready to scour all the groceries stores in Halifax County and Danville for lunch supplies and to pack 1,300 bagged lunches.
Each bag was filled with a sandwich, a salty snack, a sweet snack, a piece of fruit and a drink.
One of the volunteers was 13-year-old Erin Cannon, who helped bag lunches and pass out food at Halifax County Middle School.
"I'm just happy that I can help," said Cannon. "Everyone seems really surprised and really grateful that we're doing this."
Superintendent Dr. Mark Lineburg also expressed his appreciation to Warfield, his congregation and other volunteers for filling the need.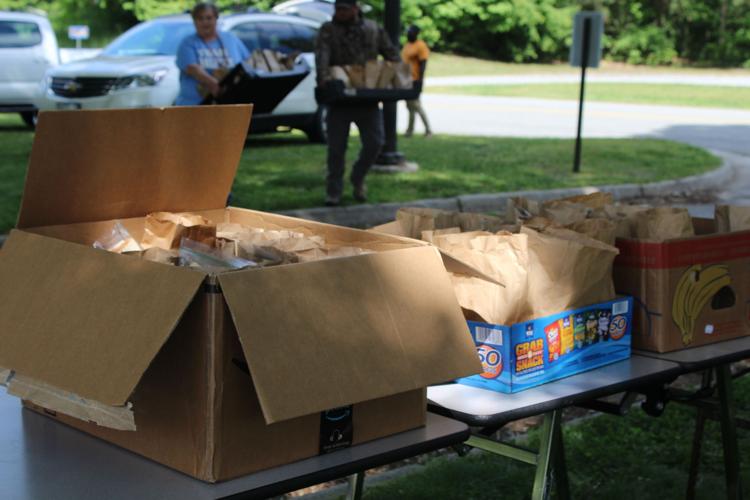 "I just give a heartfelt thank you," said Lineburg. "It's amazing what they did. It's just really appreciated. I don't know if we could have done it without them."
Growing up in the projects in Baltimore, Maryland, Warfield understood the importance of feeding the local children.
He too was dependant on those free programs growing up as well as a lot of his friends.
When he was in fifth grade, he even helped deliver food to the hungry just as he is doing now.
"Now that I'm 50, it's nice now too," said Warfield.
When they first started feeding the community Monday, parents and guardians were invited to pick up lunches at Halifax County Middle School.
But by Wednesday, when word had spread of the free lunches, they were able to pass out food at all of the sites that had been participating in the school system's lunch program – the middle school, Scottsburg Elementary, Cluster Springs Elementary and Sydnor Jennings Elementary.
They started with 1,300 lunches on Monday, but they had grown to needing over 1,500 lunches by Wednesday. More volunteers had stepped in to help by Wednesday as well increasing to over 100 volunteers.
They also rode around to different areas of the county handing out bagged lunches to those who may not have transportation to get to a local school.
"We're covering areas from Cody to Alton. I'm headed to Miller Homes and Willow Oaks now," Warfield said on Wednesday.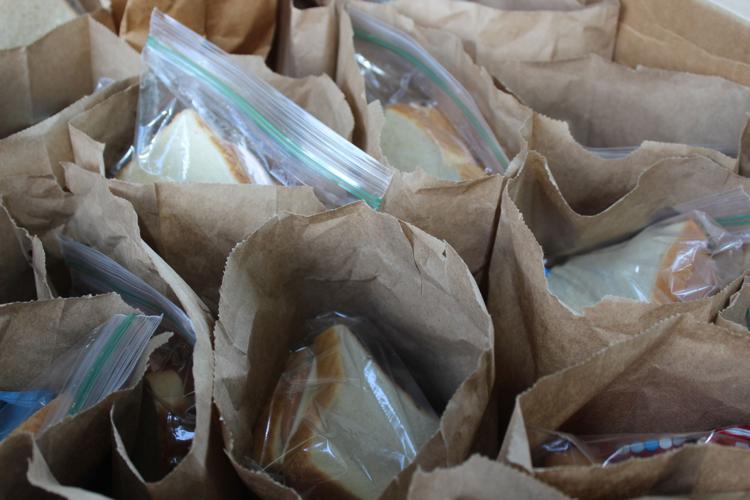 And, he said the response he's received has been "incredible.
"They love it. They're so thankful. Some are saying they hadn't had any meals from the school system because they hadn't been able to get to the schools. They're so happy we're able to bring it out. It's such as blessing," said Warfield.
Other churches and individuals also have donated and volunteered towards the cause, and the pastor is thankful for all of the help.
"No one is looking at race. No one is looking at gender. They're looking to see if you're hungry and feeding them as Christians need to do," Warfield concluded.
The Halifax County Public Schools' lunch program is expected to resume Monday, and Lineburg isn't expecting any changes.
While they are disinfecting the middle school this week, he said they already were taking necessary steps to be safe.
"We already had precautions in place. It's hard to know how our employees were exposed. We're going to go back in and be safe about," the superintendent concluded.