Come Friday — if current downward trends hold — Virginians will be able to get that much needed haircut, churches may begin holding indoor services at half capacity and restaurants may offer outdoor dining with restrictions.
But in many ways when the commonwealth enters phase one of reopening it will look a lot like today, Gov. Ralph Northam announced Friday.
Restaurants will be allowed to open outdoor seating at 50% capacity, but indoor dining remains closed under phase one of Forward Virginia, the blueprint for reopening businesses shuttered by a late March executive order to slow the spread of the coronavirus which causes the severe respiratory illness COVID-19.
Gyms along with entertainment and amusement venues must still remain closed, although some options for limited outdoor fitness sessions are possible. Non-essential businesses may open with 50% capacity.
Northam likened this approach to a dimmer switch: Rather than flipping a light on, the state will slowly dial up options for businesses to reopen in measured phases.
"We are not opening the floodgates," Northam said at Friday's briefing. "When the time is right, we will turn up the dimmer," instead of flipping on a light switch.
If current downward trends continue, Virginia will enter this phase one of reopening on Friday, but Northam notes officials are closely monitoring the data for any changes.
The stay at home order will slightly scale back to a safer at home order.
"People who are more at risk due to age and health conditions should stay at home as much as possible," Northam said.
In general, the ban on social gatherings of more than 10 people will continue as well as recommendations for social distancing, teleworking and wearing face coverings.
All businesses should make modifications to maintain 6 feet of physical distancing, increase cleaning and sanitization of high contact surfaces, and provide enhanced workplace safety measures, according to a news release sent Saturday from the governor's office.
"The virus is still in our communities," the governor stressed.
"I am proud of the millions of Virginians who have stayed home and helped to flatten the curve, but our work is not done," Northam said in Saturday's statement. "When we move into this first phase, it will be important for Virginians to act cautiously — especially our most vulnerable populations, the elderly and those with underlying medical conditions."
A key measure in the first phase is testing. The state has set a threshold of 10,000 tests per day, a task not yet reached.
Dr. Karen Remley, a former health commissioner who was tapped to lead a group on virus testing in Virginia, said Friday "we are slowly, but surely moving up to this number," but couldn't provide an exact date on when the testing goal would be reached.
Dr. Clifford Deal, president of the Medical Society of Virginia, said they are conducting an assessment around the state "to determine what's needed to move forward" in an effort to ramp up testing.
When asked why retail establishments may open at 50% capacity but indoor dining cannot, Northam said "That's what we feel is in the best interest of Virginians," after a "tremendous amount of discussion with restaurant owners."
Phase one may last two weeks or longer, Northam said.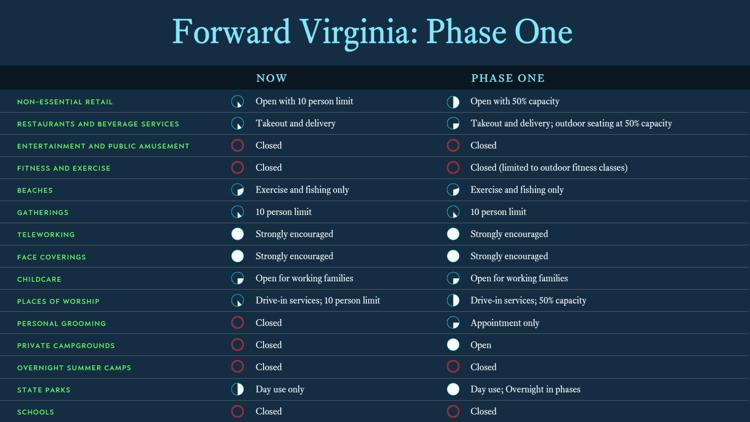 General business guidelines
The Virginia Forward plan outlines guidelines for all businesses including:
• Provide clear communication and signage for physical distancing in areas where individuals may congregate, especially at entrances, in seating areas and in check-out lines.
• Limit the occupancy of physical spaces to ensure that adequate physical distancing may be maintained.
• Encourage telework whenever possible.
• Where possible, employees and customers should utilize face coverings. Where 6 feet of physical distance is not possible in a given business setting, employers should provide face covering to employees.
Personal care and grooming
Salons and barber shops may open under conditions including:
• Capacity must be limited to no more than 50% of the lowest occupancy load on the certificate of occupancy while maintaining a minimum of 6 feet of physical distancing between all individuals as much as possible.
• Services must be provided by appointment only, with only one appointment per service provider at a time.
• Stations must have at least 6 feet of separation. Also, waiting areas also must maintain that 6 feet of physical distancing.
Places of worship
Places of worship have had a 10-person limit and have been allowed to hold drive-in services. In phase one, drive-in services may continue, and services may be held inside at 50% capacity among other regulations including:
• Individuals attending religious services must be seated at least 6 feet apart at all times and must practice physical distancing at all times. Family members may be seated together.
• It is recommended that persons attending religious services be encouraged to wear face coverings over their nose and mouth at all times.
• No items must be passed to or between attendees, who are not family members.
• Any items used to distribute food or beverages must be disposable and used only once and discarded.
• A thorough cleaning and disinfection of frequently contacted surfaces must be conducted prior to and following any religious service.
Restaurants
During phase one, businesses should continue to offer takeout and delivery options. If businesses choose to open to dine-in customers, they may only do so in outdoor spaces and must adhere to additional requirements including:
• Occupancy must be limited to no more than 50% of the lowest occupancy load on the certificate of occupancy while maintaining a minimum of 6 feet of physical distancing between all individuals as much as possible.
• Provide a minimum of six feet between parties at tables.
• Do not seat parties of more than 10 patrons.
• Use single-use disposable menus and discard after each customer.