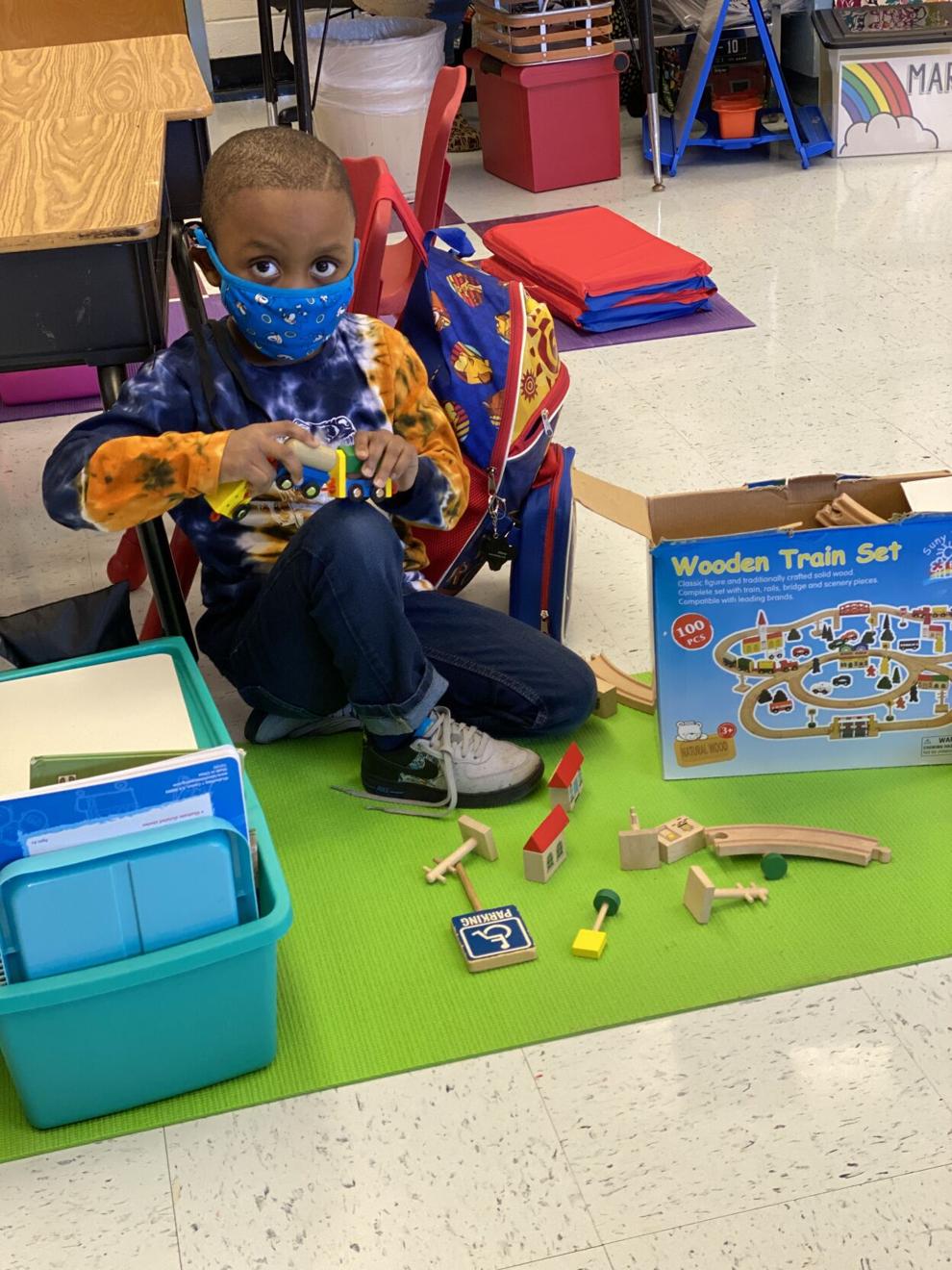 When Andrew Barksdale was a custodian at Sinai Elementary School, he was well known by the students in the building and interacted with them frequently with hugs and high-fives.
So, it broke his heart this year when a student came running towards him after P.E. at his new school, Sydnor Jennings, wanting a hug.
"He didn't understand why I couldn't physically give him one. This tore my heart into pieces," said Barksdale.
"The look on his face was very sad, but after I explained why I couldn't physically give him a high five, he understood. Some of these students really rely on our love, support and the trusting relationships in the school. I think the student gets it now."
When it happened, Barksdale was quick thinking, and explained to the student why they couldn't touch, and instead offered to give the student an "air-five."
Two days later the student remembered and approached Barksdale saying, "How about that air-five?"
"The smile he had behind his masks made my day," he added.
This is just one instance of many of how students, teachers and staff are adjusting to their daily-distanced and health-conscious interaction amongst one another since the return to in-person instruction. Students began reentering Halifax County Public Schools on Feb. 22 after being shut down for almost a year.
Saturday will be the year anniversary of when Governor Ralph Northam shut down Virginia schools for a minimum of two weeks in response to the spread of COVID-19. Then on March 23, 2020 Northam proceeded to close all K-12 schools for the remainder of the academic year.
As the fall approached, school systems began slowly allowing students back into their buildings in small groups. HCPS began allowing special education students, but later pulled them out of the buildings due to the high spread of COVID-19 in the county.
Now with students returning two-days a week, they have plenty of health and safety measures in place and have stepped up cleaning and sanitizing duties.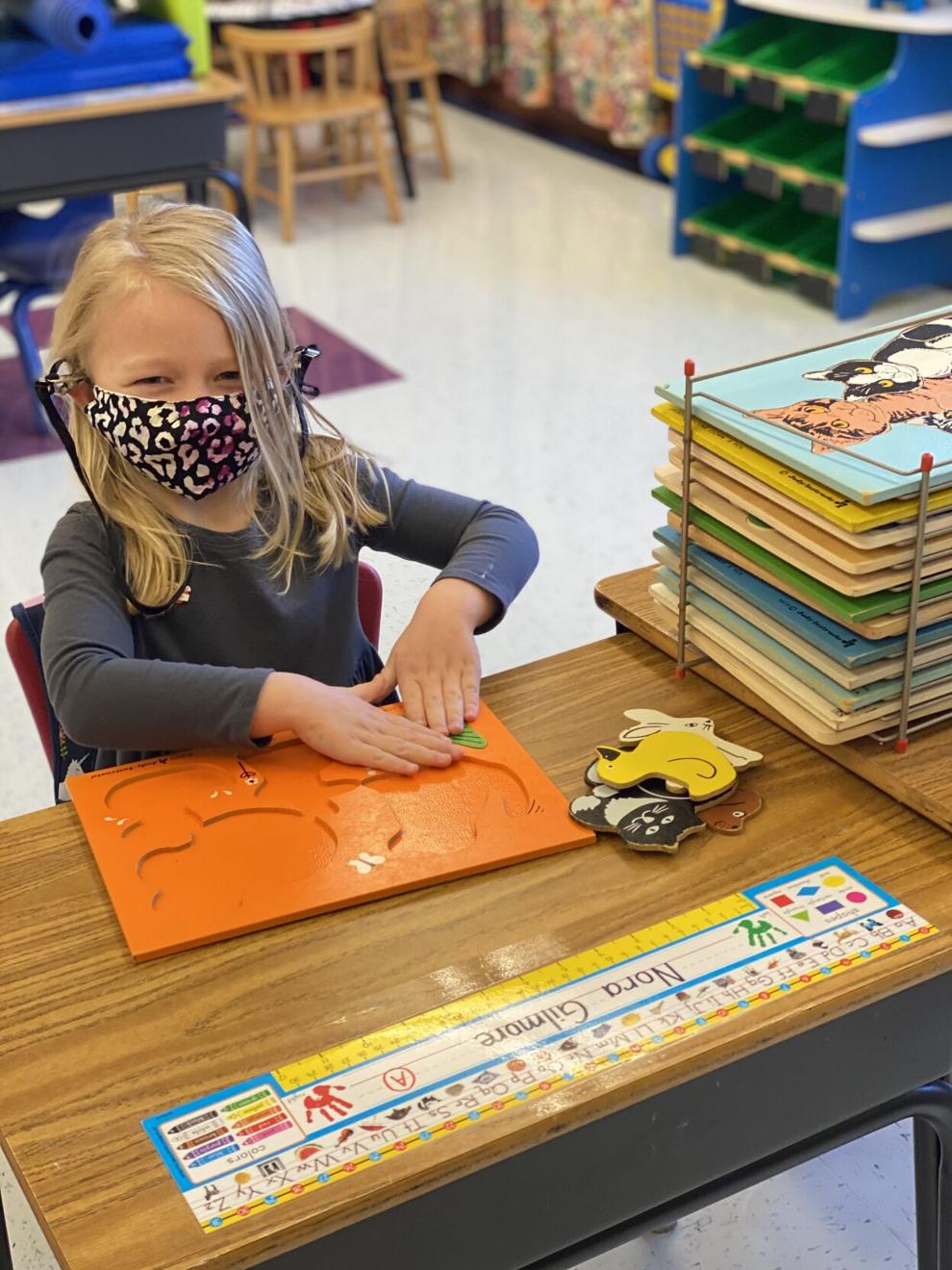 "Over the past year, dealing with COVID 19, our school division has done an awesome job with getting students back in school. Yes, there have been some challenges, but nothing too hard that we could not face. Protocols have been implemented to ensure that our students, faculty and staff are safe and well taken care of such as touchless hand sanitizing stations, floor markings, touchless water bottle refill stations, new components put into our ventilation systems and purifiers throughout the schools," Barksdale explained.
He also said the custodial team is wiping down door handles, push bars, water fountains, walls, carts, etc, every hour of the day.
"I feel very good about the students being back in the building, because I know that we have taken every necessary precaution," said Barksdale.
Students and staff are distanced, wearing masks, eating meals in the classroom and not allowing visitors, but teachers, staff and students are still finding ways to connect with one another.
One may catch Cluster Springs Elementary School third grade teacher Devin Dillow at her doorway greeting students in the morning with a wave, foot tap, silly hand gesture or a peace sign as part of her "morning greeting" routine.
Before school started, she researched ways to "implement reward systems and ways to engage with my students that require little physical contact," which is when she found the idea to put morning greeting choices outside her doorway for students to choose when they come in.
"While completing work or participating in games we show appreciation to one another with air hugs, air fist bumps or air high fives," Dillow added.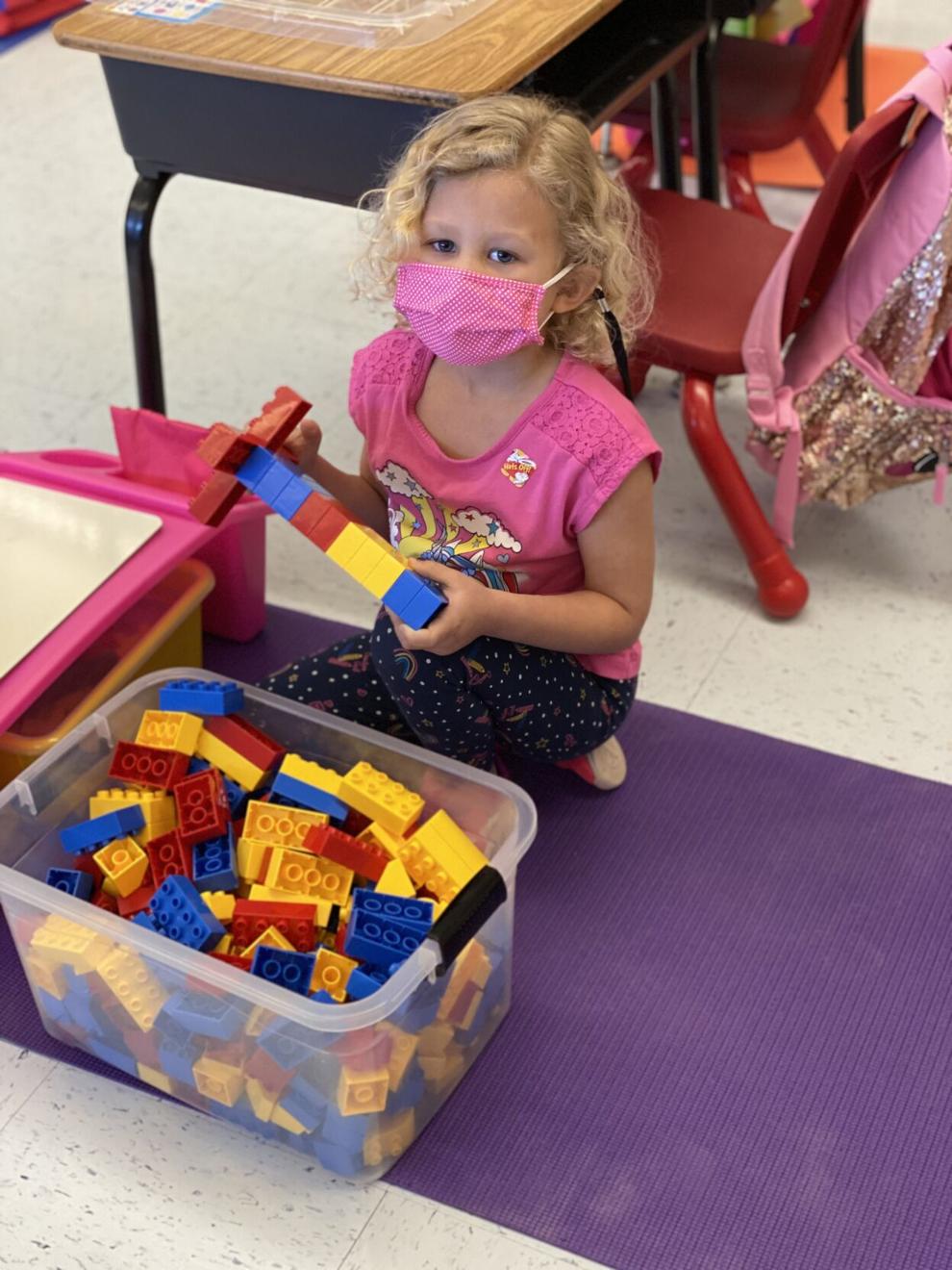 "These are far from the normal greetings and interactions we usually have used in the past but we are doing the best we can to adhere to guidelines. It's hard to put into words how much I miss hugs and high fives but will not lose hope that one day things will be back to normal, and I can start each morning with hugs and high fives."
Classrooms, especially those with younger grades, such as Cindy Cassada's kindergarten classroom at Clays Mill, still incorporate games into their learning, but they're still gaming at a distance.
Before this school year, she said she would meet with small groups at least two times a day for games, reading time and other math lessons.
While they're not able to do that now, she said they're still "playing but doing them from afar."
For example, she said they have a math game that incorporates die, and instead of passing one die around, each person now has their own personal dice that is kept in their "math box."
"Each person rolls their own dice one at a time, shows the other what they rolled and then each person marks their game board accordingly.  This is an example of how we are having to adjust and modify the way we play our learning games to ensure safety," said Cassada.  
Others in pre-kindergarten classes feel like they are in advantage this school year because this is the first time for many to experience a classroom.
"They do not know what it was like before COVID-19. I think it would be more difficult for them had they known what pre-K was like last year and all of the fun things they are missing out on," said Elizabeth Seate, a pre-kindergarten teacher at Meadville Elementary School.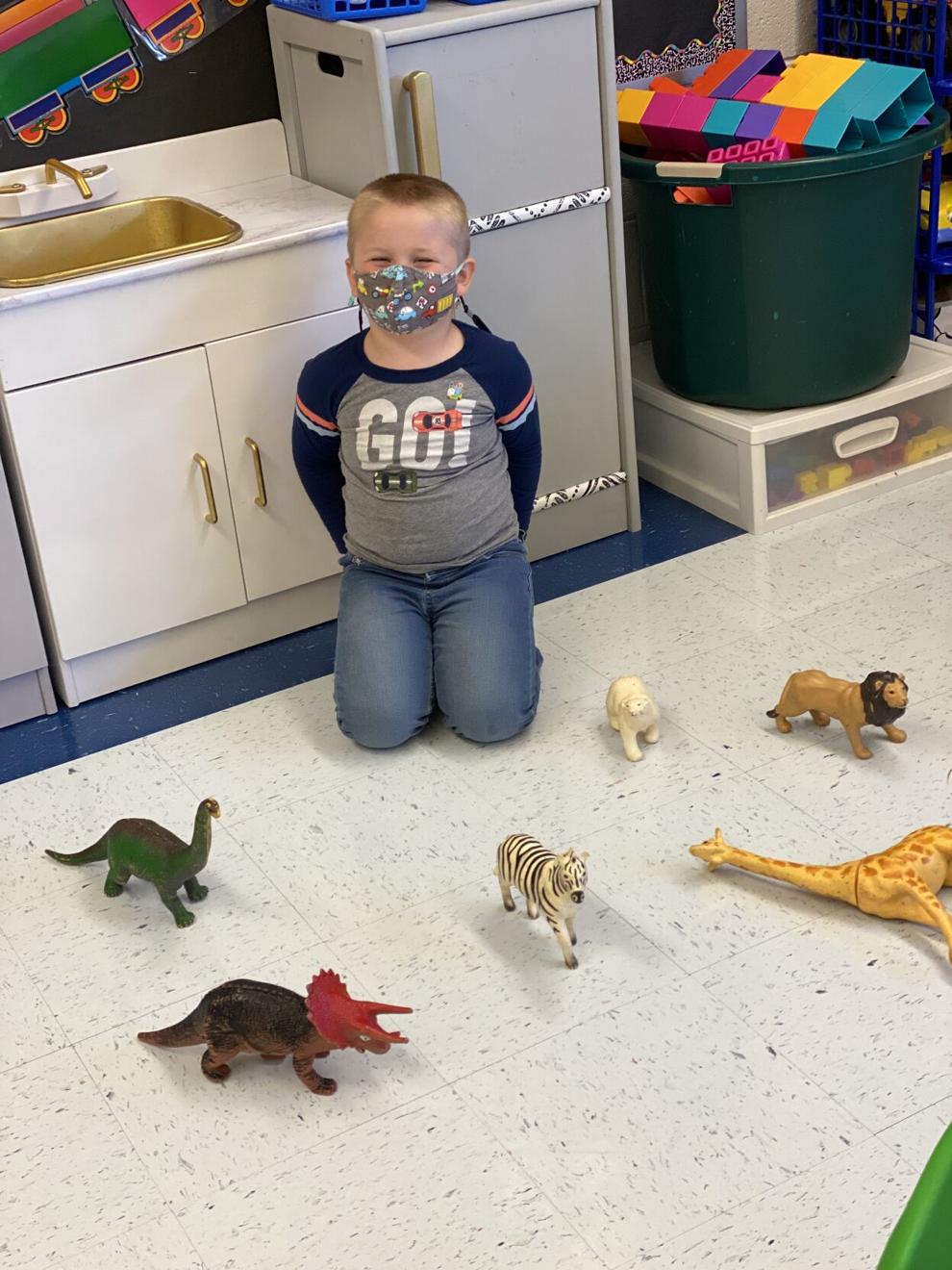 In previous years, she said they've gone on field trips such as Metro Richmond Zoo, White Fall Farms, Marbels Museum and The Prizery.
"It hurts me to know that this year's group has to miss out on all of that, but like I said before, they do not know the difference," said Seate.
Also, her classroom still does allow for some engagement amongst her young students, who still choose to use their imagination to interact.
They have "classroom centers" where they can do things such as play with a wooden train set, complete puzzles, play blocks or play with dinosaurs.
"Even though students are at separate centers, they talk and communicate with each other across the room and discuss what each other are playing with, and sometimes pretend like they are playing together. Socialization is so important at this age, so we do everything we can to safely allow them to communicate and socialize with one another," Seate explained.
She also noted that these centers are cleaned daily so students can rotate to a different center the next day.
Classroom size have shrunk to the bare minimum to allow for the distance.
Teachers, like Cassada, have lost their kindergarten tables, but are coming up with creative ways to give their students the space needed to work, be creative and to store items.
She has used colored duct tape to create "squares" or a work space for them to use, and has placed two desks together so that students can have one for school work and another to eat on or to use when playing an educational game. Her students also have tubs, since they no longer use "cubbys" that allows for storage of tissue box, hand sanitizer and other personal items.
"I was sad to lose my kindergarten tables that we have always used in the past, but within the square or their personal work space, they have two desks (placed together like a L), their chair and a tub to store their personal belongings for the day. The two desks are working well so far," said Cassada.  
Even though they're spaced six feet apart, Dillow said she still constantly hears in her classroom, "It's so good to be back in school!" or "I've really missed this place!"
In the morning, her third grade classroom is full of chatter, which she encourages, and when she has group activities, she makes sure to incorporate discussion.
"We sing, we dance, and we talk all while learning and having fun," said Dillow.
While students and teachers have found ways to communicate and interact with each other, even from afar, some teachers still say, nothing beats the level of interaction they had in years past.
"I am a very hands-on teacher, so it has been extremely hard not to hug my students each day as they arrive and leave and high-five when they do something to make me proud," said Seate.
Some students in all grade levels still need a reminder every now and again to pull their masks back up, or that they're not allowed to hug their teacher, one may catch them doing something different, like the happy dance Seate has integrated into her classroom.
"The kids love that and think it is the funniest thing ever," she concluded.