More than a thousand individuals received the Pfizer COVID-19 vaccine at a mass clinic at Halifax County High School Saturday, resulting from a partnership with Sentara Halifax Regional Hospital and Virginia Department of Health.
"The health department reached out and needed shots administered so we said that we would do that," said Sherri Bee, director of cardiovascular services and quality, who spearheaded Saturday's efforts along with Joni Henderson, director of marketing and patient experience.
The day kicked off "smoothly" with a line forming outside of the high school just shy of 8 a.m., the time the event began, and the doors were opened right on time with volunteers welcoming those inside.
"We appreciate the efforts of the community and Sentara. It's a great thing and we're excited to do this," said Bee.
One of the first to receive the vaccine, Jacqueline Brandon who works at head start with Tri-County Community Action Agency, agreed with Bee.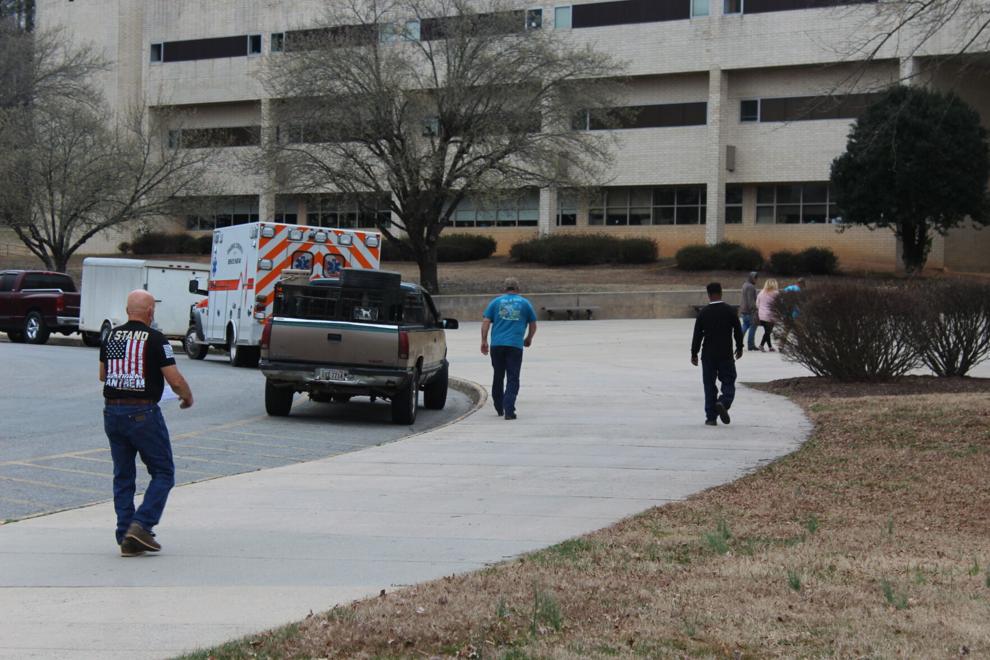 She wanted to get the vaccine to not only protect herself, but also those around her.
"It wasn't bad at all," Brandon said after receiving her shot, who also gave kudos to Sentara and its volunteers.
"I love how they have it set up. It was very organized," she said.
The clinic began with a check-in table near the doors of the high school that allowed for persons to make sure the individual's name was on the list.
Everyone receiving the shot had to pre-register.
Then the individuals receiving the shot would make their way to the gymnasium door where another individual would check his or her ID before pointing them in the direction of which nurses to go to.
One nurse would ask questions about allergic reactions and such and administer the shot while the other nurse would key in pertinent information to his or her computer. That nurse would then give the person receiving the shot a vaccine card showing the next date to come back.
Pfizer, as well as the Moderna COVID-19 vaccine, are taken in two doses, weeks apart.
The person receiving the shot would then make their way to a waiting area where snacks and drinks were provided. After receiving the shot, the individual would then have to wait 15 minutes for monitoring before being able to leave.
"We have 20 vaccination stations and a monitoring area, and a ton of volunteers from Sentara, medical core volunteers, Southside Behavior Health, and individuals from the community," said Bee.
They had 1,170 vaccines to administer, and Bee said they were full, with a waiting list.
She said if they had no shows at the end of the day, they could call those on the waiting list to see if they could come in.
"We don't want any of them to go to waste," Bee said.
Also taking advantage of the Saturday clinic were ABB employees Carl Brown and Jessie Roberts.
"The vaccine went great. It went really well," Brown said after getting the vaccine.
He said it was a "great" thing that Sentara and the health department were doing because "you never know who" has the coronavirus.
Some people can be asymptomatic and unknowingly spread the virus to others.
"I advise everyone to get the shot," said Brown.
His friend, Roberts, agreed saying, "I want to help prevent spreading it to the elderly or someone with an underlying health condition.
"It went smooth," he added. "Thank you to the people who volunteered."
The director of cardiovascular services and quality also called leading the efforts to get others vaccinated a passion of hers.
"I wanted to champion this to help get back to some form of normalcy," said Bee.
She also has seen first hand what COVID-19 can do to a family. She lost her father to COVID-19 in November.
"In order to end this spread of COVID-19, it's very important to build up immunity and the best way to do that is with this vaccine. This virus is relentless and knows no bound."
Bee also noted that they'd like to have another clinic in the future, if vaccines are available. But, that is to be announced.