COVID-19 cases have leveled off in Halifax County and Virginia following a steep decline from a surge in January, but health experts warn relaxed behavior and virus variants could lead to another peak heading into the summer.
Halifax County is currently averaging about six new daily cases of the illness caused by the novel coronavirus. While that is substantially lower than the start of the year, it matches the same figures in early December.
"Our numbers have hit a plateau, and we are watching them very closely," Brookie Crawford, a spokesperson for the Virginia Department of Health, wrote in an email to The Gazette. "There's still a lot of virus out in our community."
In Virginia, the daily COVID-19 caseloads have increased over the last two weeks. The state is now seeing more than 1,400 new infections reported each day. That matches the rate in early November.
After signaling cautious optimism earlier this month, the University of Virginia Biocomplexity Institute said the pandemic outlook is mixed in its latest report last week.
"Although cases have dropped dramatically in the past several weeks, they are flattening a level higher than we might have hoped given Virginia's high vaccination rates," researchers wrote in the weekly report.
As expected, the grown of variants — specifically the B.1.1.7 version from the United Kingdom — is playing out as predicted, the report noted.
Warmer weather in general, combined with what's known as pandemic fatigue, has drawn more people out of their homes, UVa reported earlier this month citing cellphone data.
This also comes as Virginia has loosened some public health restrictions, most notably eliminating a numerical cap at outdoor entertainment venues. While each facility still may only allow 30% occupancy, a previous 1,000-limit is no longer in effect.
The 30% level should allow for ample social distancing, Virginia Gov. Ralph Northam said at a briefing earlier this month.
South Boston Speedway praised Northam after eliminating the 1,000-limit. The local raceway has an event Saturday.
"South Boston Speedway will continue to follow CDC, federal and state mandates at its events including requiring the wearing of face masks upon entry to the facility, social distancing and other necessary COVID-19 mitigation steps," the raceway said in a statement this month.
However, Crawford confirmed patrons must wear masks over their nose and mouth the entire time — not just when entering the facility' pointing to the executive order specifically relating to speedways.
That order also states "All individuals must maintain at least six feet of physical distancing between themselves and other participants who are not family members as defined in Executive Order 72."
Easter gatherings
"It's important to find reasons to celebrate this year," Crawford said when asked about Easter gatherings. "We know connecting with family and friends is vital to maintaining your emotional wellbeing."
That said, COVID-19 is still spreading throughout the state.
"The safest way to commemorate special events is at home, with the people that live with you," Crawford said. As a low-risk activity, she suggests virtual parties with friends and family.
Small, indoor gatherings comprised of people from different households, where everyone remains masked and socially distanced is termed as a "medium risk." Outdoor gatherings where everyone remains masked and socially distanced also are deemed "medium risk."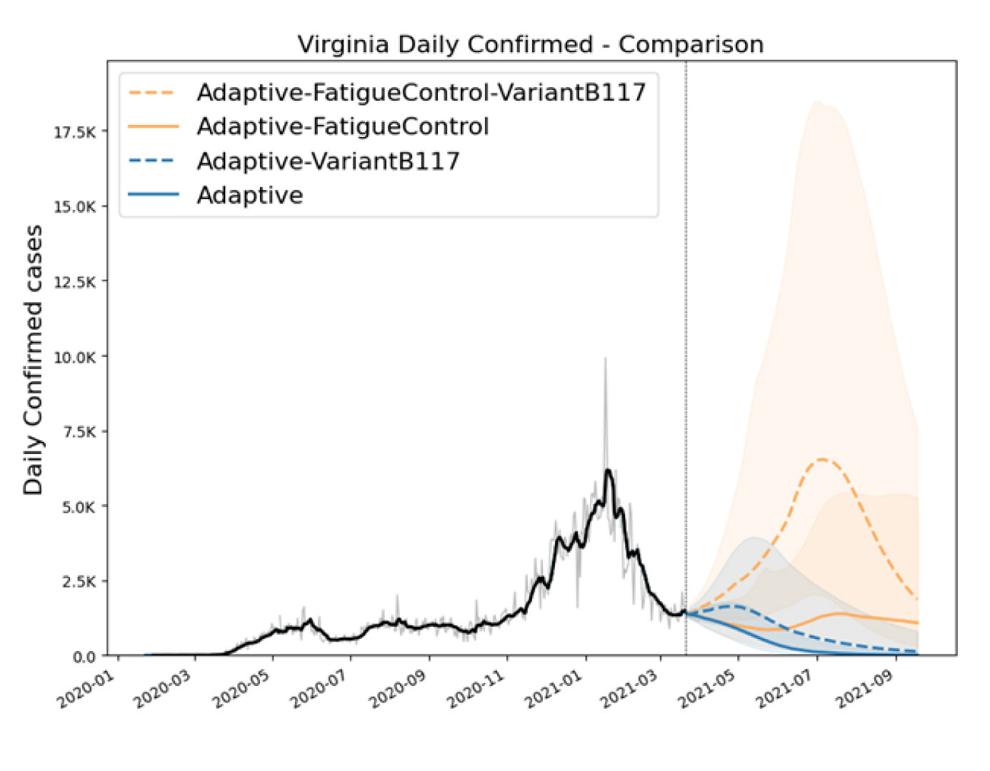 The future
About 13% of the population — 4,400 Halifax County residents — are fully vaccinated against COVID-19. Nearly 14,000 shots have been administrated overall.
Even with vaccination rates and cases well below the January surge, the UVa report indicates there's a chance for another larger surge heading into the summer. If that happens, Virginia could see an even higher number of daily cases by mid-July.
In this particular scenario, Halifax County could see about 276 cases per week toward the end of July. As a comparison, the January surge brought 259 cases at its highest peak.
UVa notes these are worst-case scenario based on current models that use past trends to try to predict a possible trajectory.
Fueling that possibility is the uncertainty of variants, poised to become the main strain of the coronavirus. These variants carry a 50% increase in transmission.
"To avoid another peak, we must give vaccines time to have an impact, especially as new variants become more prevalent across the nation," UVa researchers wrote.
Vaccine and variants are factors in the future of the pandemic, but behavior is really the driving force, UVa reports.
"Even though certain restrictions are being relaxed, the pandemic is not yet over," researchers said. "We must continue to use good judgement and assume personal responsibility to avoid further spread of disease."