Parsons-Bruce Art Association will present an "Artisans Boutique" featuring 11 Lake Country Artisans Guild members in a three-month art exhibit at The Prizery beginning June 2.
The exhibit will feature art works of 11 Lake Country Artisans including Margaret Covington, George Reebals, Euland Hoyle, Helen Massingill, Sarah Bolduc, Carolyn Elliott, Jim Matthews, Linda Garden, Lindie Watkins, Andrea Burke and Ev Wesson.
Each with their own creativity and flair for the arts will present an exhibit featured in the Robert F. Cage Art Gallery at The Prizery throughout the summer.
Halifax County resident and Lake Country Artisans Guild member Covington said, "I cannot remember a time when I didn't love drawing and creating my own fantasy world with pictures."
Since art was not taught at her hometown school in Williamston, North Carolina, she was a happy girl with a number 2 pencil and loose-leaf notebook paper.
"That was all I needed and a place to store my treasures," she said.
Covington has taken art instructions from local Halifax County artists as well as art classes taught by Danville Community College to hone her skills. She is a member of the Parsons-Bruce Art Association Board of Directors and serves as coordinator for PBAA's Open Art Studio; an open to the public weekly drawing class.
Hoyle, a life-long resident of Mecklenburg County, will display a beautiful collection of wood-turned lamps. After retiring from Mecklenburg Electric Cooperative in 2001, Hoyle turned his interests to woodworking and said, "Before I retired, I had begun to equip my shop and took up woodturning as a hobby. I make wooden bowls, Lazy Susan's, mirrors, pepper mills, unique lamps and other items that are round and can be turned on a lathe."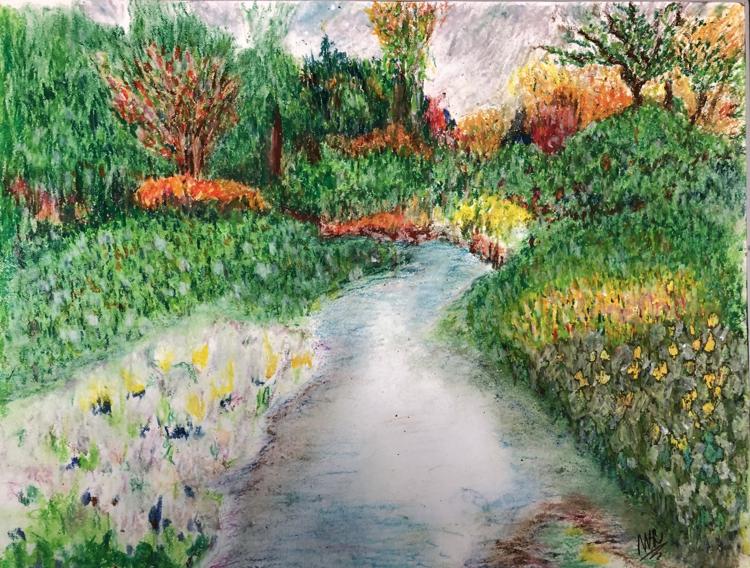 Wesson will present an impressive and creative display of handmade wire trees. A graduate of Mary Baldwin College, Wesson has participated in many area and regional art exhibits throughout Southside Virginia. Many may remember that her "happy little trees" were a featured item at a Parsons-Bruce art exhibit at The Prizery last year.
Bolduc, president of Lake Country Artisans, is a multi-talented artist. Always in motion and constantly creating something new, she does oil, acrylic, watercolor, collage, cold wax, textile and glass work.  She works as a creative expressionist using memorable depths of color and line work that brings movement and emotional value to her works.  
Most recently Bolduc was the 2018 first place prize winner for her textile piece Urban Botanicals in the MacCallum More Museum and Gardens juried show.  Her creative textile pieces will be featured in this show.
Another Mecklenburg County resident, Elliott lives on Buggs Island Lake with her husband and is a self-taught artist.
Elliott said, "I began painting several years ago after retirement ,and I love painting landscapes from surrounding areas, from my travels and from my imagination."
As a lover of photography, some of her paintings originate from her photos.
Watercolorist Burke plans a beautiful display of her most recent watercolors.
According to Burke, "Art has always been a part of my life in one way or another with many types of venues from piano, violin and oboe; to clay, bread dough, tole painting and lots of sewing."
She took her first watercolor class at the San Diego Art Museum nearly 20 years ago and has been hooked ever since.
Other exhibitors include Reebals who will present an exhibit of fine crafted wood turnings, vessels, bowls and cutting boards in a variety of woods.
Returning artist Watkins with her colorful and decorative gourds that made such a hit at the last Lake Country Artisans exhibit.
Matthews and Garden also plan a beautiful display of paintings, fine drawings and representational oils and pastels.
The "Artisans Boutique" presented by Lake Country Artisans opens to the public on Sunday, June 2, in the Robert F. Cage Gallery with a reception from 3 to 5 p.m. sponsored by Parsons-Bruce Art Association.
The Lake Country Artisans Boutique exhibit will be on display for viewing and purchase through August during The Prizery's normal operating hours Monday through Friday from 9 a.m. to 5 p.m. and evenings and weekends during special performances.