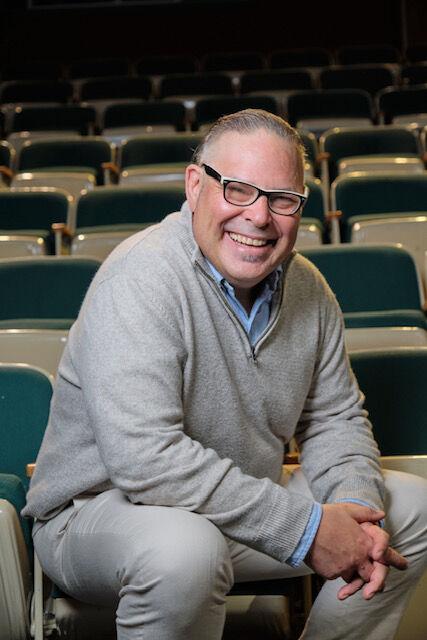 After a two-year hiatus, The Prizery in South Boston plans to bring Summer Theater back in a big way this year with musicals "Footloose" and "A Chorus Line" plus a play, "The Mountaintop."
The Prizery's new executive director, Claude Giroux, explains in a question and answer session.
Q: What prompted you to bring back Summer Theatre?
A: When I first came here in July to meet everyone, I made a point of asking people only one thing: "Tell me your favorite Prizery memory." Maybe 99% of the folks put Summer Theater first. Clearly when I arrived for good in October my top priority, along with education, would need to be Summer Theatre.
I knew that "Footloose" had been in the cards before the 2020 cancellation. Chris Jones had been planning it, so I thought of it first. It is a show I have directed, and it was a good launching pad.
Q: In 2022 what's different then past years in terms of the summer shows?
A: We are doing the season in repertory. That means all of the shows will open at the same time the weekend of July 7-8-9 and will run in a rotation for five weeks. This means we are allowing more time for rehearsals up front.
The idea is that people can make a trip to South Boston and spend three or four days visiting the area and see all the shows. It has a lot of potential for tourism, getting people to the community who wouldn't normally come. Local merchants might offer package deals for a three-day stay. It will also be a fun challenge for the students we have coming to town to participate. In addition, we might have "The Mountaintop," a play about the Rev. Martin Luther King, continue into the fall and be available for school performances.
Also, I came to The Prizery with the notion of education and engaging young people as a priority, so I thought it would be exciting to have local kids perform their own shows in two-week summer camps and learn from the visiting artists. For children ages 5-11, there will be "Space Pirates" with the camp opening July 11 and ending with performances July 24 and 25. Older ones, age 11-17, will do a youth version of "Footloose," with the camp opening Aug. 1 and shows Aug. 12 and 13. They'll work side by side with the professional cast. In fact, on one show date, people can see the kids perform "Footloose" in the daytime and the professionals that same night. All camps are $275 a piece, but scholarships are available from the Chris Jones Legacy Scholarship Fund. There are also spring camps available. To sign up, or to get more information, go to https://prizery.org/education/
Q: Is there an idea or a theme that the season embraces?
A: This is a season about people who "dare to be different." The lead character in "Footloose" is someone who comes from out of town and is alienated — he has long hair and talks differently. He overcomes that to rally his community. "A Chrous Line" is about the evolution of dancers, who used to be in the background. "A Chrorus Line" changed the way dancers were viewed, not just in musical theater. In "The Mountaintop," Dr. King was a man who stood up for what he believed in — dared to be different. He campaigned for human rights in general and for peace. All of these people dared to be different and had a lasting impact on their community. The shows fit together this way very nicely, and it's a positive message to bring into our season after two very difficult years for everyone in the world.
Q: What will the weekly schedule of shows be like?
A: They will run Tuesday through Sunday, with most matinees on Tuesdays and Sundays, with a couple of two-show Saturdays. Of course, everything is predicated on COVID-19 getting in the rear-view mirror.
Q: Tell about your recruitment of out-of town entertainers and crews.
A: We will look for talent at the Southeast Theater Conference (SETC) March 9 through 13 in Memphis. It draws from 350 to 400 students and recent graduates from all over the country for auditions with various theater companies. Conceivably the out-of-town company arrives here around May 30, with the final performance on Aug. 14. We will also be looking for local people again to help house the visiting cast and crew members during this time.
Q: How about local participants?
A: We will hold local auditions on Saturday, March 5. To make it easier for local folks, the rehearsals will be held later in the day than in the past, from noon to 4 p.m. and 5:30 p.m. to 9:30 p.m. That will allow students still in class and people with jobs to participate. We will also try to get volunteers who have helped in the past to return. For this season of productions we will be looking for dancers and actors who are adults or youths 16 and over.
Q: Who will be on the creative teams for these shows?
A: As music director, we've enlisted Carson Eubank, who is celebrating his third season here. I will be directing "Footloose" and will be hiring someone as the choreographer, who will also direct and choreograph "A Chorus Line." I'm also seeking a director of color for "The Mountain Top." In addition I've begun work on design of the shows with an old colleague, Jason Bolen (www.jbolendesign.com) who is the Resident Scenic Designer at Pacific Conservatory Theatre. Jason is amazing, and I'm looking forward to introducing his work to local audiences.
Q: How will the new Summer Theatre maintain its links to the past?
A: Chris Jones, who retired recently, is the founding father of this summer stock theater. We are just continuing in his footsteps, trying to carry on the great work that he began.