When South Boston police officer Blake Jones wants to escape from the stress of everyday life, he heads to the river, gets in his boat, and casts his fishing line.
By the time he gets to a secluded spot on the river surrounded by nature and the fish start biting, all of his cares and worries have melted away.
"There's no people, no TV. There's no worries. I'm not worried about some (police) case, paying bills or offending anybody. I guess I'm just free," Jones said. "It's just me and nature…I love being able to get out in God's creation."
Last year Jones made a goal to go to all seven dams along the James River, mainly because of the scenery he would experience on his journeys.
"I like the waterfalls, the rock cliffs. Every dam is a 10 or 15-foot waterfall," Jones commented.
He said the lowest dam is just above Lynchburg and the farthest one up the river is at Glasgow, near Natural Bridge. The fisherman made it to six of the seven dams last summer and hit the seventh – Kershaw Reservoir – this year.
"Kershaw Reservoir wasn't exactly easy to get to. It's an hour and a half truck ride and a 15-minute boat ride," Jones related. But the trip ended up being worth his while; it was his favorite fishing spot on the James River.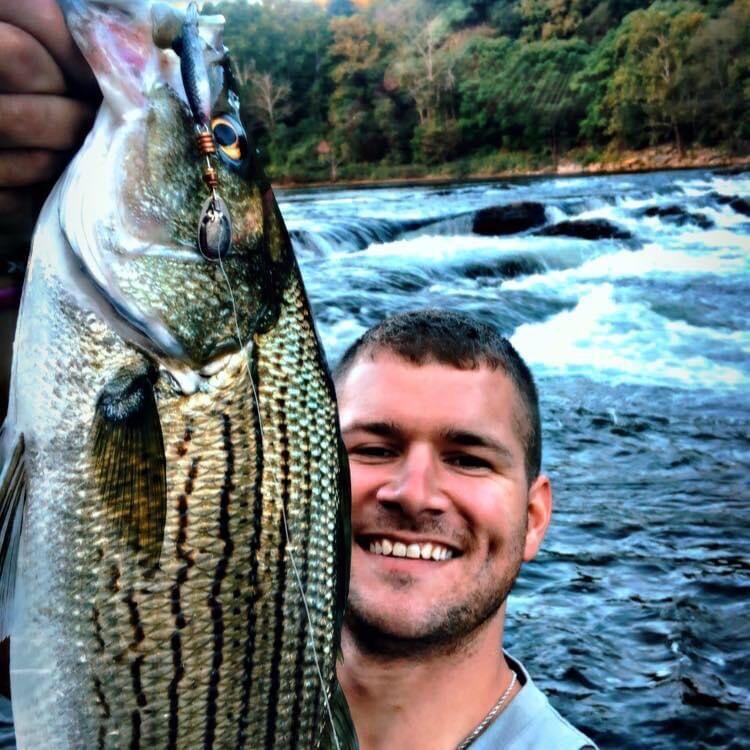 "The fishing there was the best," Jones shared. "I caught a ton of fish: small-mouth bass. They fight harder than other fish."
Along with his fishing expeditions on the James River, Jones said he fished every river in the county, including the Banister, the Hyco River and the Staunton River.
Staunton River was his favorite, because the water is so clear.
Jones has a Havoc boat with a surface drive, and he explained that type of boat allows him to access harder-to-reach spots on the rivers that other fishermen might not be able to access. If he hits rocks or other obstacles along the way, he keeps going until he reaches his destination.
He stays busy between his job with the South Boston Police Department and his landscaping business — Blue Line Lawn Care and Landscaping, but whenever he gets a free day, he drives to the river.
"I look forward to it, and it will put me in a good mood knowing that I'm going fishing. It's motivation for me to cut the grass fast," Jones said with a chuckle. "I try to get all my work done before I go fishing."
Fishing has been a positive outlet for Jones from a young age. At the age of 3, Jones' grandfather A.B. "Skeeter" Jones Sr. first took him fishing at his brother's pond in Providence. The now 27-year-old expert fisherman caught his first fish under his grandfather's guidance with a Snoopy fishing pole, and he still has the picture to prove it.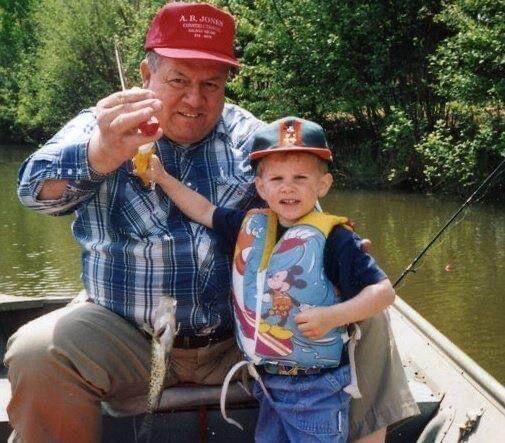 Even though Jones is an experienced fisherman, he said the number of fish he catches on each fishing trip is still based on "a whole lot of luck." When he finds a spot where he tends to catch an abundant number of fish, he will return to that spot over and over again. But Jones says he does not go on his fishing expeditions with a goal of catching a certain number of fish; he does it to enjoy the "fresh air" and the scenery.
While Jones usually goes fishing solo, he occasionally fishes in tournaments and goes on expeditions with police department buddies. One of his most memorable fishing trips is a trip he took with the late South Boston Police Cpl. Richard "Richie" Lawson.
"I got Richie and his dad into trout fishing. We made a deal that we would fish the Gorge in Saltville (southwestern Virginia). I'm glad we got to do that," Jones said, recalling the June 2018 memory he shared with his friend, who passed away a year later.
Jones recently went striper fishing with another friend, Dallas Hill, a lieutenant with the Amherst County Sheriff's Office. When he's fishing with a friend, Jones likes the easy conversation and camaraderie, and when he's fishing alone, he simply enjoys the great outdoors – something that will always have a draw for him.
"If I'm not fishing, I'm hunting. Bowhunting and duck hunting are my two favorites," Jones said. "I like going out there, being alone and getting away from everything."
No matter how stressful life gets or how hard he has to work that week, Jones knows he can always escape to nature and get away from it all. Whether it's fishing, hunting or just taking in the beauty of a waterfall on the river, the great outdoors is the South Boston police officer's retreat, and one that he will always seek as he navigates his own life's journey.