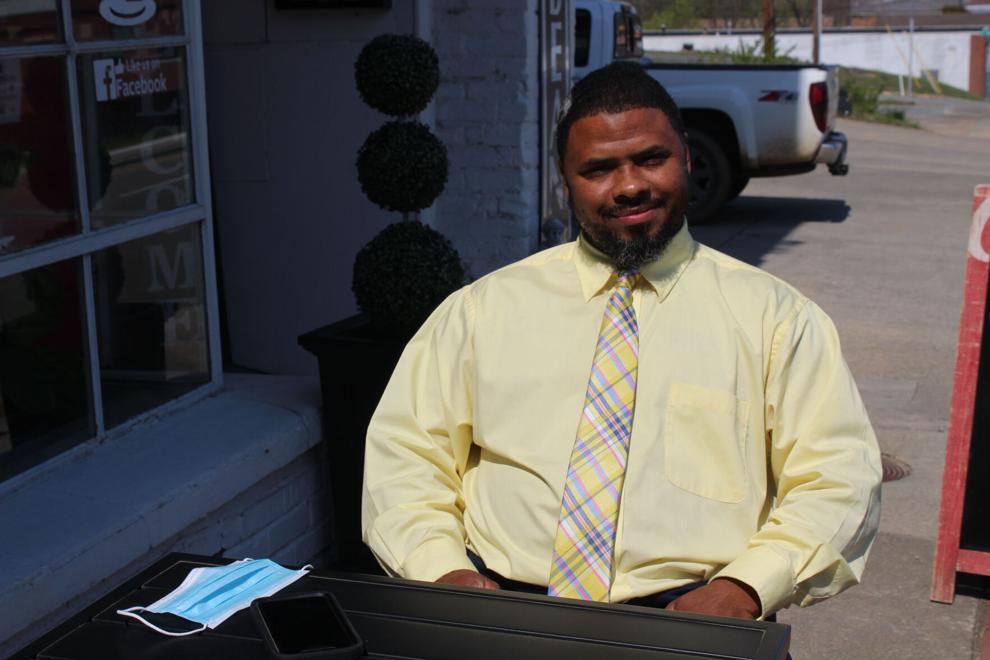 With guests like Tad Deriso, president of Mid-Atlantic Broadband Communities Corporation, and Lisa Kipps-Brown and Ryan Garrett with Racing for Heroes, 45-year-old Shawn Barksdale of Scottsburg is hoping to bridge the gap between the youth and adults to provide intricate information with his podcast.
Starting three months ago, Barksdale began bringing that information to faithful listeners every Monday at 4:30 p.m. with "Ten Minutes of Truth."
With today's short attention span, he tries to keep segments 10 minutes, with four-part series, but does offer more time to others who need it.
"The bridge to the information and knowledge to the younger generations is gone… I'm old enough to be able to decipher what these individuals need and want to say to a 17-year-old gang banger who needs to get out the streets. I can put it in terms. This is where the podcast comes into play," said Barksdale, who hopes to bridge the community.
But, he didn't always do what he could to help the community.
He was incarnated in 2001 for 15 years.
For him, prison was like a "world inside of a world," and looking around at the technology around him at the time, it was like he had stepped back into cave man times.
Meanwhile, the world was moving on with Apple introducing the iPod along with opening the first Apple store, and by 2007, Apple released the first iPhone.
BitTorrent launched that same decade, and Microsoft entered the gaming arena with the Xbox, while Barksdale was waiting for his turn at the wall phone inside of the jail.
"I chose to change how the world viewed me," said Barksdale. "I was one of the people who helped destroy the community, so its only right and its only fitting that individuals like myself are the ones who help mend the community."
Next thing he knew, he had earned his GED. Then he began taking college classes, and graduated from trades, before eventually returning to tutor.
"I started to see this is what life really is about," said Barksdale.
Fifteen years had given him time to think, and he decided that he only has one life to live, and he knew then exactly how he was going to spend it.
He had begun to follow podcasts like "Earn Your Leisure," and started to nudge his partner towards podcasts, but he wasn't a believer.
It wasn't until a car ride with Barksdale that he started to see what they were all about.
Even in 2019, Forbes said, "Podcasting is going mainstream."
They reported, "According to Edison Research and Triton Digital, there are now 62 million Americans listening to podcasts each week, up from 19 million in 2013."
One of the reasons for their popularity: choices.
In 2019, Forbes reported that there were over 800,000 active podcasts with over 54 million podcast episodes currently available worldwide.
Forbes also reported that "the percentage of monthly podcast listeners among 12-to-34 years old has grown from 27% in 2017 to 49% in 2020."

And Barksdale hopes his Ten Minutes of Truth will be one of those listened by those younger listeners.
Once he got his partner hooked, the technology started flowing in.
As the owner of the graphic T-shirt business Press 4 Time Tees, Barksdale has been a graphics guru, but had never stepped into this world before. That's where his partner comes in.
They now have a roadcaster that they can take with them to their guests, and they have a studio.
Even with the COVID-19 pandemic, he chose to move forward with his podcast, with safety procedures in the forefront. Masks are worn when not six feet apart, and everyone is tested before coming on the show, including Barksdale and his partner.
His first guest was his daughter, Ashya.
He had to learn quickly that things weren't as easy as it seems to create content that would be favorable for his listeners, and the key question was "What are we going to talk about?"
To avoid having empty space, he researches his guests beforehand, and they do a pre-interview to learn what's on the table and what's off, giving both sides an idea of what to say when the mic is rolling. This way, Barksdale says it helps him be able to make sure the proper information is said in their short amount of time.
His podcast has grown, with 16 published so far and a total of 40 in the works, and it has listeners from all over, with one from Philadelphia letting him know he tunes in every week.
Barksdale had Lenzy Terry, founder of Victorious Ambition, on his podcast. Terry, an ex-convict as well who has gone on to start his own trucking company, visited the podcast to share the story of the first time he had experienced racism while on the road.
Terry mentioned several areas in Virginia and West Virginia have signs promoting "blatant racism."
He said, "Certain states you know if you're pulling over to park, you pull over and park, you don't get out."
Barksdale's listener in Philly knew all about that.
"He was connecting with people that he resonated with," said Barksdale.
And, his podcast isn't the only place that he hopes to resonate with the youth.
Previously, he visited Rivermont School in Chase City for a speaking engagement. When he arrived, he was asked where did he want the students to sit, and he was warned about outbust behavior.
But, Barksdale wasn't worried.
"Bring them to me as close as you can," he told them.
He knew he could speak their language. He knew they just needed someone to connect with them and to show them that someone cared.
It was one child in particular that he met, who has autism, who still checks in regularly today. One day he called Barksdale and told him he learned how to code, and that he had made Barksdale a website.
It's those moments that remind him why he is so eager to reach today's youth. And, he reminds his listeners that he also has ways to help on his website, tenminutesoftruth.com.
"You don't have to jump on the mic… as long as we help. It's very important to get the information out there," said Barksdale.
Growing up, he didn't have that role model. He was angry, but he didn't know that it was because he had an absent father who is a drug addict. He didn't know how to channel that to be productive.
But, now he's trying to find ways to help others cope with their anger – such as with working out or boxing.
"Put your guns down, pick the gloves up and pick up your phones and listen to the podcast," said Barksdale, who plans to have his parents come be guests on an upcoming episode.
He also plans to have a guy who has been through group homes come share his truth.
Not only can individuals find his podcast on his website, but also on most podcast platforms, Google Play, iPod Radio and Apple by searching Ten Minutes of Truth with Shawn Barksdale.