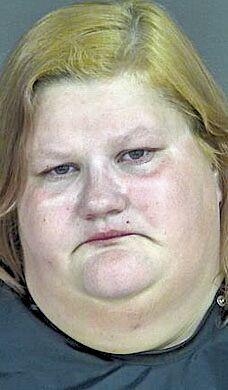 An Altavista woman, Virginia Harris Petty, was sentenced to 10 years in prison Thursday afternoon in Halifax County Circuit Court for a hit-and-run that resulted in a Martinsville man's death.
Judge Kimberley S. White imposed the maximum sentence on Petty after hearing evidence about the actions of Petty the night of Sept. 1, 2019 that led to the death of one pedestrian, 24-year-old Aryues L. Townsend, and serious injury of another, 25-year-old Donovan R. Stone.
Commonwealth's Attorney Tracy Q. Martin related in her presentation of the facts of the case that Petty was headed toward 501 on Route 40 (Cody Road) when she was delayed behind one or more cars pulling right into a driveway. 
Petty became impatient and sped around the turning car(s), into the oncoming lane, overcorrected and struck a group of pedestrians standing near the edge of the yard at the shoulder of the highway, according to Martin.
Townsend died from the injuries he sustained in the incident the following evening, Martin told those gathered in the courtroom, many of whom were family members of Townsend.
"This is an exceedingly sad case for everyone," Judge White said prior to sentencing Petty.
In addition to sentencing Petty to 10 years in jail for the hit-and-run, Judge White sentenced Petty to 12 months in jail for the charge of reckless driving and sentenced her to a post-release supervision period of three years.
"Nothing in the court system can bring back a loved one; but I am pleased to have brought some measure of comfort and closure to the family and friends of the victims of this crime," Martin said.
Petty previously was indicted by a grand jury in Halifax County Circuit Court on July 9, 2020, on the charges from the hit-and-run. On Nov. 19, 2020, she entered a guilty plea to the hit-and-run and a "no contest" plea to the reckless driving.
Prior to her sentencing, Petty, alongside her attorney, public defender Jennifer Jones, told Townsend's family, "I'm truly sorry…I know it doesn't bring him back."
The tears that Townsend's mother, Lacresha Townsend, shed on the witness stand as she described the devastation her family had experienced because of the loss of her son Aryues turned into sighs of relief after Judge White imposed the maximum sentence on Petty.
"I'm definitely happy that she got the maximum sentence," Townsend said. "It does bring a relief that this part is over with, and we can start the healing process."
Aryues' aunt Gwendolyn Eggleston also sought justice for the death of her nephew, whom she called "Lovey," as she took the witness stand at Petty's sentencing in Halifax County Circuit Court.
"From a very young age, I was taught that you are held responsible for the actions you take in life," Eggleston stated. "We think there should be some accountability for this; someone should be held responsible for this."
White concurred. When Petty left the scene of the accident in which she knew two people had been "gravely injured" without calling the police to report the accident, she "disregarded human life at that point when she left that scene," White declared to those gathered in the courtroom.
"To be honest, she made her bed, and she has to lie in it. She's the one who left," White said.
While Townsend's family members expressed their satisfaction with the verdict in the court case, their lives were forever changed in September 2019, when the family member remembered for always bringing a smile to their faces lost his life. For Townsend's father Infinite Allah, the wound left by his son's death is as fresh today as it was a year and a half ago.
"If you have children, you already know. You have the same heartbeat. It's one in the same and mine doesn't beat the same no more," Allah said. "You're missing a part of you, and it's hard. A lot of people get to go home to their kids and mine's gone…when will I ever heal?"
For Lacresha Townsend, her hope is that with justice now being served for her son's death, the family finally will begin to heal.