A hot day and the presence of metal detectors did little to dampen the enthusiasm of graduates, family and friends at an emotional Halifax County High School graduation ceremony on Saturday.
A total of 357 students received their diplomas, and hopefully with those diplomas a key to unlocking their future, wherever it may take them.
Speakers including Valedictorian Alyssa Mitchell, Salutatorian Jeri Lynn Tyler and Caroline Laughorn all sounded notes of encouragement as the Class of 2019 gathered one last time before receiving their diplomas.
Valedictorian Alyssa Mitchell told fellow graduates that they had accomplished one of life's biggest milestones, high school graduation.
"Graduation is one of those weird times where we are stuck between the joy of high school memories and the excitement of our futures whether that be college, vocational school, the workforce, or the military," said Mitchell.
"This is a major step in the journey of our lives, one that should be recognized for its immense significance. We worked so very hard to make it this far, so we should be extremely proud."
"We entered the questionably welcoming halls of this school a short four years ago," recalled Mitchell.
"As the months passed, we laughed, cried, got in trouble, learned, and experienced so many more moments that we will forever cherish.
"Together we struggled through 11-page reading assignments, chemistry tests, dreaded poetry projects, and even starring in our own movies.
"However, there were plenty of good times that made up for the bad, like food days, Easter egg hunts, analyzing J.R.R. Tolkien, and even today."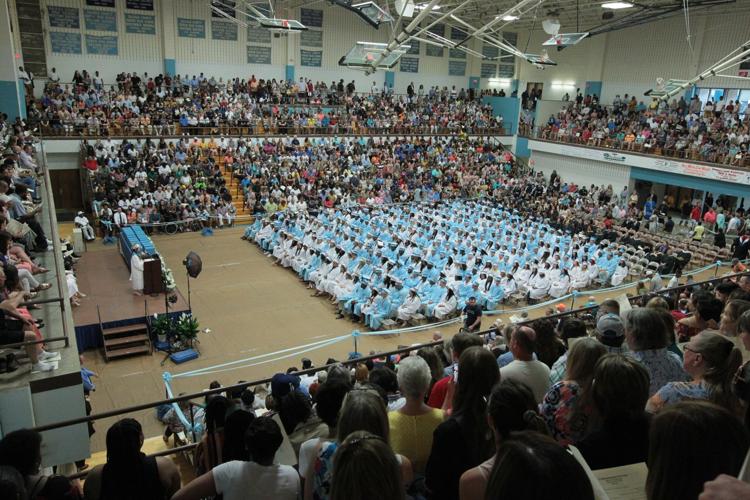 As graduates, they face many uncertainties in both the immediate and distant future, according to Mitchell.
"However, uncertainty is another word for opportunity," she noted.
"There is a plan for all of us, whether we know it or not. It may seem scary, but we can handle the challenges as well as the triumphs ahead of us.
"I know that all of us will be successful at anything we set out to do, and whatever is supposed to happen will happen."
"In the next chapter of our lives, we will meet new people, make new friends, and learn new lessons," Mitchell told fellow graduates.
"We will grow older, more responsible, and independent. High school has prepared us in so many ways for what's next. So, good luck to all of you on your next adventure."
Mitchell thanked everyone who helped the Class of 2019 achieve their goals.
"Our achievements would not have been possible without the help, support, and guidance of our parents and teachers, counselors, coaches, and each other," said Mitchell.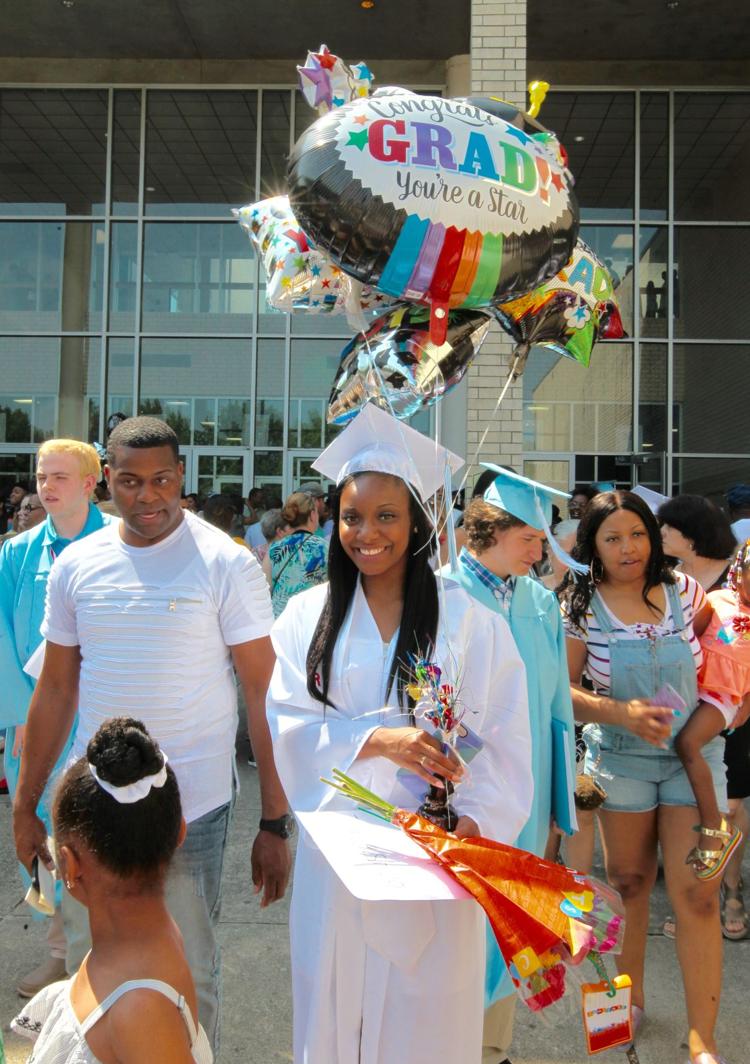 "Thank you for aiding us every step of the way onto this stage. I would especially like to thank my mom, dad, siblings, teachers, Mrs. Reaves, Miss Hoyle, Mr. Hall, and my best friend, Kayla, for being there for me and helping me get here. Now onto the rest of the ceremony and congratulations to the class of 2019."
Salutatorian Jeri Lynn Tyler echoed Mitchell's comments noting the large numbers of family and teachers who contributed to her development as a student and person.
"Well, we did it, we have completed yet another huge milestone in our lives," said Tyler.
"We have all individually worked so hard for this moment and there is nothing that can stand in our way. We each had to pass many SOLs, certifications, and exams to be here.
"I've have had the privilege of getting to know each and every one of you, and I am so lucky that I did. We have all shared countless memories together, such as our sports teams going to states, bringing back the Comet Crazies, Mr. Lewis falling out of the chair at prom, and Mrs. Bruce trying to kill us with maggot filled chocolate."
As she looks around the room, Tyler sees many types of people, including future military members, doctors, nurses, electricians, and engineers.
"Who know, there might be a pro athlete among us," she added.
"I would like to thank everyone who has shaped me into the woman I am today such as my parents, my grandparents, Ms. Hoyle, Mrs. Reaves, Mr. Hale, Coach Bane (Also known as Thunderbird) and Lauryn.
"They each helped me grow individually and also gave me life lessons I shall never forget."
In closing, Tyler congratulated the Class of 2019.
"Do not ever let anyone dull your shine and be the change you want to see in the world. Never give up on your dreams, and you all shall soar."
Caroline Laughorn, third in her class, also saluted school officials, educators and her parents, in addition to the Class of 2019.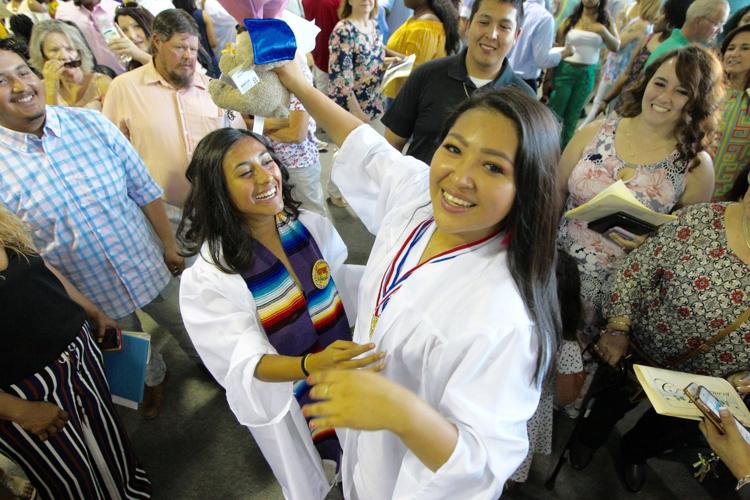 "I feel so honored and privileged to be standing here today to speak to you. We are all here to celebrate one of the biggest milestones in our lives, and that is finally graduating from high school," said Laughorn.
Laughorn recalled remarks made by Halifax County Public Schools Education Foundation Executive Director Larry Clark during senior awards night last week.
"He said no matter what you do, don't forget to thank those who helped get you here," recalled Laughorn.
"First, I want to thank God for getting me here today. I want to thank Him for getting all of you here today. Thank you to my parents for being the best and supporting me unconditionally. "Please don't forget to thank the ones that supported you the most. Without them, today wouldn't be possible for us."
Laughorn said that for her, graduation day is more important than anyone realizes.
"I didn't know if I would ever be able to graduate, and I didn't know if I would live to see it," she said.
"Being diagnosed with leukemia at 8-years-old and then relapsing at age 15 turned my world upside down.
"There were nights when I was in Duke University Hospital that my doctors told my parents they weren't sure I would make it through the night. I learned to fight harder than ever."
Life for Laughorn has been extremely difficult, but she refuseses to give up or give in.
"I am not the only person in our class that has had tough battles to face. Many of you have overcome obstacles just like I have, although our struggles have been different. I try to remember that no matter how bad I think my life has been, I can look around and there is always someone that has it worse.
"The important thing is that we fought hard to be where we are today, and we made it. We never gave up."
Although her high school years have been rocky as it may have been for some of her classmates, their senior year has been one to remember.
"We all got to experience some snow days, like missing for a few flakes, and more flood and hurricane days than any of us can remember. It was just awful," said Laughorn.
"I loved getting calls from Dr. Lineburg when he had to make the decision to let us stay home so we would all be safe.  Thank you Dr. Lineburg for keeping us safe and for letting me sleep in more."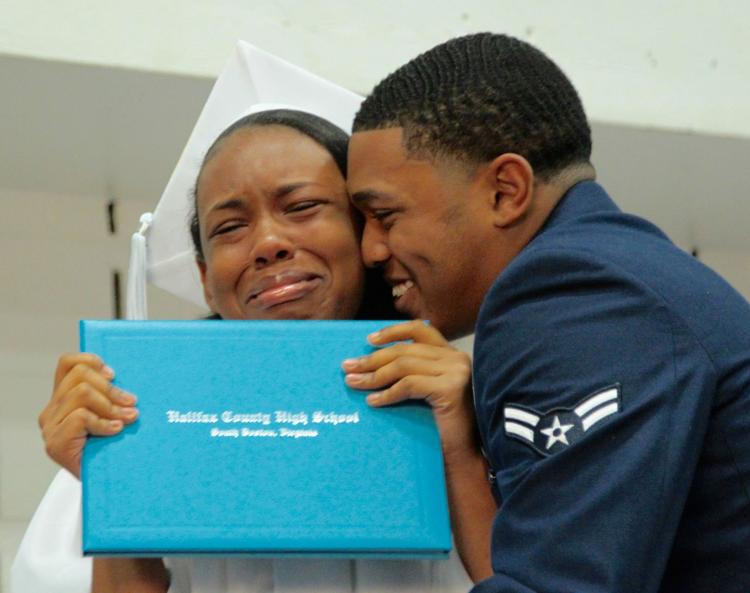 Laughorn recognized the school spirit shown at sporting events this past school year.
"Our basketball team went to states for the first time in more than 40 years. Our wrestlers did great, with one of our very own competing in the state tournament for the first time in more than 20 years," recalled Laughorn.
"Our indoor track team was awesome. They had multiple people qualify for states. Our outdoor track team was awesome, also, our golf team went to states for the third year in a row, and our girls' swim team won districts.
"Our tennis players won the district title, and how about our robotics team, they had the opportunity to compete at the world championship."
Comets sports teams never gave up, they kept pushing forward and staying focused, Laughorn added.
"Instead, they gave it their all. I'm telling you all of this to say that success comes when we never give up. Never giving up is what we need to remember day in and day out.
"No matter how tough life can be, and it can be so, so tough, we should never give up," Laughorn continued.
"When one door closes, another one opens. When someone tells us no, there will be someone else waiting to tell us yes.
"Earl Nightingale once said, 'Never give up on a dream just because of the length it will take to accomplish it.'"
Laughorn concluded her remarks, saying that whatever her classmates undertake after graduation, "put your whole heart and soul into it."
"When someone doesn't like you for you, it's important to remember that it is okay. You will not be everyone's cup of tea. The world is filled with people who, no matter what you do, no matter how hard you try, will simply not like you.
"But, the world is also filled with those who will love you and appreciate everything that you do. I challenge you to always be kind, even to those we feel may not deserve it. Be kind, for everyone you meet is fighting a battle you know nothing about."
"In a world where you can be anything, be kind. Be the light in someone's darkness," Laughorn continued.
"Always remember you are braver than you believe, stronger than you seem, smarter than you think, and loved more than you know."
"Behind you, all your memories. Before you, all your dreams. Around you, all who love you. Within you, all you need.
"Congratulations Class of 2019. This is our time to shine. Now let's go show the world what we are made of, and let's make Halifax proud."
The graduation ceremony also included the presentation of an honorary diploma and a surprise visit.
First Sgt. Gregory T. Scott, a HCHS JROTC instructor, presented Adam McBride and Abby McBride, parents of late HCHS student Jacob McBride, with a JROTC stole and Military Cord and Principal Michael Lewis presented an honorary Halifax County High School diploma to the parents.
Justin Berry, A1C E3, United States Air Force made a surprise visit to see his sister Nicolette Berry receive her diploma. It had been a year and 10 days since Berry had last been home. 
Graduation went smoothly despite the presence of metal detectors, according to Lewis.
"It is always a special time when you get to celebrate all of the achievements that our students have made," said Lewis.
"They work hard. They work hard for 13 years, and it all comes down to this one day. 
"A lot of planning goes into this event. (Assistant Principal) Ryan Russell and Harriett Claiborne do the heavy lifting on the planning process.
"It is always our effort to make sure that each child is celebrated. Each one of them took a different path to get to where they are to get their diploma."
It is a real special day, Lewis noted.
"You think about all of the things the students have done, all of the things they have accomplished. Comets do great things. "We appreciate all of the family coming and supporting them and recognizing this is another great achievement in their lives."
"Of course, this is not the end, it's the beginning," continued Lewis.
"They will all go on to do separate things, some will go to college, some will go to work and some will go into the military. It's always a special time for a principal to see a class graduate, see the smiles on their faces, and look forward to what they will do in the future."
The school system issued an alert to parents Friday night informing them that metal detectors would be in use and also informing them what items parents, family and friends would be allowed to carry into the building.
"Graduation is a special time. You want to hold the ceremony so that family and friends can see their student graduate. You want to make sure it is safe, and that was the reason for the metal detectors," said Lewis.
"I thought those went very smoothly. I want to thank the community for its cooperation in not bringing bags and other things into the school. I know it was some inconvenience, but it did help the lines move much faster so that everyone could get in and enjoy the ceremony.
"Lines moved well. We had people here as early as seven o'clock. Some were here a little before that. The people listened, they came early and were very cooperative."
"I thought the line kept moving well," noted Lewis. 
"We were fortunate to have our staff help us. We had plenty of people helping. People's cooperation with not bringing in items that would set the detectors off and slow the line down was a big help.
"It was a good team effort with our staff and the community working with us, understanding the need for safety in today's world."