"Welcome to the best elementary school in the county," seventh grader Langston Foy said to Halifax County School Board members, superintendent Dr. Mark Lineburg and a crowd of about 50 members of the public and Sinai Elementary School staff Tuesday evening at a public hearing on the possible consolidation of elementary schools.
This was the second public hearing in a series of five where school board members and the superintendent are given a chance hear concerns and questions from members of the public on the possible consolidation of schools.
Prior to the public speaking, superintendent Dr. Mark Lineburg reminded those attending that these are proposals and that none of these are "sketched in stone."
The school board and school officials are being faced with the challenges of addressing the best use for sales tax dollars sitting in county coffers and how to afford an aging fleet of buildings that have become difficult to maintain while also addressing a declining school enrollment and compensation for employees.
"Capacity is a key issue that we have," said Lineburg.
The standards of quality (SOQ) in the Code of Virginia say there should be 24 kindergarten students to one teacher in each class with no class size being larger than 29 students. If the kindergarten class has more than 24 students, state code recommends a full-time teacher's aide.
It also recommends 24 to 30 students to one teacher in first, second and third grade, and 25 to 35 students to one teacher in grades fourth through sixth. For grades six through 12th, SOQ recommends 24 students to one teacher in English classes.
During the 2019-2020 school year, Sinai Elementary School had 26 kindergarten students and two teachers, 35 first grade students and two teachers, 43 fifth grade students and two teachers.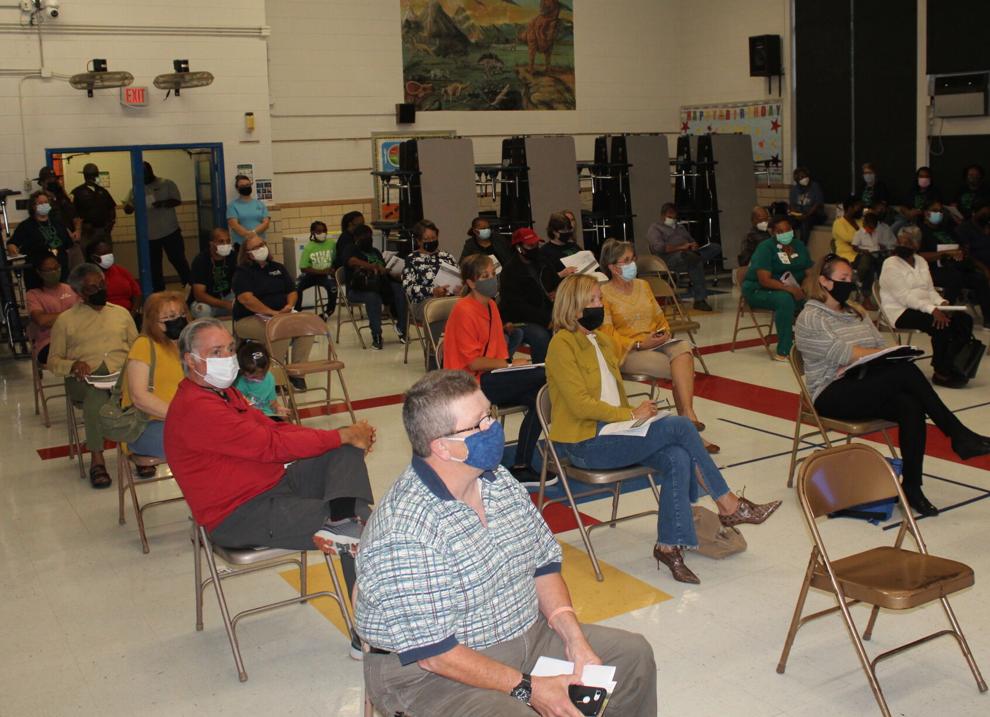 Lineburg explained to the crowd that Sinai Elementary School has an instructional capacity of 397, and during the 2019-2020 school year, the school had an enrollment of 198.
But, for Foy, having a smaller school is about having a safer school — health wise and as far as fights and disruptions.
He pointed out that, as of Tuesday, Sinai Elementary School had only four cases of COVID-19 since Aug. 30 while Cluster Springs Elementary School, with 568 students, had 24.
He also believes that if smaller schools had the same technology as newer schools, students of the smaller schools would excel the same, before pointing to studies that show students of smaller schools are more likely to attend college rather than drop out.
"Enough of the facts, let's talk dollars versus sense," said Foy. "Even though I am a seventh grader, I know how money and investing works. A new building versus two older buildings with the repairs is the dollars, but what makes sense, s.e.n.s.e. is to think of the heart — the students, the teachers and the community."
Foy also asked if they were to close Sinai Elementary, where would the new school be? He also asked about bus routes, and if teachers would lose their jobs.
The seventh grader also listed well-accomplished indiviudals who attended Sinai Elementary such as Attorney Joel Cunningham Jr., Jeremy Satterfield, Microsoft TechSpark manager and Kevin Hodges of KeJ'aeh Enterprises.
In the proposals that the school board have been reviewing, the school system could stay at a seven elementary school model, but would be faced with $45,773,534 in future facility costs to upgrade buildings.
The proposal for consolidating to six elementary schools would combine Sinai and Meadville Elementary, with the location possibly moved to the Meadville location, as recommended by the school board's Moseley Architects Facilities Study on school facilities.
The five elementary school model proposal would combine Meadville Elementary School and Clays Mill Elementary, with a cost of $31 million for a new school, and more than $43 million in renovations to Scottsburg, Sydnor Jennings, Cluster Springs and South Boston Elementary would still be needed.
The four elementary school model would close Clays Mill Elementary, Meadville Elementary and Sinai Elementary, and roughly $37 million would be needed to renovate Sydnor Jennings and Scottsburg Elementary.
Lineburg also explained that they hope to be able to reduce staffing through attrition.
"No one wants to get rid of anyone," he said.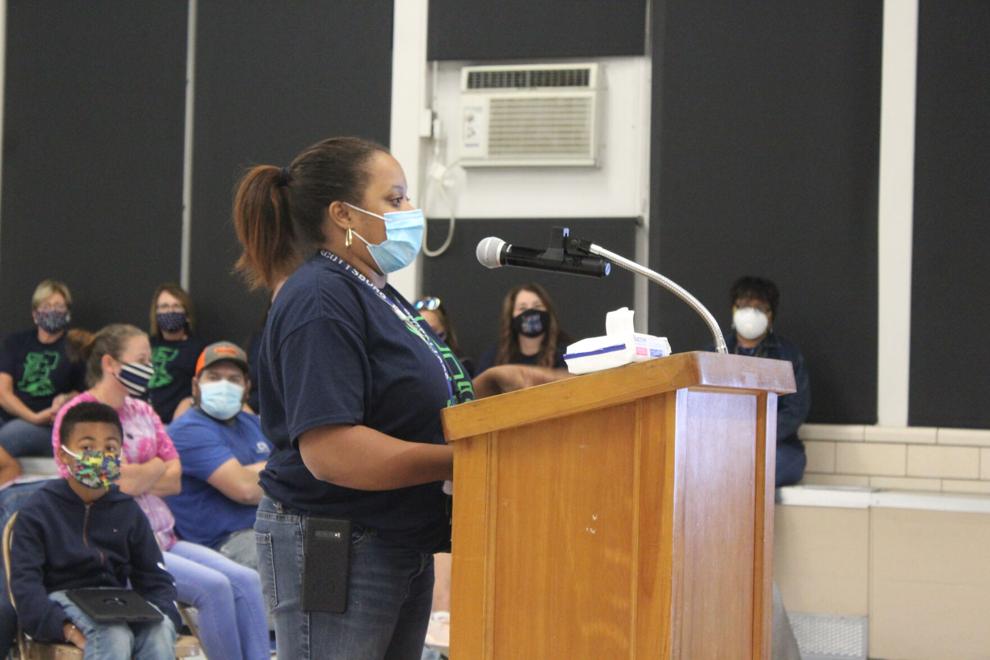 Sinai Elementary teachers also spoke in support of keeping their elementary school open including kindergarten teacher Ariel Goode, third grade teacher Dawn Emmerson and fourth grade teacher Jamie Brown.
Brown said being at the public hearing "felt like déjà vu" and reminded her of when Halifax Elementary School, Wilson Memorial Elementary School and Turbeville Elementary School closed in 2008.
"You sacrificed the greater good for what? To what extent and for what," asked Brown.
In August of 2007, new South Boston and Cluster Springs elementary schools and a renovation and addition to Halifax County Middle School were dedicated.
The fourth grade teacher went on to warn the board of losing seasoned teachers if they were to consolidate schools and bring in teachers who are "only here for the coin."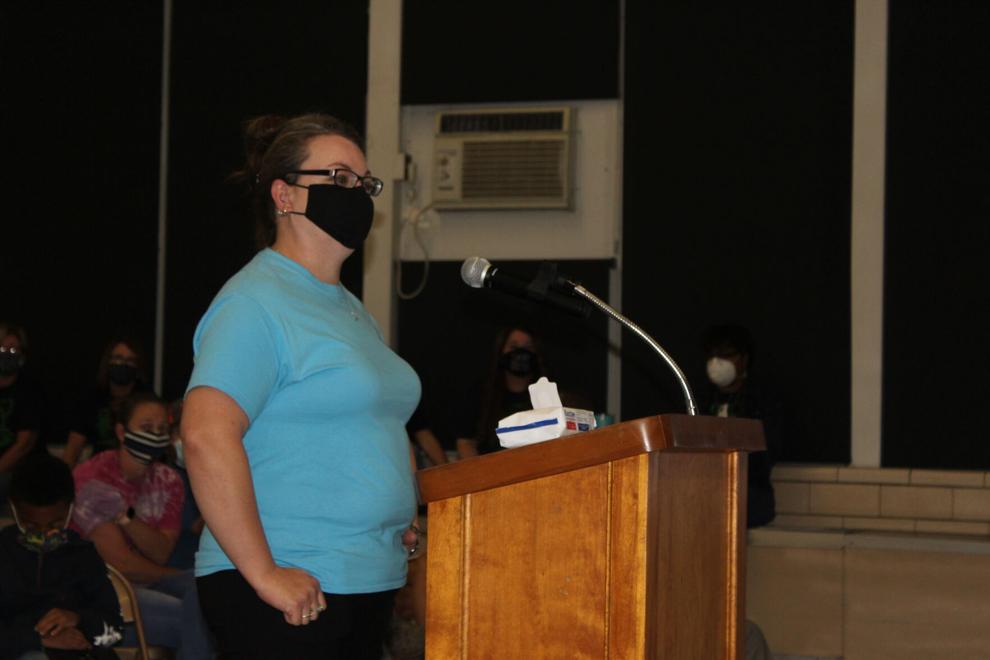 Halifax County Middle School teacher Katherine Francis also spoke about class size telling the school board that she is unable to get to know her students on the same level at the middle school with having 22 to 26 students per class as she did while working at Sinai Elementary.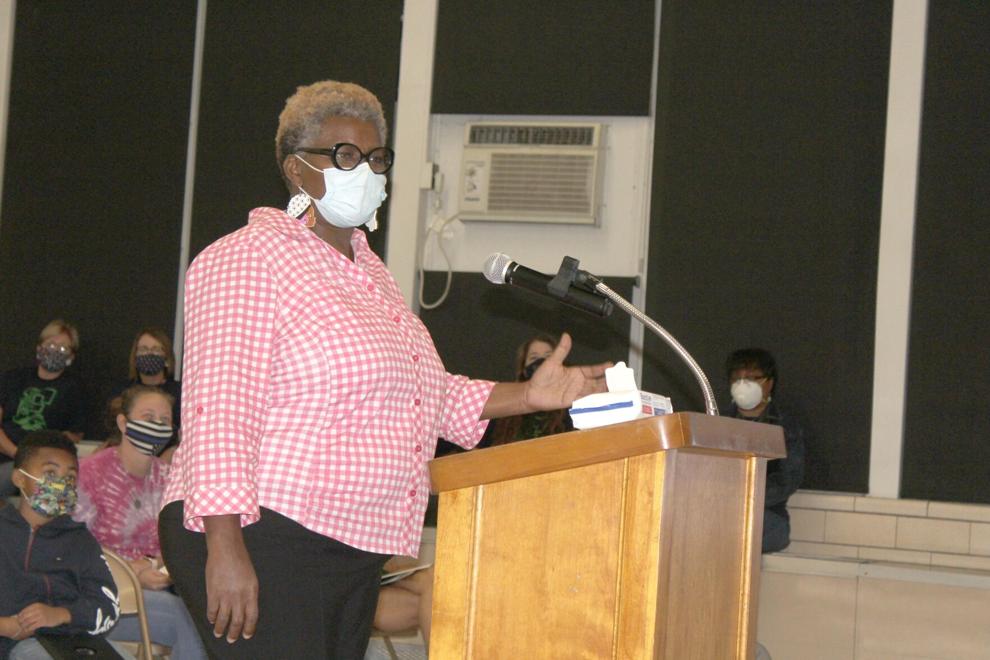 Another speaker, Stephanie Hubbard spoke of the community pride that surrounds Sinai Elementary and its history, and Lenzy Terry, a former Sinai student, cautioned the board about long bus rides and losing teachers and staff.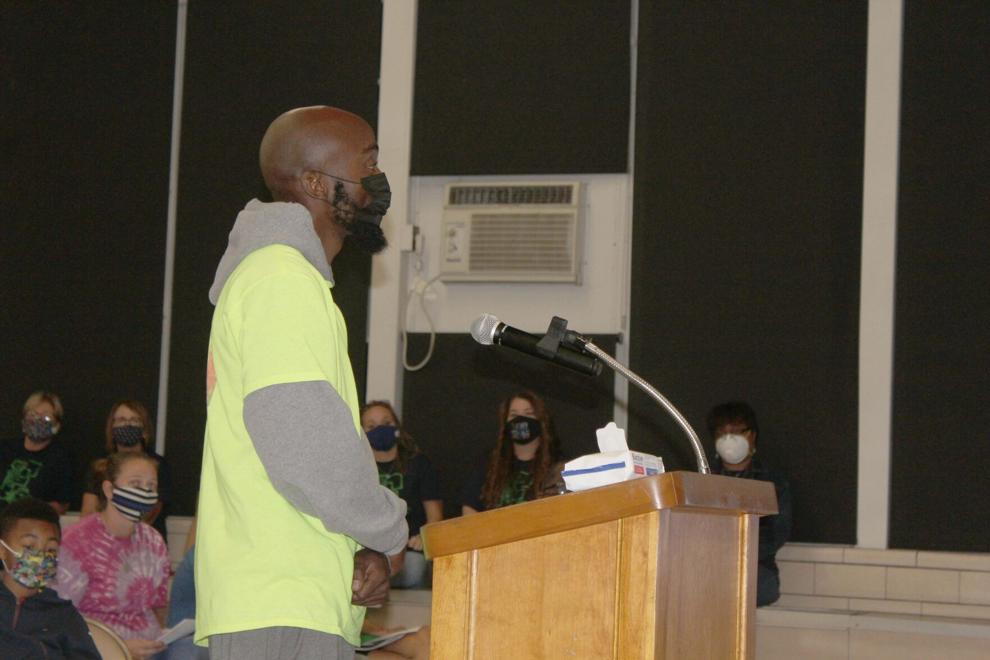 "Can we not bring someone else in with another idea," Terry asked.
Brittany Garrett, a mother of children who attend Sinai, asked the school board to consider special education students and how they would be able to manage a larger school.
At Sinai Elementary, her son Lucas, who has an individualized education plan (IEP) for special education, is able to learn in a main classroom.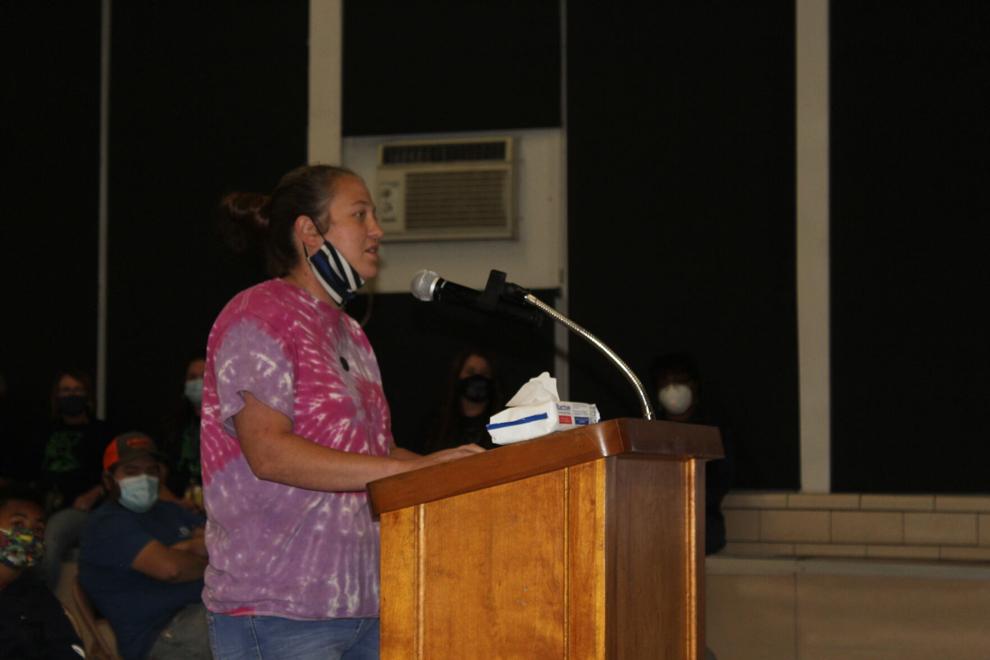 If he were to move to a larger school, Garrett would likely homeschool him saying, "There's no way he could be accommodated" in a larger school.
Dr. Bridget Brown, a dentist who has a practice in South Boston, said she has been asking her clients and children how they felt about the possible consolidation at schools, and she said she promised them she would speak at these public hearings on their behalf.
"They're the only ones that really matter," she said.
She said Lineburg's presentation on consolidation of schools focused on ways to save money and contingency, but she wants to know how closing schools would help improve education. Another thing she wants to know is the discipline notices issued at the larger schools versus the smaller schools.
The next public hearing on the possible consolidation of local elementary schools is Tuesday, at Clays Mill Elementary School at 6:30 p.m.
Another public hearing will be held Thursday at Scottsburg Elementary School and on Oct. 28 at Meadville Elementary School.
Absent from the public hearing was ED-2 school board member Roy Keith Lloyd.