The last group of students who have yet to return to in-person instruction are set to return on April 12.
Halifax County School Board decided on that last group that includes grades seventh, eighth, 10th, 11th and 12th when they met for their monthly meeting Monday evening.
Superintendent Dr. Mark Lineburg made the question on the table simple — would they allow those students to return on March 22 or April 12?
Last month, school board members reviewed a proposed plan from Halifax County High School principal Michael Lewis and Halifax County Middle School principal Dawn Miller that proposed having the remaining secondary grades return April 12.
The school board then discussed last month the possibility of moving that date to March 22 or March 29.
With one swift motion by ED-3 trustee Sandra Garner-Coleman Monday evening that was seconded by ED-5 trustee Freddie Edmunds, and with hardly any discussion to follow, the motion passed with a 7 to 1 vote.
ED-7 trustee Roy Keith Lloyd was the sole dissenting vote.
"I was hoping for that March 22 date," Lloyd said after the meeting.
Also last month, he brought up a concern regarding seniors' return.
At that time, he said several parents had contacted him about feeling like seniors weren't being treated as a priority.
He went on to explain Monday evening saying, "They don't have the same time as other students."
The ED-7 trustee said he respectfully disagreed with student representative Kathryn Allen, and he had hoped the measure would fail in a tie vote so he could make a subsequent motion to push for the March 22 date.
Earlier in the meeting, Allen gave a few remarks on behalf of juniors and seniors at the high school.
With second semester not ending until June 16, Allen said going back in April still gave the seniors two months of in-person instruction.
"It's better than nothing," said Allen, who also argued that juniors have it worse. She said she knew that because of how much she struggled last year when she was a junior and the school year was cut short in March.
"We should be last," she added. She said many seniors she knew had actually already graduated, or many didn't want to come back or don't have to.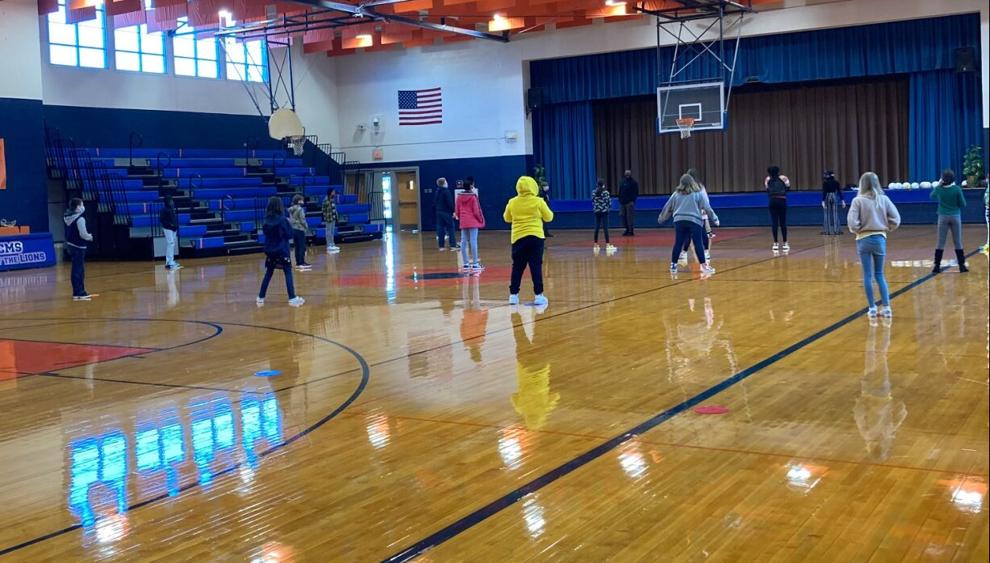 Lloyd also pointed out that setting the return date to April 12 broke away from the board's previous practice of having students return in two-week intervals.
Students in pre-K through third grade returned on Feb. 22, and then students in fourth, fifth, sixth and ninth grade returned two weeks later on Monday.
But Coleman explained her reasoning for the decision at the end of the meeting.
She said this way the students don't have to return, stop for spring break and then start again. This way, she said, they get to wait until after spring break and don't have to stop.
Spring break is set for April 5 to April 9.
The ED-3 trustee also said that many teachers have planned to take the second dose of their COVID-19 vaccine the week of March 22, and she is anticipating that some may have to have to take a sick day due to reactions of the vaccine.
The CDC is reporting possible side effects of the COVID-19 vaccine including pain, redness and swelling on the arm where the shot was administered and tiredness, headache, muscle pain, chills, fever and nausea throughout the rest of the body. But, the CDC says they should go away in a few days. They also say some people have no side effects.
Head nurse Tina Slabach also provided an update regarding the number of staff members who have received their vaccine in her health update.
She said a total of 263 employees, including 127 teachers and 44 paraprofessionals, have been completely vaccinated while an additional 125 have received their first dose.
Pfizer-BioNTech and Moderna vaccines are both two-dose shots with the doses taken weeks apart. The Food and Drug Administration also recently approved another vaccine, Johnson & Johnson, which is one shot, but Slabach said to her knowledge, no employee has received that vaccine thus far.
Some employees choose to get vaccinated through another means than the school system, and they are not required to report it to the school system if they received the vaccine elsewhere.
Slabach also said there are 250 employees who have been surveyed as saying they would like to receive the vaccine who are awaiting their first shot. She also noted they anticipate to get more vaccines in the next 10 days.
The school system has roughly 935 employees, according to Slabach, who also noted they plan to re-survey employees who previously said they did not want the vaccine to see if anyone changed their mind.
ED-8 trustee Walter Potts stressed the importance of encouraging employees to take the vaccine and asked Slabach to make sure the employees know they can talk with their school nurse if they have concerns about the vaccine.
Slabach said her nurses are "on call 24/7" and are always available to speak with staff.
The head nurse also provided the CDC core indicators for Halifax County, which she said shows the county having a seven-day positivity rate of 13.12% as of Feb. 27.
Previously, the core indicators provided a 14-day positivity rate, but Slabach said the Virginia Department of health has changed how they're reporting information to them.
In other action Monday evening, the board also unanimously approved a revised 2021-2022 school year calendar to allow time for remedial summer programs this summer.
The revised calendar has a start date of Aug. 30, pushed back from the original start date of Aug. 16.
It also has a new of school year date of June 8, pushed back from the original date of May 24.
The updated calendar has winter break from Dec. 23 to Dec. 31 with first semester ending on Jan. 20 and second semester beginning on Jan. 25.
Second semester of the 2021-2022 school year was originally set for Jan. 5.
Spring break for the 2021-2022 school year remained unchanged set for April 11 to April 15.
Graduation for the 2021-2022 school year has been pushed back to June 11.
Superintendent Dr. Mark Lineburg explained that with this current school year not ending until June 16, they decided to push back the beginning of next school year to allow time for remedial summer programs.
Potts said he hoped the same parents who pushed for the students to return to in-person instruction take this opportunity to be in school this summer too.
"They need to catch up," he added.
With virtual learning continuing to be an option in the future, the school board also approved chairman Kathy Fraley to serve as a liaison in the exploration of virtual learning for future remote learning.
The ED-8 trustee also took a moment at the end of the meeting to address transportation director Dwight Elam to make sure that bus drivers are aware of which students need not to ride the bus in the future. He had received a report of a bus driver being unaware of whether or not a student, who should have been in quarantine due to COVID-19, could ride the bus to school or not.