Horns honked, balloons hung from mirrors, banners draped vehicles and one family even rode in on the bed of a rollback truck.
Regardless of how they did it, each member of the class of 2020 took advantage of the drive-thru graduation held at Halifax County High School on Saturday and arrived in style.
Nikki Seamster, who was there to see Christina Seamster graduate, and Leslie and Chuck Pope sat in their vehicles in the high school student parking lot talking as they watched the procession make its way down the access road from the middle school to the high school as teachers and other staff cheered and congratulated students.
They enjoyed seeing all the decorated vehicles saying it allowed each student to "ride in their own style," and as Chuck put it, "it's much better than being crammed in the hot building."
Seamster added, "They did a good job… We appreciate what the administration has done to put this together."
Shelly Davis, who was beaming with pride after seeing her oldest child Davonta Davis graduate, agreed saying, "It was nice."
As she looked at her watch with the clock nearing 11 a.m., "It's moving so fast and went so smooth.
"It's been awesome… I'm just so proud of him," Davis said nodding to her son.
The day began with a processional of vehicles making its way to the high school and stopping to listen to the welcome provided by class president Ashya Barksdale, the national anthem sung by Kendall Foushee and the pledge of allegiance led by Maci Henderson aired on 95.3 WHLF.
In her welcoming remarks, Barksdale said the Class of 2020 flourished academically and had many memorable moments in sports.
"However, the most memorable moment was school closing on March 13 for the rest of the year," said Barksdale.
Even though they spent many hours stressing over tests, she said, "Who would've thought a COVID-19 test would be our biggest fear?
"Through all of these tremendous losses, I know that the academic and life lessons we learned will prepare us for future successes and disappointments. I would like to acknowledge the oddness of this type of ceremony. However, I am please to witness that Mr. Lewis is doing his best to award all of us… this ceremony is a tribute to everyone who has held our hands," Barksdale added.
She also said, "I want to welcome you all to what is certainly the most unforgettable graduation ceremony in the history of our school."
In speaking to the class of 2020, superintendent Dr. Mark Lineburg recognized "the ceremony this morning is not what we wanted nor what you envisioned.
"You will always be Comets…I want to remind you, all of the disappoints of the day are real because you loved our school, your classmates and your teachers…Our community, your faculty, your staff, your family loves each of you dearly and wherever you go from this point forward, we want to thank you for carrying on the proud tradition of the Halifax County Blue Comets…your best days are ahead of you," said Lineburg.
The superintendent also recognized students who earned the Associate of Arts and Science Degree and Michael Lewis, principal, recognized the top 10.
In giving his commencement speech, valedictorian Nicholas Holland said, "I can say with great confidence that no other graduating class in the history of Halifax County High School has had as unconventional senior year as we have."
He also thanked the staff for giving the seniors "as normal" of a send off as they could as circumstances allowed and for continuing to provide education while keeping them safe and healthy.
"I would like to congratulate all of my classmates, for in the face of disease, economic uncertainty and political turmoil, persevering for finally reaching the moment when we receive our diplomas. As we begin the next stage of our lives, whatever it may be, I hope that we can all continue to show the same hard work and determination that got us here today," said Holland.
Salutatorian Cassie Snead told the Class of 2020, "We are Comets, and Halifax is a small town, but you know what? We are going to become much bigger because that's what comets do."
She said COVID-19 taught them they are strong and are willing to put in the effort to succeed.
"This taught us to hold on to what we have because in a matter of minutes, it can all disappear. I know I missed coming to school and having the laughs in class or even the tears we held back as we took our exams. Each and every one of you has worked tirelessly to be here today. Surviving a pandemic and graduating shows you are all determined and have goals, and if you stick to that, you will all do great things," she added.
Snead ended her comments with a quote from Dr. Qubein of High Point University who said, "Your present circumstances do not determine where you end up; they only determine where you start."
Top three graduate Anna Lewis was frank.
"I am going to be honest. High school was rough," she said.
In the past four years, she said seniors faced "hurricanes, floods, a solar eclipse, a pandemic, pimples and war zones. "By war zones, I mean dodge ball," she added.
She went on to compare dodgeball to life saying everyone will have to fight for their goals and dreams with determination and thank ahead for the next challenge.
"Life will throw curveballs and problems at us. We can either choose to dodge our problems, or we can prepare and face them with confidence and skill. As we leave high school and prepare ourselves for the next level, we will face new players, new goals, new arenas and new rules. It is our job to pick which player we will be. Will you be the daredevil? Wall hugger? Or will you be the silent worker," Lewis asked.
Lewis, Lineburg and other school staff then presented the diplomas to the graduating class of 2020 as parents and other family members drove by giving them the congratulations they deserved.
Staff congratulating students.JPG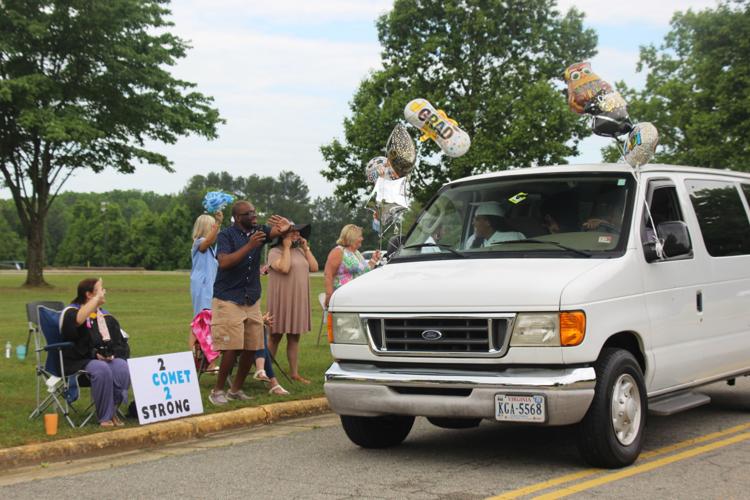 Student riding on top of jeep.JPG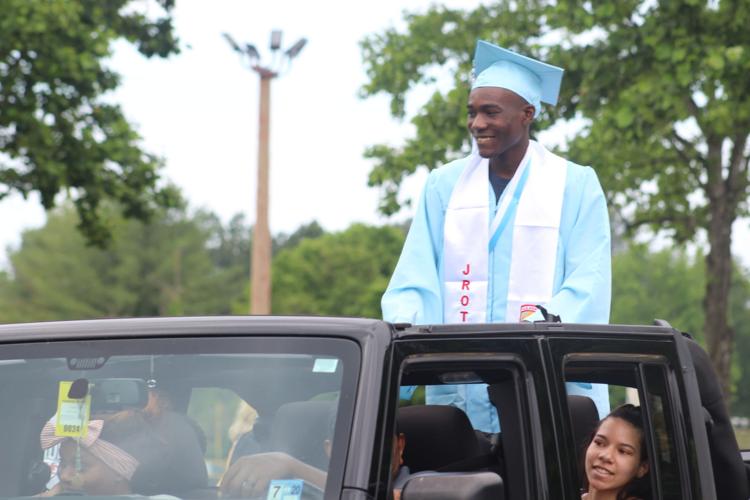 Valdictorian Nicholas Holland.JPG
Anna Lewis speech.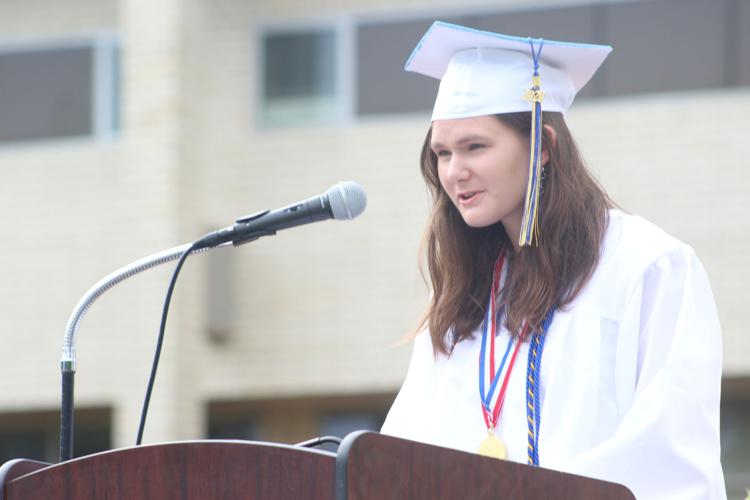 Cameron Noreman riding on top of car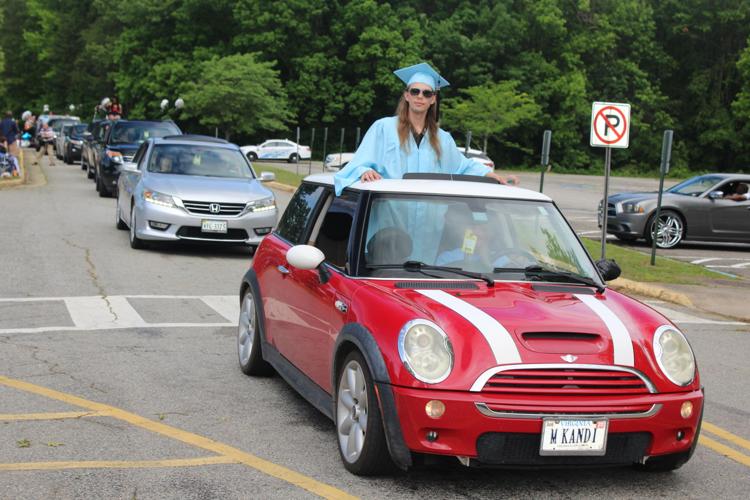 Christian leading processional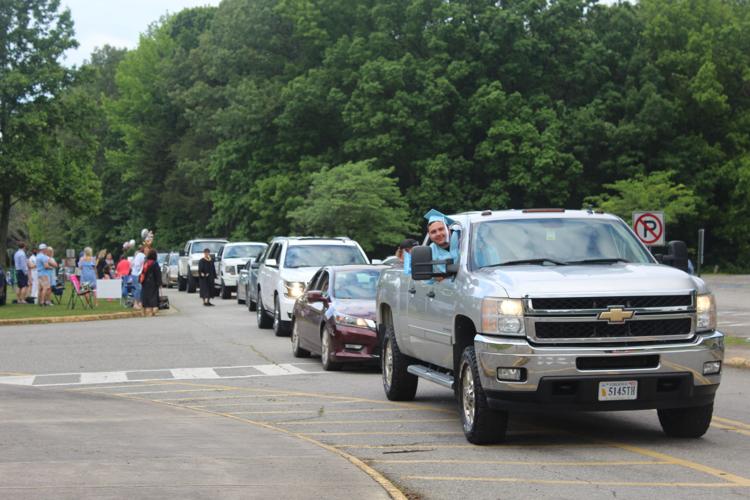 Conner family on rollback truck.JPG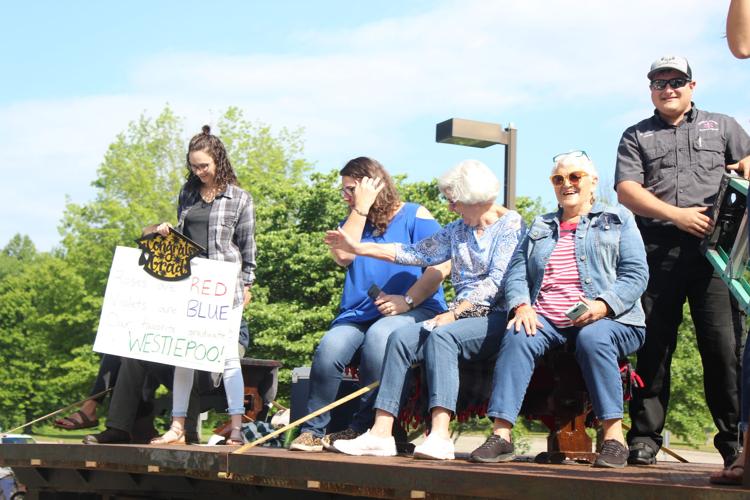 Families fill the back of trucks.JPG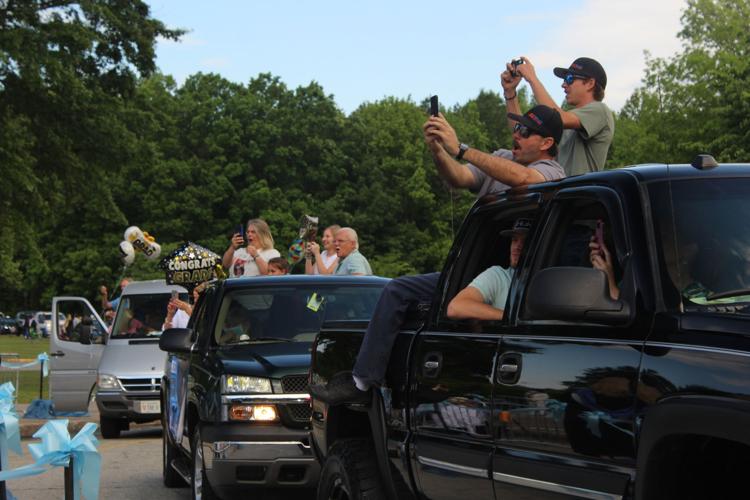 Family cheering on Maci Henderson.JPG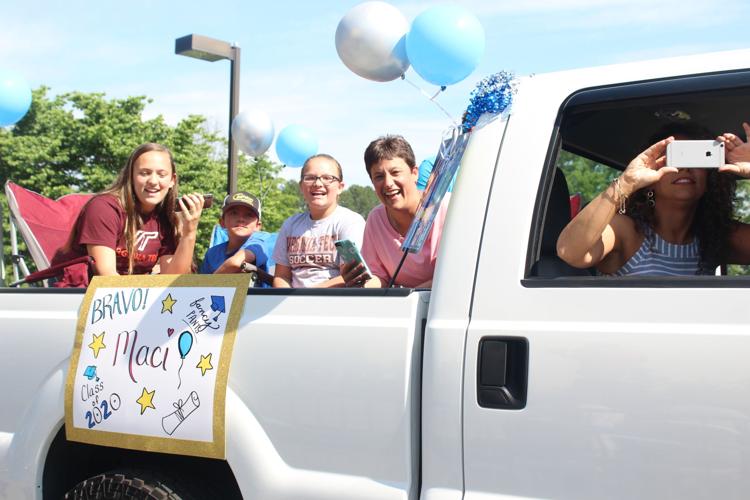 Family cheering on Nicholas Hamlett.JPG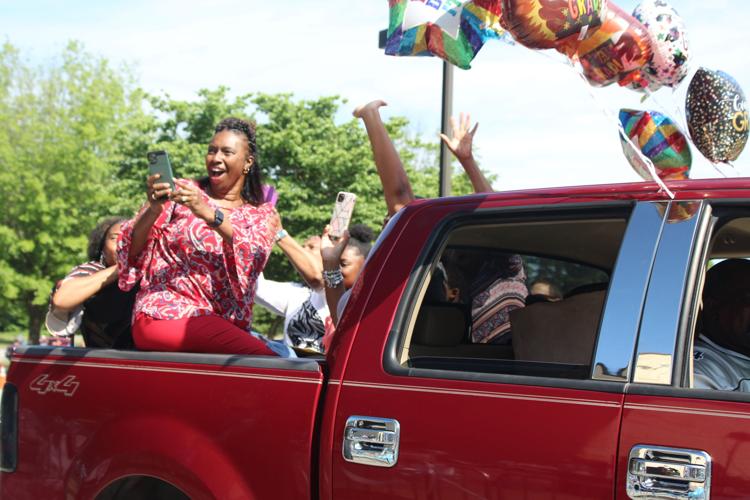 Family congrats Epperson.JPG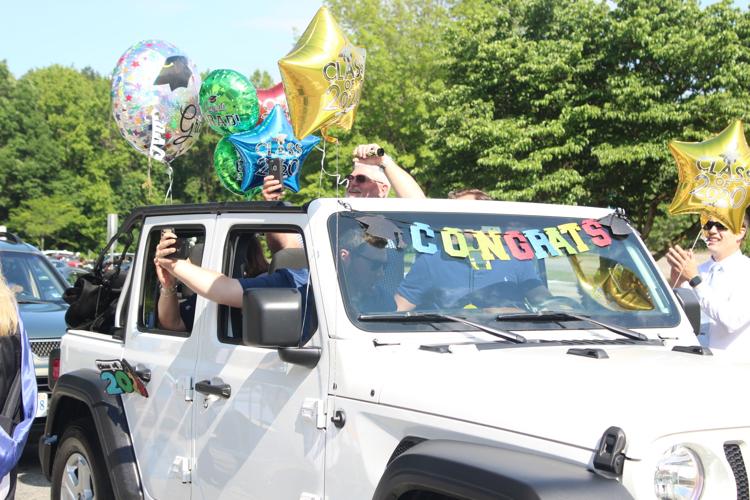 Family decorates vehicle for Za'Riyah Clark.JPG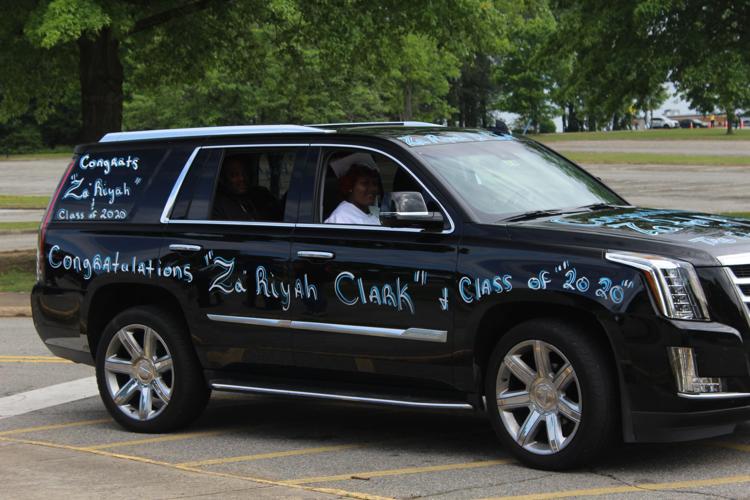 Family with Ashya Barksdale banner.JPG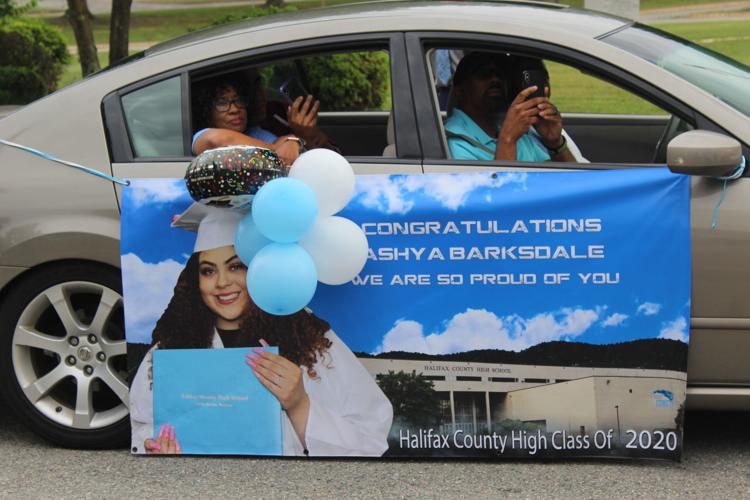 Grad didnt think we'd made it.JPG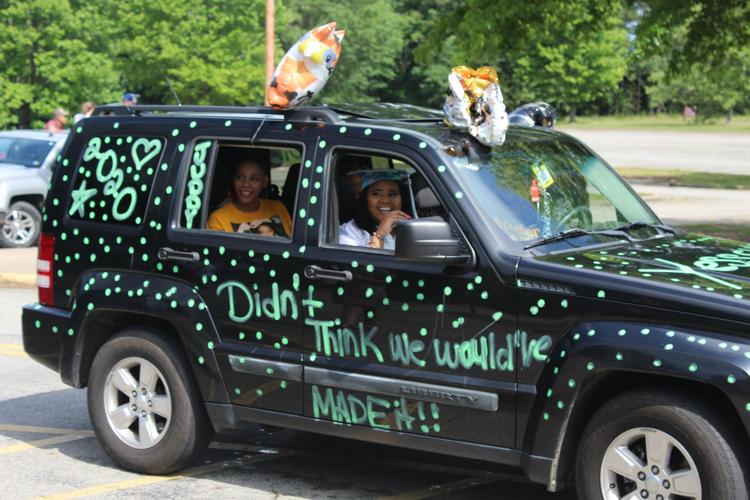 grad christina kaye rides on top.JPG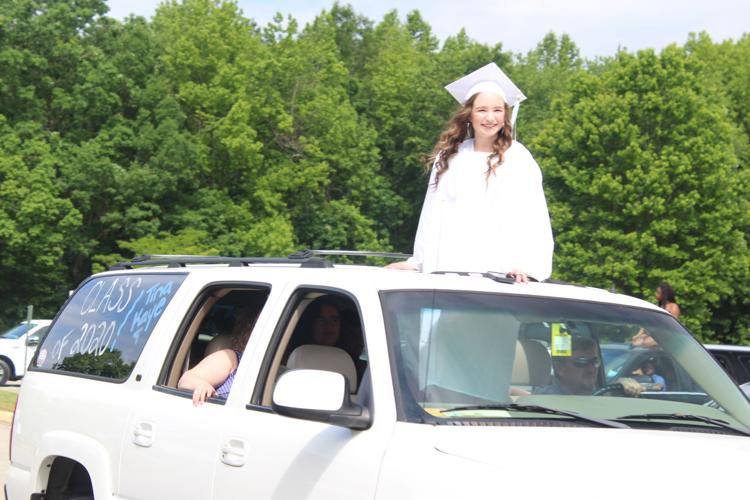 grad doing dab.JPG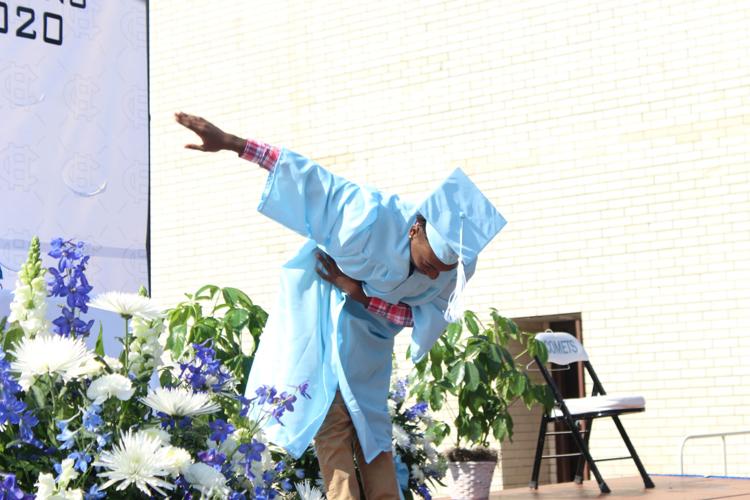 Grad puts her mask back on.JPG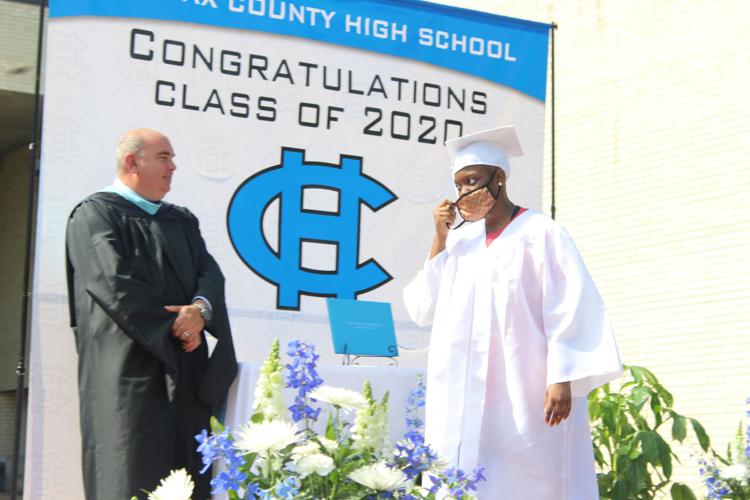 Grad tosses cap as ppl cheer.JPG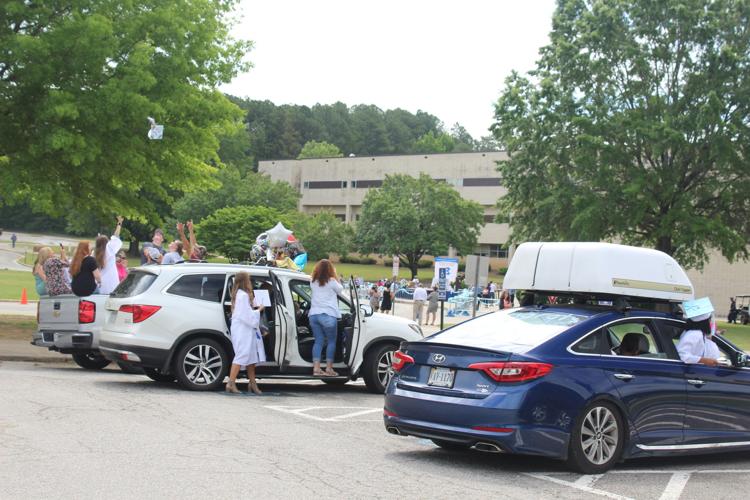 Harriett Claiborne helps graduates.JPG
Kameron Clark exists vehicle.JPG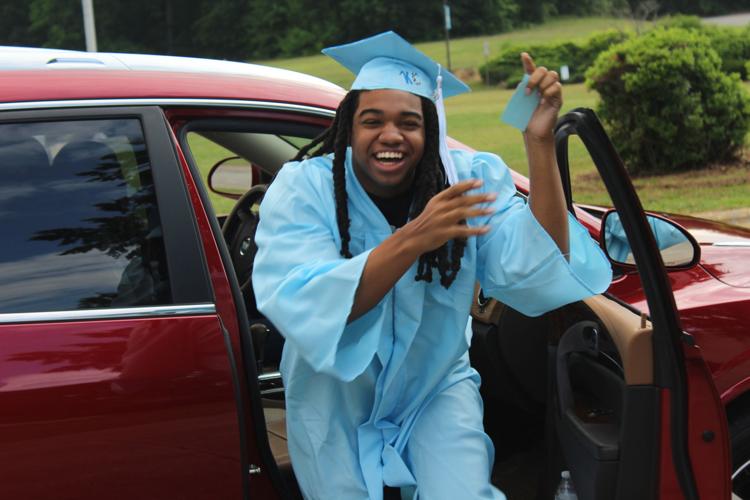 Little girl holds ears as family cheers.JPG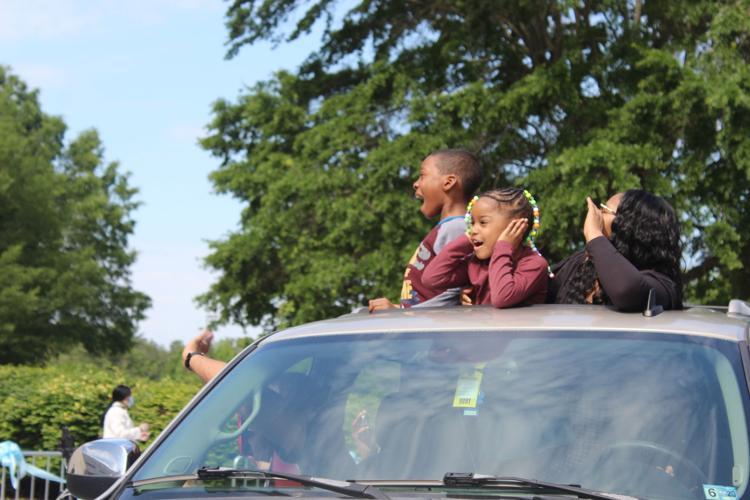 Madison Anderson waving.JPG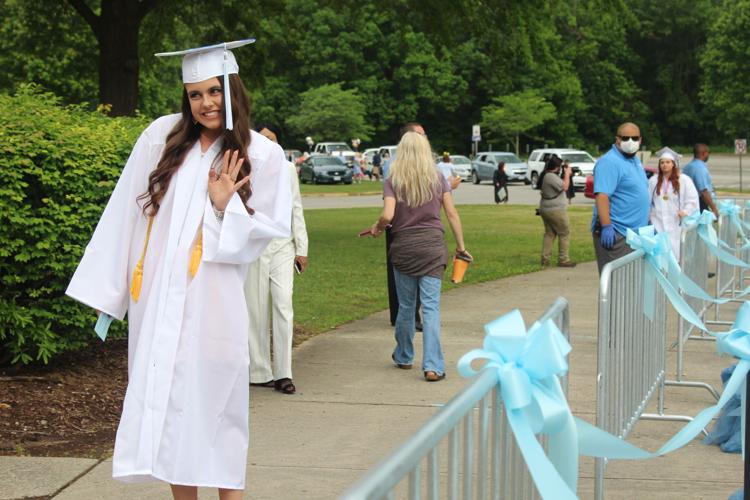 Malasia Boyd cheering.JPG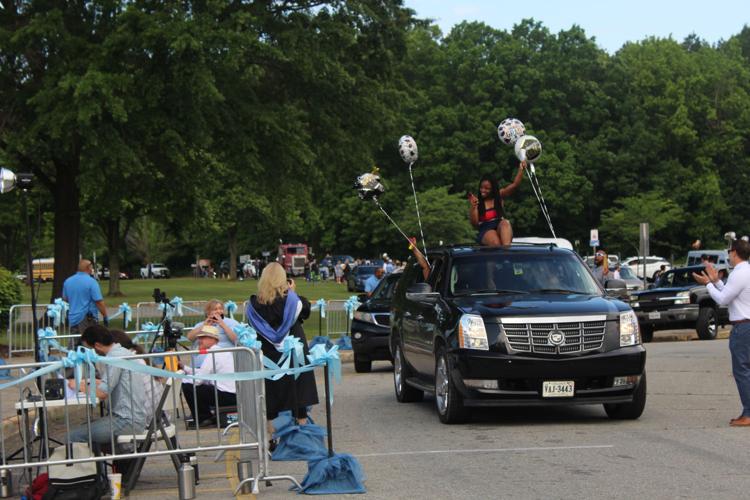 Nicholas Holland family watching.JPG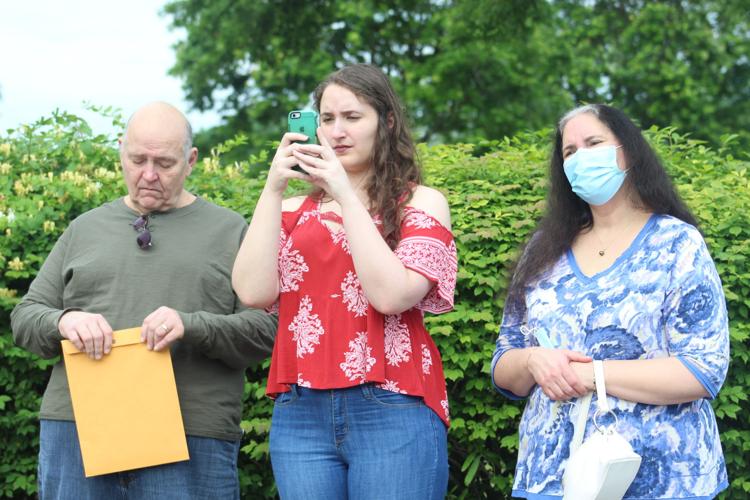 Salutatorian Cassie Snead.JPG