Halifax County School Board members addressed the growing concern of maintaining Halifax County High School and all of its facilities Thursday night when interim supervisor of secondary education Scott Worner presented a long-term maintenance plan during the board's regular monthly meeting.
The meeting was held on Thursday, rather than on Monday, due to the Columbus Day holiday.
Just as it takes a village to raise a child, Worner told those attending Thursday night's meeting it takes a whole community to have pride in its education system.
He understands concerns exist over the care of the facilities, but he noted 16 dedicated maintenance employees as well as a new director of maintenance, Steve Brumfield, put forth every effort to repair and replace what they can at all of the county schools.
But, he said when you break down the number of maintenance employees compared to the nine county schools, the STEM center and the early learning center, that leaves only "1.7 people per building."
He also pointed out former director of maintenance Jay Jennings already had begun a capital improvement plan as part of his efforts to bring the school buildings where they need to be prior to his taking another job.
Now Worner said he wants to see those plans continue and improve.
As they move toward modernizing the high school, he said, "Design challenges must be rectified to promote instruction and facilitate the safety and supervision of the high school."
During the high school modernization project, they plan to put an emphasis on ensuring reliable and high-rated, quality materials are used at the inception of the project, as presented as part of the maintenance plan.
The plan also states line items will be included in the budget solely for maintenance, utilities and facility improvements for all schools.
Worner also said they want to develop and update a capital improvement plan that illustrates preventative maintenance schedules, roof replacement and painting schedules and a timetable for repair and upgrades in areas such as HVAC, plumbing, electrical systems, bleacher and light tower inspections, fire alarm and water suppression systems, communication and camera monitor systems and more.
As they begin the high school modernization project, Worner said they plan to "ensure stakeholders will be included in the planning and design of the project to ensure that we create the best and most flexible facility for the long-term needs of Halifax County High School."
He also said they intend to employ a clerk of the works who will represent the owner and have oversight of the architect and contractor throughout the project.
A capital improvement committee also will be formed to review the state of school facilities semi-annually, said Worner.
Chairman Sandra Garner-Coleman also noted the new director of maintenance has completed 221 work orders since he was hired in September.
"Kudos," said Garner-Coleman. "Hopefully we can continue on that path of maintenance. Don't hold the past against us. We're doing better."
Lack of school maintenance has been one of the reasons some county voters say they do not plan to vote for the 1% sales tax referendum in November that will go toward construction or renovation of county schools.
Two members of the public, Kerry Nelson and Dale Harris, took matters into their own hands and helped clean up and paint Tuck Dillard Memorial Stadium along with other volunteers in August.
Principal Michael Lewis recognized the two men Thursday night for volunteering their time and effort at the stadium.
Nelson echoed some country residents' thoughts telling the school board members the public doesn't think they're taking care of stuff.
"Your work's not done. You have got to take care of stuff," said Nelson. "We did things to make people want to come there, because we like the community… if you don't take care of it, people are not voting for it. A lot of people are voting no."
He told the board people think in years to come, the modernized facilities will be in the same shape they are now.
Harris said it takes showing effort to get the public's attention.
He recently went with the Comets to Jefferson Forest High School, and he said that is the "benchmark stadium" of where a stadium should be.
"It was impeccable," said Harris before speaking about the "outstanding pre-game show," the large band and fire trucks attending.
After seeing that, he made a phone call, asked for fire trucks to be at the next Comet's game, and they said sure.
"People are there for your support. You may have to reach out to and ask for them to help. I encourage you to reach out," said Harris who told the board if they show effort, more would be willing to vote "yes" in November.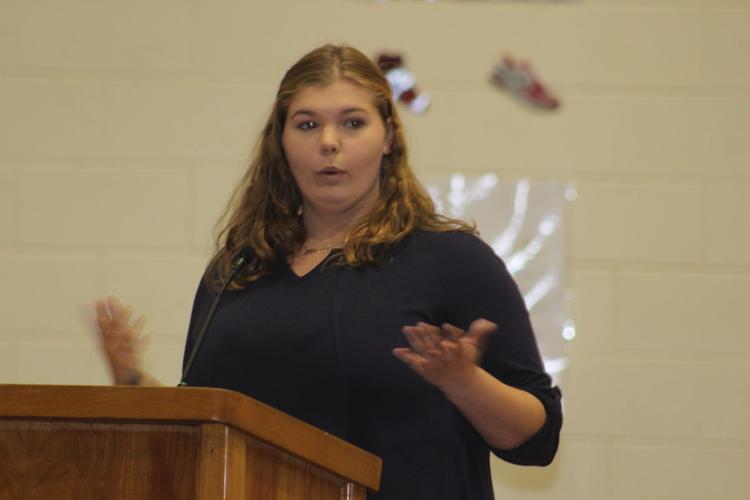 During the citizen comments portion of the meeting, two individuals, Kay Griles and Grey Watson, spoke in favor of voting "yes" to the Nov. 5 ballot referendum that would increase the sales tax by 1% to be used for school projects.
Griles, a senior at the high school, said, "I personally think the tax increase could potentially change the county for the better. No matter whether or not the high school is rebuilt or refurbished, there needs to be a change."
She asked the crowd to consider their children, grandchildren, nieces and nephews who will get to use the up-to-date facility.
"They are our future, your future doctors, nurses, lawyers and teachers ... I want my future teachers and doctors to be even more knowledgeable than me," said Griles, who is considering returning to the county to teach.
"If there is a sliver of doubt in your mind about the rebuilding or renovation of the high school, I hope you will consider the future. Consider the possibility of success for the younger generations of Halifax County," she added.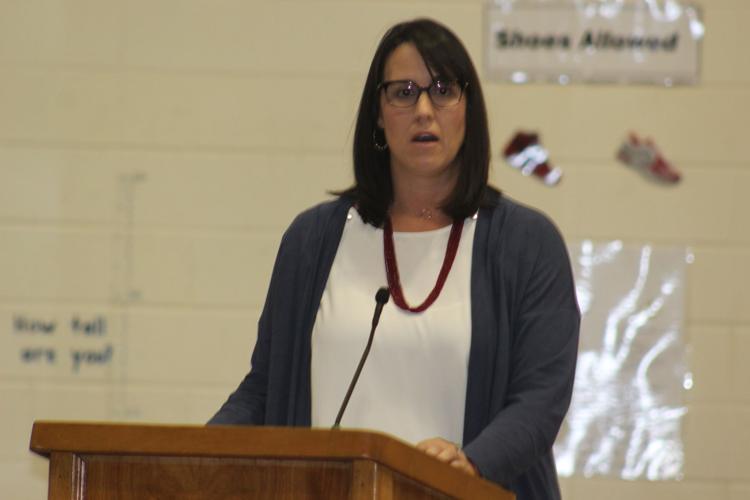 Watson, one of three chairs on the steering committee of the community strategic plan, said just under 2,000 people were surveyed, and having a modern high school was one of their key priorities.
As a mother, she would like her son to have every competitive opportunity in his education, she added.
"I don't believe or buy into the opinion that rural public school systems have to be second tier or that we cannot have similar qualities, facilities, academics and programs as other systems," said Watson.
As a community member, she said she wants to make sure the community succeeds and is viable in the future.
"When businesses and professionals are evaluating the communities to relocate, the educational system and health care are the top two influencers in their decision," said Watson.
She continued, "The sales tax is a fair tax. Everyone in this room will contribute whether we are landowners or property owners, we contribute … I just ask that we all as a group continue to educate our community on the importance of it and that on Nov. 5 we vote yes for Halifax County."