Known for being a natural leader, Jillian Waller stood proud Wednesday evening as she accepted the Principal's Award during the 2019 senior awards night.
"It's very rewarding to be recognized, and it's nice to know that those in higher positions recognize my passion for this community," said Waller, who also received special recognition from the Mike Gregory Golf Scholarship Committee and the DAR award.
These funds will go towards her tuition at Virginia Tech where she received early admission, and she plans to double major in political science and communication studies.
While she isn't sure exactly what profession she would like to pursue after college, she knows she wants to use her skills to help make sure a new Halifax County High School is built and that the county continues to progress as a whole.
As a student in the new leadership class, she already has begun helping lead the charge for a new high school with helping get Del. James Edmunds' bill passed that allows for a referendum to be put on the November ballot for a 1-cent sales tax increase to help fund school improvements.
"Del. James Edmunds asked me to join him in Richmond twice, and that was the most rewarding experience," said Waller, who was able to address the House of Delegates.
Before she made it to that house floor, she had plenty of time to hone in on her leadership and public speaking skills in her leadership class and other endeavors in high school.
In addition to her academics, she has played golf since sixth grade, was the ACE manager for two years and was the manager for the boy's tennis team for a year.
Waller credited Melanie Saunders, who taught the leadership class, as the most influential person in her high school career for always encouraging her.
"She pushed me," said Waller.
Principal Michael Lewis called Waller a "person of action," who works hard and goes after goals that she's set.
When it came time to announce the Frances Mitchell Best All-Around Female Athlete, Lewis said they couldn't decide on only one athlete who deserved the recognition.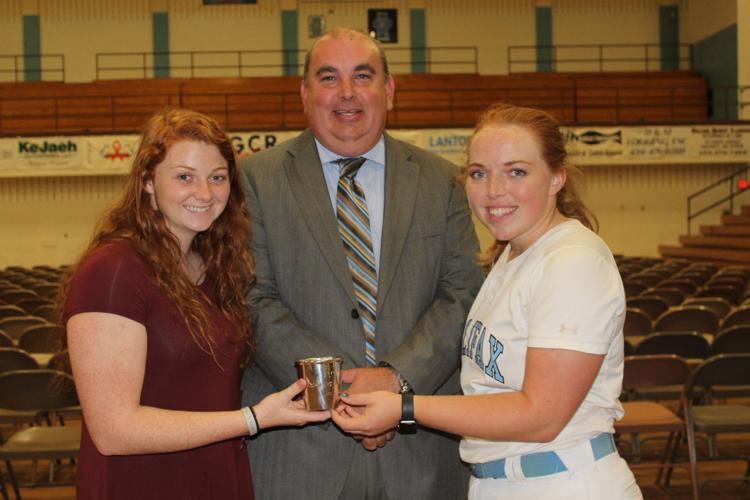 He presented the awards to softball and volleyball player Katie Cole and volleyball and soccer player Leigh-Anne McCormick.
Cole and McCormick both earned the Piedmont District All-Academic Award in the fall and were also co-recipients of the most valuable player award.
McCormick also received the Halifax Insurance Agency Player of the Year Award.
Even though he wasn't able to attend, Lewis presented the T. C. Watkins III Best All-Around Male Athlete to Herbert Brooks, who shattered the high schools' discus record earlier this year and served on the varsity football team.
The track star's throw of 170 feet and 9 inches beat the Halifax County High School record of 160 feet and seven inches set by Treyquan Holt in 2015.
Other senior awards presented Wednesday evening include the following: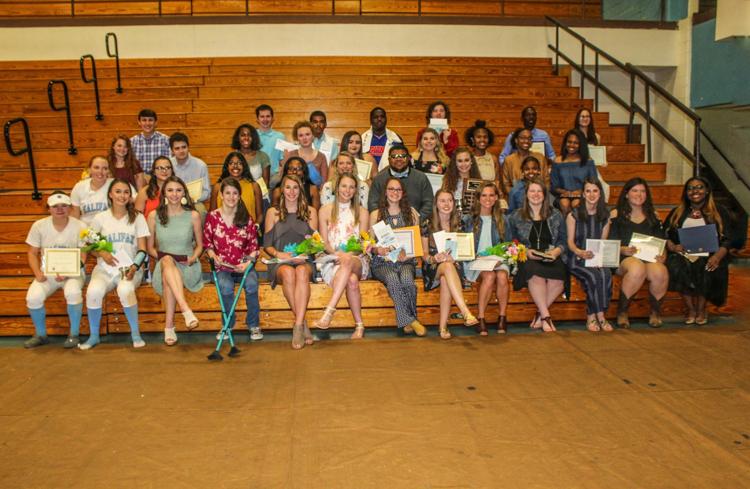 1. Class officers – president Summer Lacks; vice president Lauryn Miller; secretary Danielle Bates
2. SCA officers – president Tylicia Rice; secretary J'Asha Lee
3. Bates Scholarship - Janae' Hansen and Caroline Laughorn
4. George E. Allen Scholarship - Madelyn Simmons
5. Wind Beneath the Wings, Inc. - Jalisa Brooks and Brittany Williams
6. Fraternal Order of Eagles Scholarship - Jillian Crews
7. Woodman of the World - History Award - Alyssa Mitchell
8. VMDAEC Worth Hudson Scholarship - Kayla Watts
9. South Boston Rotary Club Scholarships: J. Marshall Swanson - Mariah Molina and Kenneth Cassada - Kayla Walker
10. South Boston Speedway/Mattioli Foundation Scholarship - William Hall
11. Vizyons Scholarship - Jalisa Brooks, Lauryn Miller and Otis Slayton
12. Turbeville Ruritan Club – Nicholas Carter, Georgia Hardy, Christopher Hudson and Leigh-Anne McCormick
13. Mike Gregory Golf Scholarship – Nicholas Carter; and special recognition – Jillian Waller
14. Benchmark Community Bank's $mart $tart Community Commitment Scholarship – Caroline Laughorn
15. 2018-2019 IALR STEM Scholarship – Jillian Crews and Tyler Mabe
16. Wanda Bostick Jeffress Memorial STEM Scholarship – Kyra A. Scott and Caitlyn Wiley
17. General Education Certificate DCC – Danielle Bates, Kelsey Bomar, Gavin Bridgers, Paige Brockenbury, Peter Brockenbury, Jalisa Brooks, Nichols Carey, Nicholas Carter, Katelin Cash, Adam Chaney, Lauryn Chappell, Steven Clark, Katie Cole, Zachary Conner, Kelly Garacia, Armiche Crawley, Jillian Crews, Jacob Day, Ivette Deleon, Alexander Elliott, Troy Ferrell, Kera Ford, Recardo Ford, Holden Francis, Jay Francisco, Reece Franklin, Janae' Hansen, Christopher Hudson, Hailey Hudson, India Jones, Summer Lacks, Caroline Laughorn, Alex Lowery, Zachary Lowery, Tyler Mabe, Lauryn Miller, Alyssa Mitchell, Cierra Mitchell, Sophie Moore, Cassie Morris, Henry Morrison, Kayla Mosley, Leigh-Anne McCormick, Mackenzie Owen, Camryn Pointer, Andrew Pope, Jacob Poteat, Hailey Reebals, Tylicia Rice, Isbel Rosche, Amelia Simmons, Madleyn Simmons, Damonica Taylor, Brashaam Truesdale-El, Jeri Tyler, Austin Vaughan, Karina Velazquez, Kayla Walker, Jillian Waller, Kayla Watts, Sydney Wilborn and Caitlin Wiley
18. Casey Nicole Pulliam Scholarship – Janae' Hansen, Leigh-Anne McCormick, Liza Moore, Izzy Rosche and Jeri Lynn Tyler
19. R.J. Oliver Scholarship – Tyler Mabe, Shaun Perkins and Otis Slayton
20. Halifax Vocational Foundation – D. Henry Harrison Scholarship – Katelin Cash, Samantha Dietsche, Alexis Lawson, Tylicia Rice and Hailey Reebals
21. Halifax Soil and Water Conservation District Memorial Scholarship – Lauryn Chappell
J.T. Burton Memorial Scholarship – Katelyn Cash and Summer Lacks
22. The Links, Inc. Danville Chapter Scholarship – Lauryn Miller
23. Retail Merchants Scholarship – Jalisa Brooks, Felicity Jordan, Kayla Walker, Kayla Watts and Sydney Wilborn
24. Alpha Kappa Alpha Scholarship – Lauryn Miller
25. Olivia Noblin Memorial Scholarship – Lauryn Chappell, Tyler Mabe, Leigh-Anne McCormick and Jeri Lynn Tyler
26. Delta Sigma Theta Sorority Scholarship – Lauryn Miller and Kyra A. Scott
27. John Jasper Pointer III (J-Bo) Memorial Scholarship – Camryn Pointer
28. Roger J. Ford Scholarship – Jalisa Brooks, Chyna Ferrell, J'Asha Lee and Kyra A. Scott
29. GRASP Scholarships: Last Dollar Scholarship – Gavin Bridgers and Leah Newbill
Pathway Scholarship – Nyla Lunsford
30. Rho Iota Chapter of Omega Psi Phi Fraternity, Inc. Scholarship – Otis Slayton
31. Fred A. Palmore Memorial Scholarship – Herbert Brooks and Jeri Lynn Tyler
32. Little Theatre Honorarium – Dorothy H. Crews Memorial Scholarship – Lillian Savage
33. South Boston Junior Woman's Club Scholarship – Lauryn Chappell
34. DCC Academics – Recognition of Achievement Scholarship – Zachary Perkins
35. Halifax County Usher's Union Scholarship – Leah Newbill and Otis Slayton
36. Senior Exercise Group Scholarship – India Jones
37. Bethune Alumni Foundation Scholarship – Jalisa Brooks and Lauryn Miller
38. DeAndra S. Barksdale Scholarship – Camryn Pointer and Gabriel Vass
39. Farm Bureau Scholarship – Lauryn Chappell, Cora Domenici and Kayla Watts
40. Union Ruritan Club Scholarship – Jillian Crews, Caroline Laughorn and Tylicia Rice
41. Outstanding culinary arts seniors – John Pittard – FCCCA Scholarship; FCCCA Award – Jessica Overby, Amber Nichols and Khlig Palmer; Culinary Arts – Ali Ferrell and Jessica Overby
42. JROTC – DeClan Armstrong, Ta-Kiya Barksdale, Herbert Brooks, Kenneth Chandler, Cadashia Guthrie, James Harlow, Kamarin Harlow, Robert Lipscomb Jr., Kaitlyn Puryear, Ryan Short, Shaniece Ward and Amari Womack
43. FFA Awards – Dekalb Agricultural Accomplishment Award – Katelin Cash
Star Chapter Farmer – Jessica Overby
44. Clark Lovelace Memorial Scholarship – Annalise Sexton
45. URW Community Federal Credit Union Scholarship – Amelia Simmons and Madelyn Simmons
46. Business Department Award –Outstanding Business Student – Peter Brockenbury
Outstanding FBLA Member – Courtney Craig
47. DAR Award – Jillian Waller
48. Parson's Bruce Scholarship – Tyler Stephens
49. Delta Kappa Gamma Scholarship – Alexis Lawson and J'Asha Lee
50. SVCC Associate Degree candidates – Danielle Bates, Kelsey Bomar, Gavin Bridgers, Paige Brockenbury, Peter Brockenbury, Jalisa Brooks, Nicholas Carey, Nicholas Carter, Katelin Cash, Adam Chaney, Lauryn Chappell, Steven Clark, Katie Cole, Zachary Conner, Armiche Crawley, Jillian Crews, Jacob Day, Ivette DeLeon, Alexander Elliott, Troy Ferrell, Kera Ford, Recardo Ford, Holden Francis, Jay Francisco, Reece Franklin, Christopher Hudson, India Jones, Cierra Kipps, Summer Lacks, Caroline Laughorn, Alex Lowery, Zachary Lowery, Tyler Mabe, Leigh-Anne McCormick, Lauryn Miller, Alyssa Mitchell, Sophie Moore, Cassie Morris, Henry Morrison, Kayla Mosley, Mackenzie Owen, Camryn Pointer, Andrew Pope, Jacob Poteat, Tylicia Rice, Isabel Rosche, Amelia Simmons, Madelyn Simmons, Damonico Taylor, Brashaam Truesdale-EL, Jeri Tyler, Austin Vaughan, Karina Velazquez, Kayla Walker, Jillian Waller, Kayla Watts, Sydney Wilborn and Caitlin Wiley
51. Edmunds Family Endowed Scholarship at UVA – Liza Moore
52. Raymond L. Shelton Leadership Scholarship – J'Asha Lee and Brittany Williams
53. Roderick Lacy Retired Teacher's Scholarship – Alexis Lawson
54. Virgilina Alumni Scholarship – Haley Saunders
55. Science Award – Alyssa Mitchell
56. Hall of Fame Scholarships – Lauryn Chappell and Colt LaRue
57. Pinochlettes Club Award – Tylicia Rice
58. Dr. Bessie Carr Award – Damonicao Taylor
59. Carrington-Lanier Scholarship – Jalisa Brooks, Chyna Ferrell and Otis Slayton
60. HCPSEF Scholarships – Danielle Bates, Gavin Bridgers, Katelin Cash, Lauryn Chappell, Summer Lacks, Lauryn Miller, Mariah Molina, Jacob Poteat and Madelyn Simmons
61. The HCPSEF Hula B. Moorefield Scholarship – Kayla Watts
62. The HCPSEF Lester Dillard III Memorial Scholarship – Janae' Hensen
63. Delegate James Edmunds Community Involvement Scholarship – Jillian Crews
64. The HCPSEF Edward Glasscock Memorial Scholarship – Amelia Simmons
65. The HCPSEF Heritage Festival Scholarships – Tylicia Rice and Caitlyn Wiley
66. Coleman Starnes Memorial Scholarship – Tyler Mabe
67. Dr. Sun G. Lee Memorial Scholarship – Caroline Laughorn
68. Halifax Education Association Scholarship – Madelyn Simmons
69. Sarah Elizabeth Umphlette Bane Scholarship – Lauryn Miller
70. C. Arthur Ware Scholarship – Kayla Watts
71. Scholarships – Herbert Brooks – VMI Sports Scholarship $7,000; Kera Ford, Red and White $2,500 Radford; J'Asha Lee ODU $2,000; Robert Lipscomb – T.J. Stonewall $150 – Robert Adams Continuing Ed; Iquasha Mosley – Presidential Award - $5,000 VSU, Grant $5,000 VSU; Jacob Poteat – 1839 Award $3,000 Longwood, Honors Scholarship $1,500 Longwood, Life Stem $5,000 Longwood; Tylicia Rice – Phiner Ladies Alumni $500 VSU; Kyra Scott – Provost Scholarship $5,500 NSU; Sara Stevens – Lancer Achievement $2,000 Longwood; Jamesia Sutphin – Band Scholarship $4,000 NSU; Cassity Walker – Longwood $3,000 a year, Longwood
72. Swanson Scholarship – Zachary Perkins
73. Frances Mitchell Best All-Around Female Athletes – Katie Cole and Leigh-Anne McCormick
74. T.C. Watkins III Best All-Around Male Athlete – Herbert Brooks
75. Principal's Award – Jillian Waller