Halifax County School Board hired the Virginia School Board Association to conduct their superintendent search when they met Thursday in the STEM center in Halifax.
The board is looking to hire a new superintendent by July 1 following the Feb. 17 retirement of current superintendent Mark Lineburg.
Following their decision to hire the VSBA, the board heard a presentation from Gina Patterson, executive director of VSBA, and Jessica Blythe, VSBA's director of communications, on their services.
ED-6 trustee Lacey Shotwell had asked the board to consider other options, and the board had agreed to allow Shotwell's additional options to become apart of Thursday's agenda, but when it came time to meet early on into the meeting, chairwoman Kathy Fraley asked for a motion to hire VSBA.
Fraley told the board that they had to agree to VSBA before they could move forward with the presentation from Patterson.
The chairwoman pointed out that the school board had used the VSBA's services in the past two superintendent searches.
"They have done a good job with helping Halifax County locate a superintendent," said Fraley.
ED-3 trustee Sandra Garner-Coleman then made a motion to hire VSBA, which was seconded by ED-4 trustee Jay Camp.
Shotwell then pointed out to the board that they were making a decision without considering other options, and were disallowing the motion that they approved Monday
"I think we should gather more information before we entertain a motion," she said.
ED-8 trustee Walter Potts also told the board that the reason why they had to move forward with a vote to hire VSBA was because they had to authorize it before VSBA would present to the board.
But Shotwell said they could provide information on their services, but not specific to Halifax County.
The board then voted 7 to 1 to hire VSBA with Shotwell offering the sole dissenting vote.
Later in the meeting, Shotwell asked the board if they knew the costs associated with the superintendent search, and the board members did not.
"I just wanted to point out that we just agreed to hire someone without knowing the cost," she said.
Patterson then noted that she did include the price of their services in the initial email that she sent Fraley.
She then told the board that the price is based off of population, and would be $9,500 plus a possible range of $300 to $300 in additional expenses.
In her presentation, Patterson went on to tell the board that VSBA does not make the decision of superintendent for them, but are there to help guide the process.
She told the board that whoever they choose to hire must be on the Eligible List of Division Superintendents approved by the Virginia Board of Education.
The board can interview an individual not on the list, but he or she must get on the list before the board can offer them the job, she added.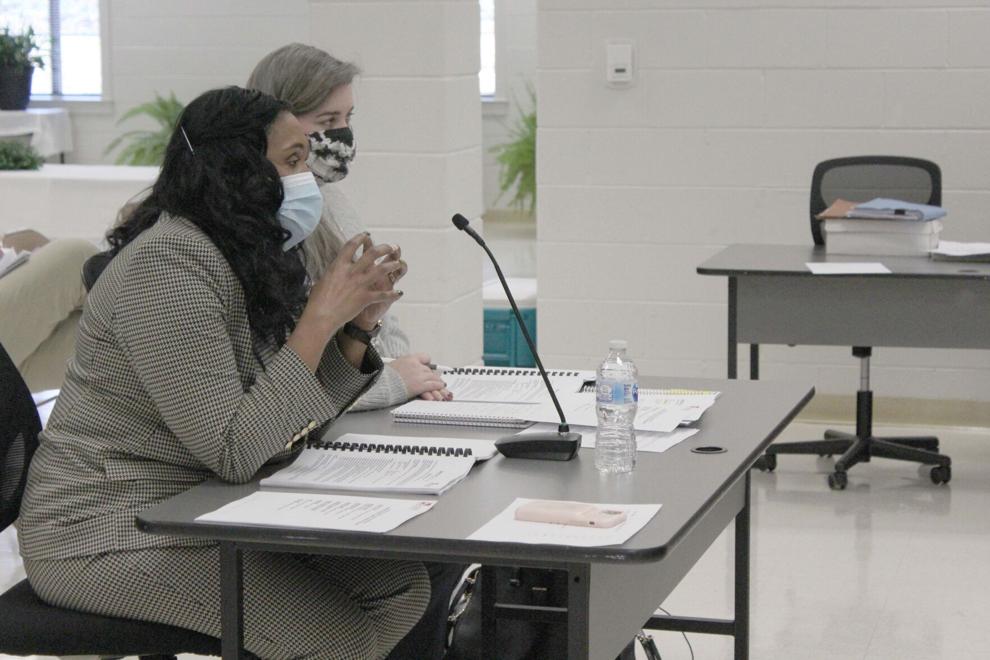 Patterson told the board they have 180 days after Feb. 17 to hire a superintendent before moving on to talk about how they can involve the community.
Patterson suggested the board also have hard copies at the central office, schools and other areas such as libraries and to have it in other languages if needed.
Potts suggested they offer it in Spanish, and Shotwell recommended having a QR code, as well.
Patterson also suggested sending out an alert to parents of school children before the holidays, after the holidays and right before the survey closes to let them know of the survey.
In addition to the survey, there's a public hearing set for 6:30 p.m. Jan. 19 in the Mary Bethune Office Complex.
The board would then meet after the survey closes and the public hearing to finalize what qualifications they would like to have in a superintendent.
The qualifications, she said, "has to come from this board collectively and the community." She also warned the board about not deviating from those qualifications.
Following the January meeting after the public hearing, Patterson said they would accept applications until Feb. 28.
March is when Patterson anticipates they would begin interviews, and she anticipates that they would have up to three rounds of interviews.
She also stressed the importance of having each board member present at each interview to form those relationships with the candidates and to form their own opinion of the candidate.
"You will know right away if it's a good fit," she said.
Patterson also said VSBA would handle contacting references of applicants.
She also said the board would have to announce when they begin interviews and that each round of interviews would be done in a 15-day window. If the board needs more than those 15 days, she said they would have to meet and publically announce again they would be conducting interviews over the next 15 days.
The executive director of VSBA also stressed the importance of confidentiality.
"If it's found out that someone has been outed, then you're going to get less applicants," said Patterson.
Hopefully, she said, the board will announce in May who they would like to hire and that person would start July 1 or maybe before that.
She also encouraged the board to get a copy of the current superintendent's contact if he or she does not have one.
"That is how you're going to start formulating the next one," said Patterson. "We have sample ones, but most superintendents don't like ours. Ours is more school board friendly. Keep in mind that there are things you may obligate yourself or future boards to."
Contracts by law, she added, must end by June 30, and the initial contracts has to be for a minimum of two years or a maximum of four years.
After that, she said, the board can choose any amount of years they want.
All board members will have access to the applicants application, letters of recommendations, references, etc that he or she submits to VSBA using a username and password, Patterson said.
She also told the board if they know of anyone currently working for the school system who they think would be a good fit for the job to send them a letter encouraging them to apply.
Patterson also said if anyone in-house applies, she would automatically grant them an interview.