With individuals touting her grace, advocacy efforts and strong Christian faith, Arlene Dailey was recognized as the Cora Tucker Award recipient at a ceremony hosted by the Halifax County/South Boston VA NAACP at the TJM Community Center in Cluster Springs on Saturday afternoon.
The Cora Tucker Award has been awarded each year since 2000 and is usually awarded at the Jubilee Service held on Jan. 1 given to a deserving person who has exemplified services to the community. Tucker was a civil rights activist for over a decade. Laurietta Faulkner was the first recipient on Jan. 1, 2000.
This year, due to COVID-19, the local NAACP chapter did not hold a Jubilee Service.
In presenting the award, President of the Halifax County/South Boston VA NAACP Barbara Coleman-Brown said, "This woman is totally committed to her family, her church and to the quest for social and racial justice for all. She is one who has not and does not sit on the sidelines in hopes that good things will just happen. You can depend on her to be one of the first to lift her voice and show up to ensure that right things are done. Our 2021 recipient of the Cora Tucker Award is none other than the refined embodiment of grace and charm, Mrs. Arlene Daily."
Deacon Detra Carr, Halifax County/South Boston VA NAACP first vice president, and Rev. Kevin Chandler, Halifax County/South Boston VA NAACP second vice-president assisted Coleman-Brown with presenting the award.
After accepting the award, Dailey said, "I really don't know what to say. It's unreal. It's unbelievable. Thank you all so much. I don't feel worthy of this. Thank you so much for feeling I am deserving. It's humbling."
Dailey, formerly of Charlotte County, is the daughter of the late Dudley and Carrie High. She is the youngest of 10 siblings. She is a graduate Central High School, and she has one son, Andy Dailey. She is a member of Shiloh Baptist Church, where she serves as a member of its gospel chorus and an officer of its missionary ministry.
She retired from Westinghouse, now ABB, after working there 31 years. She has worked with the Salvation Army for over 20 years, serving more than 10 of those years as its treasurer. She also serves as a member of the One Community, is a founding member of the L.E. Coleman African American Museum, where she serves as treasurer, and works with The Good Samaritan. She is currently an officer for Area E-2 of the Baptist General Convention.
As a Silver Life Member of the Halifax/South Boston branch of the NAACP, she has held several different offices and currently serves as the chair of the Housing and Economic Development committee.
She is a member of the Citizens Registering Citizens Committee and currently serves as the chairperson of the Halifax County Improvement Council, currently in her second term.
Following the presentation, guests were invited to share remarks about Dailey.
Chandler said it was a "blessing to be a part of history" in helping celebrate a "great person" who is "most gracious."
As someone who has worked with Dailey for "quite a long time," Chandler said it was a "blessing to see and be a part of her leadership."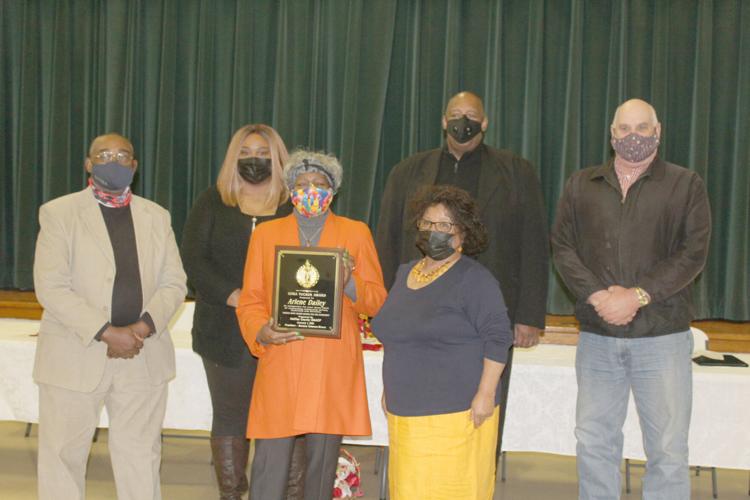 Sheriff Fred S. Clark also spoke on Dailey's behalf. Dailey has worked as treasurer for Clark's campaign ever since meeting her through the late Gatha Richardson.
When he reached out to Dailey about working with his campaign, Clark said she agreed "without reservation and has been there ever since.
"She is a fine lady who wears many hats. We appreciate all that you do, and may God continue to bless you," said Clark.
Betty F. Majors told Dailey she "loves the way she carries herself" before calling her an "epitome of a woman."
Ebony Guy, granddaughter of Tucker, said she became "giddy" when she found out Dailey was this year's recipient before telling her that she is "so deserving of this award."
Mary Pannell, secretary of the Halifax County/South Boston Chapter of the NAACP, called Dailey an "inspiration" before saying Daily always lifts her up when she talks to her.
"I appreciate you having confidence in me," Pannell said to Dailey. "I want to give you all the praises you deserve."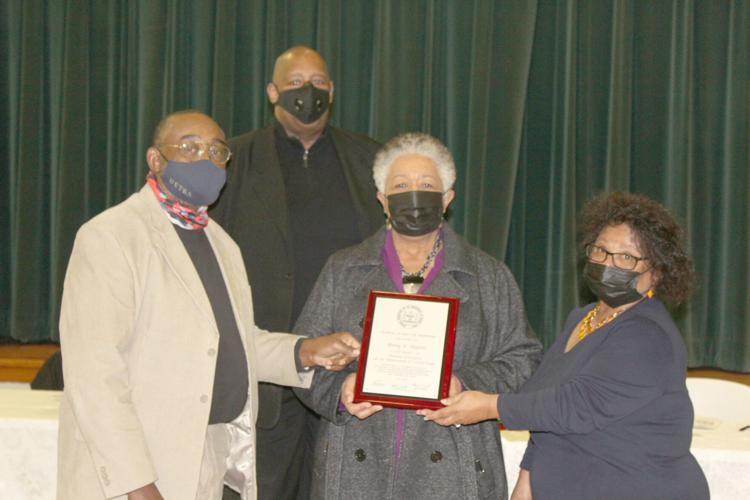 In closing remarks, Coleman-Brown said Dailey is not the one out front but who has her "arms out wide coddling the ones who do lead" before calling her one of the "unsung heroes."
Following Dailey's surprise presentation, Majors also received a surprise.
Coleman-Brown, Chandler and Carr presented Majors with a Silver Life Membership Award.