Service above self was the theme that sounded throughout the night Friday as a full house of Southside Outreach Group members held their 10th annual banquet in the Leggett Auditorium at Sentara Halifax Regional Hospital.
Guest speaker for the evening was Tina Wyatt-Younger, currently the vice-mayor of South Boston, who works with the Tri-County Community Action Agency as program coordinator for the Mentor-Role Model Program.
A graduate of John Jay College of Criminal Justice in New York City, Wyatt-Younger worked as program coordinator for the College Board's department for students with disabilities.
Younger, a minister serving under Bishop Kervy Brown Jr. at Greater Deliverance Temple in Danville, told the large gathering that the body is made up of many parts, as is each community.
"God has combined all members of the body, and all parts of our community are valuable," said Wyatt-Younger.
Communities are strong because of the tenacity of their citizens, and everyone has value, Wyatt-Younger told the crowd.
Another point she stressed is everyone benefits from affordable housing, which enlarges everyone's purchasing power and contributes to the community as a whole.
"I implore you to keep fighting for those less fortunate, and show peace, kindness and joy toward others."
Wyatt-Younger, who is working on a book helping women to overcome the shame of abusive relationships, finished with a quote from Dr. Benjamin Mays that is often repeated by the late U.S. Representative Elijah Cummings, "I only have a minute, but eternity is in it."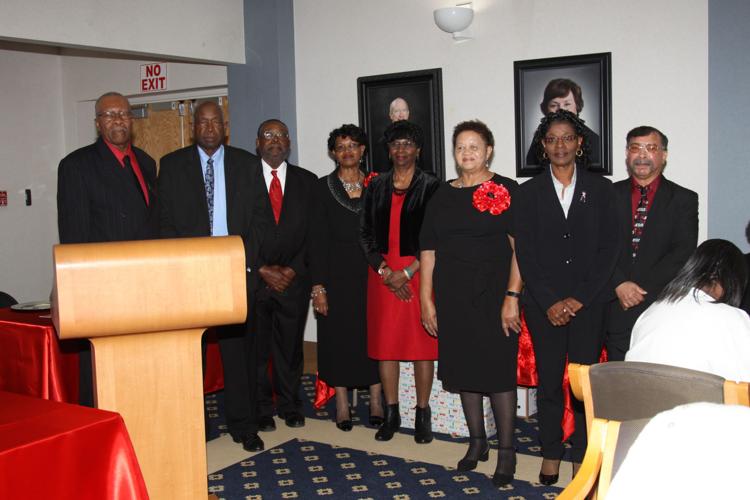 Southside Outreach Group, in its first 24 years, has attained a list of accomplishments as it increases its commitment to helping low and moderate-income families obtain safe and affordable housing, according to Chris Ward, Southside Outreach Group board president.
Among those who have received help with plumbing issues are Sylvia Brown and Barbara Powell, both of whom gave testimonials on Friday recognizing Southside Outreach Group and executive director Earl Howerton Sr. for coming to their respective homes to assist them through the program's indoor plumbing and rehabilitation program.
In recognizing the rural homeowner rehabilitation program for its accomplishments, Cassandra Barksdale, program administrator, said eight jobs had been completed, and approximately $300,000 had been spent in rehabilitating houses instead of tearing them down.
"Under the program, we can only rehab a house, we can't tear it down," said Brown.
Southside Outreach Group has been recognized by the Virginia Department of Housing and Community Development with its Silver Hammer Award for its continuing efforts in assisting county residents with its outreach programs and counseling, Ward said.
Among its other accomplishments, Southside Outreach Group has developed and sold 22 single-family houses in the Sunnybrooke Subdivision, for which it won the Governor's Housing Award for best housing development.
The group also has acquired and rehabilitated 46 multi-family apartment units using federal low-income housing tax credits (Miller Homes), Ward added.
Other group programs include minor housing rehabilitation, including repairs to steps, doors, plumbing and windows, in addition to providing home ownership opportunities.
Southside Outreach Group will celebrate its 25th anniversary at next year's banquet, according to the board president.
"In the coming year, we will focus on building lasting sustainability and continue to bring positive changes to the communities in which we work, live and play," said Ward.
Also Friday night, Howerton recognized sponsors for the annual banquet, and Barbara Logan and Larry Tucker provided musical entertainment with a number of songs.
Tom Raab, South Boston town manager, brought greetings, and board member Detra Carr gave the invocation, while Tracy Q. Martin, commonwealth's attorney, served as mistress of ceremonies.