The main objective of the Mary M. Bethune Alumni and Associates is to award scholarships to local high school students regardless to race, creed or color.
This resulted in the formation of the Bethune Scholarship Foundation Inc. in 1978. The foundation is a separate 501(c)3 nonprofit, tax-exempt organization that has as its goal to raise $500,000 in sustaining funds.
These sustaining funds are needed to ensure scholarships are continued for years to come.
When the last graduate of Mary M. Bethune High School is gone, the school's name will continue to survive because of the Bethune Scholarship Foundation Inc.
The first scholarship was awarded to Lisa Logan in 1978. Four scholarships were awarded in 1979 to the following graduates: John H. Carter, Sarah Catherine Brown, Felicia Abbott and Coolidge Hamlett. The four were recognized during the class day activities.
After 44 years, the Bethune Scholarship Foundation Inc. has awarded $112,000 to 157 deserving students.
There are local Mary M. Bethune Alumni and Associates chapters in Washington, D.C., Maryland, New York/New Jersey, Richmond and Halifax County. Presently each of these local chapters plus the national chapter raise money each year for scholarships to support the Bethune Scholarship Foundation Inc.
In 1998, Marie Claiborne Williams-Turbeville, a local humanitarian and retired teacher, donated $10,000 to the Bethune Scholarship Inc. This has been the largest donation by an individual to the foundation and her gift helped to inspire others to give.
Her desire to help enhance the lives of local high school students in obtaining a higher education prompted her to give to the Bethune Scholarship Foundation Inc.
Beginning in 2001, the Marie C. Williams-Turbeville Scholarship is given in her name.
The Bethune Scholarship Foundation's general board has two continuous fundraisers: the Gift Campaign 2021-30 and the bi-annual Charity Golf Tournament. The first bi-annual golf tournament was held in June 1998 at Green's Folly Golf Club. Supporters have been the Mary M. Bethune Alumni and Associates, former recipients of the scholarship, alumni, friends, local businesses, industries, organizations, the local hospital and area churches.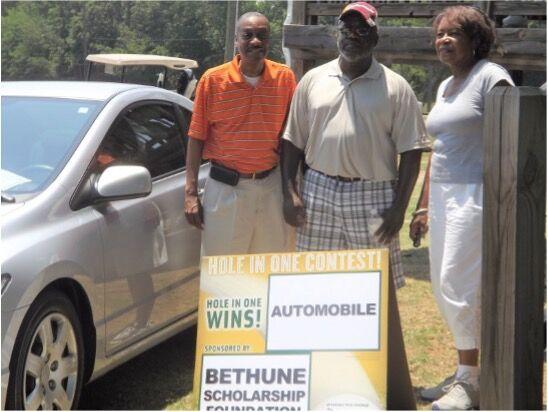 From 2004 to 2016, the bi-annual charity golf tournaments were held at Wedgewood Golf Center. In 2014, one tournament player won a $17,000 on the hole-in-one.
This year's charity golf tournament will be held Friday. The registration site is the Wedgewood Golf Center at 2131 Mountain Road in Halifax. Show time is 8 a.m. at Greens Folly Golf Course located at 2131 Mountain Road Halifax.
The fee for tournament golfers of $50 includes lunch. There are prizes available and trophies to the first and second place teams. A hole-in-one will win a 2022 Volkswagen Jetta. Other prizes include a $500 Mastercard Gift Card and Omaha Steaks for a year and set of Callaway Irons.
The first 12 youth who register will have their registration fees waved.
There are also contests at Wedgewood Golf Center. The fee for contest participants of $15 includes lunch. There are prizes for the following contests: cornhole; putting contest; shoot out contest; pickleball; running challenge women; walking challenge women; running challenge men; and walking challenge men.
Those who cannot participate in this golf outing may still show support for the Bethune Scholarship Foundation Inc. by sponsoring as a copper sponsor ($50); a bronze sponsor ($100); a silver sponsor ($500); a gold sponsor ($2,000); a platinum sponsor ($4,000); a diamond sponsor ($5,000) or by making a donation.