The Halifax County Planning Commission recommended allowing the use of townhouses in M-1, industrial zoning districts with a conditional use permit and recommended adding a definition of townhouses when they met Tuesday evening.
The recommendation came following a joint public hearing with the Halifax County Board of Supervisors in which one man spoke in opposition.
Glenn Williamson spoke in opposition to the proposed change due to its relation to Virginia International Raceway and their issues with water supply.
Halifax County Planning and Zoning Administrator Detrick Easley told the supervisor's ordinance committee when they met on Oct. 21 that the proposed changes to the M-1 industrial, zoning came as a result of plans from VIR to build 18 villas in addition to the 12 they previously built in 2008, according to the meeting's minutes.
But, he also said the proposed change is not being brought forward solely for VIR, but to allow future development in Halifax County.
On Tuesday, Easley reiterated, "This is not primarily for VIR." However, it does help them build villas, and he noted they will have to apply for a CUP.
But, Williamson, who lives about a mile from VIR, said he had "misgivings" about their plans to build 18 more villas.
"They don't have the water capacity to support what they already have. Where are they going to get water to support this," he asked.
In the past, VIR has had water supply issue with their wells not being in service.
Williamson told the board he thought there may be some "back room dealings on this," and suspected this was their way to get the county to install that water line to PCSA, run it down 58 and across the county line.
"To me that look likes a whole lot of expenditure for an entity that gives us about $65 to $75,000 worth a year in water bills," said Williamson.
"I also worry that if these are built and the HCSA continue to sink wells over there then its going to upset the water table for the people who live close to the track. They're my neighbors, friends; I've grown up with them. Their families, like mine, have been in that part of the world for generations and I would hate to see them loose their water," he added.
Easley said he had spoken with Williamson about VIR's water supply prior to the public hearing. He said when applying for their building permits, VIR would have to show the county that they have adequate water supply.
Commissioner Pete Riddle also asked Easley, "What's it for if not VIR?"
He replied, "future development in the county."
Riddle asked if there has been any other interest in building townhouses. Easley said this would allow the opportunity to Shepherds Gate.
Following their discussions, commissioner chairman James Davis made a motion to recommend allowing townhouses in M-1, industrial zoning district and adding a definition of townhouses, which was seconded by commissioner vice chairwoman Mattie Cowan, and unanimously approved by the board.
This recommendation will now go before supervisors for consideration of final approval.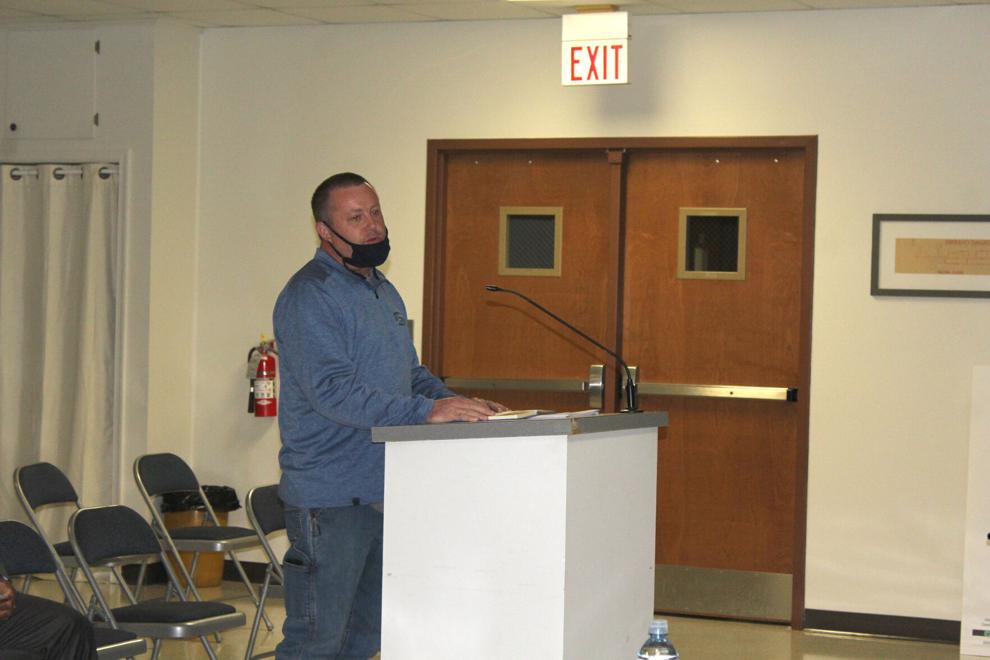 In other action, the planning commission unanimously recommended approval of a conditional use permit for Jason Forlines to operate a small construction equipment rental business at 5097 James D. Hagood Highway in Scottsburg, Jason Forlines Rental. The recommendation followed a joint public hearing with supervisors in which no spoke in support or opposition.
Forlines has an existing agricultural building on the property for office space, and VDOT has confirmed that the existing entrance into the property does meet requirements for low volume commercial entrance.
Prior to the public hearing, he explained to the boards that he is currently employed with Dominion Power, and with the pending closure of their coal plant, he has been looking at other opportunities.
He has had cows on his property for over 20 years and has acquired a lot of equipment. He said people have been asking about renting out his equipment.
"It seemed to be a good idea. I bought a few more pieces of equipment and it's kind of taken off," said Forlines. "So I would like to operate this building out of my shop at home and that way I can have my kids close by and as they get older, they can help out with it."
Cowman made a motion recommending approval of Forlines' conditional use permit to operate his business, which was seconded by Riddle, and unanimously approved by the board.
This recommendation will now go before supervisors for consideration of full approval.
Prior to the public hearings, supervisors also unanimously approved an ordinance authorizing the payment of monetary bonuses to employees of the Halifax County Sheriff's Office.
Funding for the compensation board employee bonuses, approximately $106,590, will come from the Commonwealth of Virginia Compensation Board.
Funding for the non-compensation board employee bonuses, approximately $38,760, will come from the federal American Rescue Plan Act of 2021.