Following a weekend with a major ice storm leaving over 30,000 people without power in North Carolina, last-minute high winds almost interrupted the delivery of about 1,200 COVID-19 vaccinations in Louisburg, North Carolina, on Tuesday.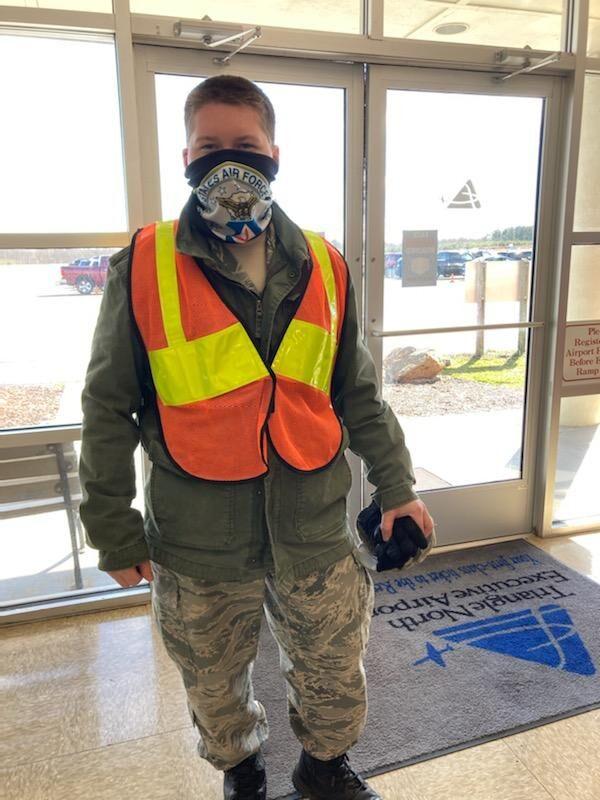 The Danville Squadron of the Civil Air Patrol was asked to join a North Carolina CAP squadron called in to help set up the distribution site. The Danville Squadron includes members from several counties surrounding Danville.
The Civil Air Patrol, the Auxiliary of the Air Force, has been trained by FEMA to help set up "Points of Distribution" during emergencies.  For Civil Air Patrol Squadrons, distribution has involved emergency supplies after a hurricane or, as in this case, COVID-19 vaccine to long lines of people anxious to receive their second dose.  A total of five squadron members, including three teenage cadets, responded within hours to go to Triangle North Airport in Louisburg, North Carolina, to assist.
According to Danville Squadron Commander Captain Michael Duncan, when Danville and North Carolina CAP Members arrived to help set up the new vaccine distribution point with local medical teams, heavy post-storm winds toppled tables, tents and paperwork. 
The volunteers kept their focus and about 1,200 vaccines were distributed to a grateful group of people at higher risk of the virus. The young CAP cadets experienced a close up look at how important the vaccine is to seniors. 
Danville Squadron member Lt. Kristie Morris reported that CAP members received repeated expressions of gratitude, with one woman remarking to the cadets, "I've been cutting my own hair for a year for fear of catching the virus.  Now I can go out and get it done right."