Marine Corps veteran Michael Boxley of South Boston does not think about his time of service in Desert Storm on a daily basis. But when he recounts those memories on Veterans Day, they are vivid in his recollection, like they just happened yesterday.
Boxley joined the Marine Corps at the age of 18, right after graduating from Halifax County High School. As a young man, Boxley was eager to serve his country, unaware of the danger and obstacles he and the fellow Marines in his unit would face on the front lines in Saudi Arabia.
"I grew up watching Superman and Batman, good guys vs. bad guys," Boxley shared, of his decision to join the Marine Corps. "It was a bad time then, and people were suffering. I was a young man, really believing and wanting the world to be a certain way. I wanted to do my part."
Knowing what he knows now, Boxley said if he had it to do all over again, he would make the same decision to serve his country on the front lines of battle. He received multiple medals of honor for his time of service, including combat action and Kuwaiti liberation, but the humble Omega native does not seek recognition for his service to his country.
"I feel like God put me where I was needed and I did what I needed to do, and he brought me home," Boxley said. "Some guys didn't make it home."
While Boxley suffers from post-traumatic stress disorder (PTSD) from his time in Desert Storm, he said he feels blessed that he returned home from battle uninjured, and there were few casualties in his unit.
Boxley's unit left for Saudi Arabia on Dec. 11, 1990. He recalls his mother, Diane Boxley, and two aunts arriving on base at Camp Lejeune in the early morning hours before he deployed and "hugging every Marine on that dock." It was the last time he would see his family for months. Boxley and the other men in his unit were transported to Cherry Point, North Carolina, and from there, they flew to Saudi Arabia.
The reality of Boxley and his comrades' mission set in quickly. Boxley did not go through airport terminals upon his arrival; the plane landed on a mat that had been laid down in the desert.
"That's when you say, 'Okay boys, we're in it now. There's only one way home,'" Boxley said.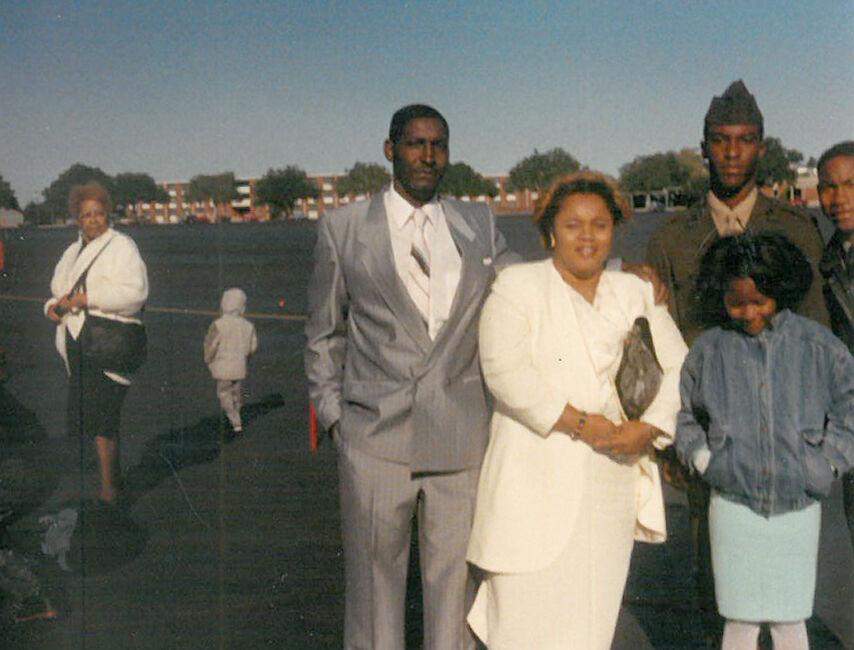 For the most part, Boxley felt prepared for the mission in which he was embarking. He said he and his men were well trained, and his childhood experiences growing up on a farm and being raised in the church proved beneficial in wartime, as well. Boxley worked in the tobacco fields as a child and was no stranger to hard work, and his Christian faith got him through the scary experiences of combat.
"I felt like nothing could hurt me or kill me until it's my time," Boxley explained, a belief that he based on his faith in God.
Boxley admitted he was "scared every day" of his time in Saudi Arabia, but he did not let that fear impact his fulfillment of his duty to his country.
The Marine from Halifax County recounted the multiple dangers he faced — the danger of combat, the even scarier danger of chemical warfare, and the elements — enduring scorching temperatures during the day, cold weather at night, weeks out in the rain and the pests of flies, scorpions, sand vipers and kangaroo rats.
"When the bombers fly over, the ground is shaking like an earthquake from the explosions. When they drop the bombs, you can see the silhouettes of the buildings," Boxley recalled. "I remember being two miles outside Kuwait City and we bombed them — B-52's."
Boxley also recalls donning a gas mask, full "carbon suit," gloves and rubber boots on top of his combat boots in scorching hot temperatures, drenched in sweat, to protect him from the chemical warfare.
Not only did Boxley face fear and a great degree of uncertainty serving on the front lines during Desert Storm, but he also faced those challenges without the creature comforts of home, which could not be found in the desert of the Middle East.
"There were no telephones, no electricity. There were no showers," Boxley recounted. "We had no prepared meals. We slept on the ground. The only time we got to drink cold water was at night when the sand cooled off and we put our canteens in the sand."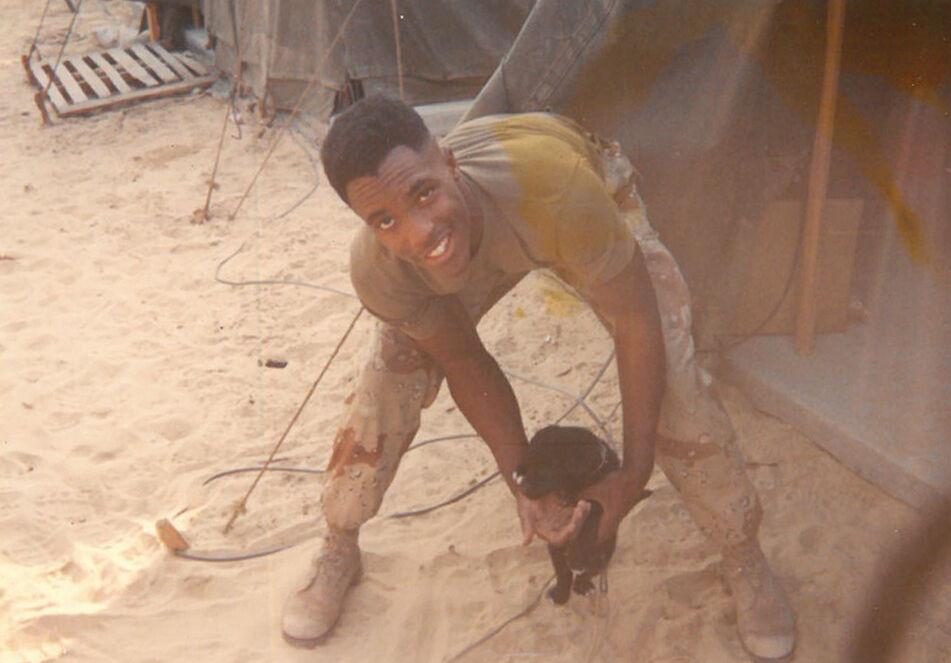 Communication with folks back home in the states was nearly impossible because of Boxley's unit being constantly on the move. He said he would get letters, but they often were delayed a couple of months, and he was unable to respond to the letters.
On Veterans Day, Boxley pulled out a packet of letters, cherishing the moment he received those letters 30 years ago in the desert of Saudi Arabia. The letters were from folks from all over the country, some from school children, some from church members.
"These were the things that kept us going," Boxley said. "I never met any of these people. They would send you pictures and letters and wish you well."
Boxley returned home from Desert Storm several months into his deployment. He recounted his unit was one of the first sent home after the ceasefire. But the battle was far from over for the veteran who was later diagnosed with PTSD and had to give up his livelihood of driving tractor-trailers because of medications he had to take. He recalls struggling and doing every side job possible from pulling tobacco to washing cars to provide for himself and his three daughters during that time.
"Desert Storm was not the worst thing I went through," Boxley shared. "I had PTSD (when I came home), but I didn't know it. I lost everything…Me and my girls struggled for a long time."
But Marines are taught to never retreat and never give up, so Boxley faced those struggles back home with the same courage and strength that he faced combat during Desert Storm. He celebrated Veteran's Day this year as a proud veteran of the Marine Corps and survivor of Desert Storm with his family in the place he loves to call home — Halifax County.