Memorial luminaries lined the stage of Constitution Square on Tuesday evening at an event commemorating International Overdose Awareness Day.
Each luminary shedding light in the dusk was a tribute to the memory of a loved one who died of an overdose.
While the luminaries gleamed on stage, family members of those who have lost their lives from drug overdose and recovering addicts shared their stories, bringing healing through shared grief and offering glimmers of hope to drug addicts still in the clutches of addiction — hoping that the struggle can be overcome, and there is life after recovery.
One of those family members was the event's coordinator Lisa Wallace, mother of the late Lucas "Luke" Wazeka, who passed away from a drug overdose on Sept. 30, 2019, at the age of 30.
"I don't want my son's death to be in vain. He is saving lives and I know he is," Wallace said.
Wallace's reason for holding the event was not only to honor the memory of her son but also to bring more awareness to drug addiction and overdose and the resources in the community available to those battling drug addictions, and to end the stigma of being a drug addict.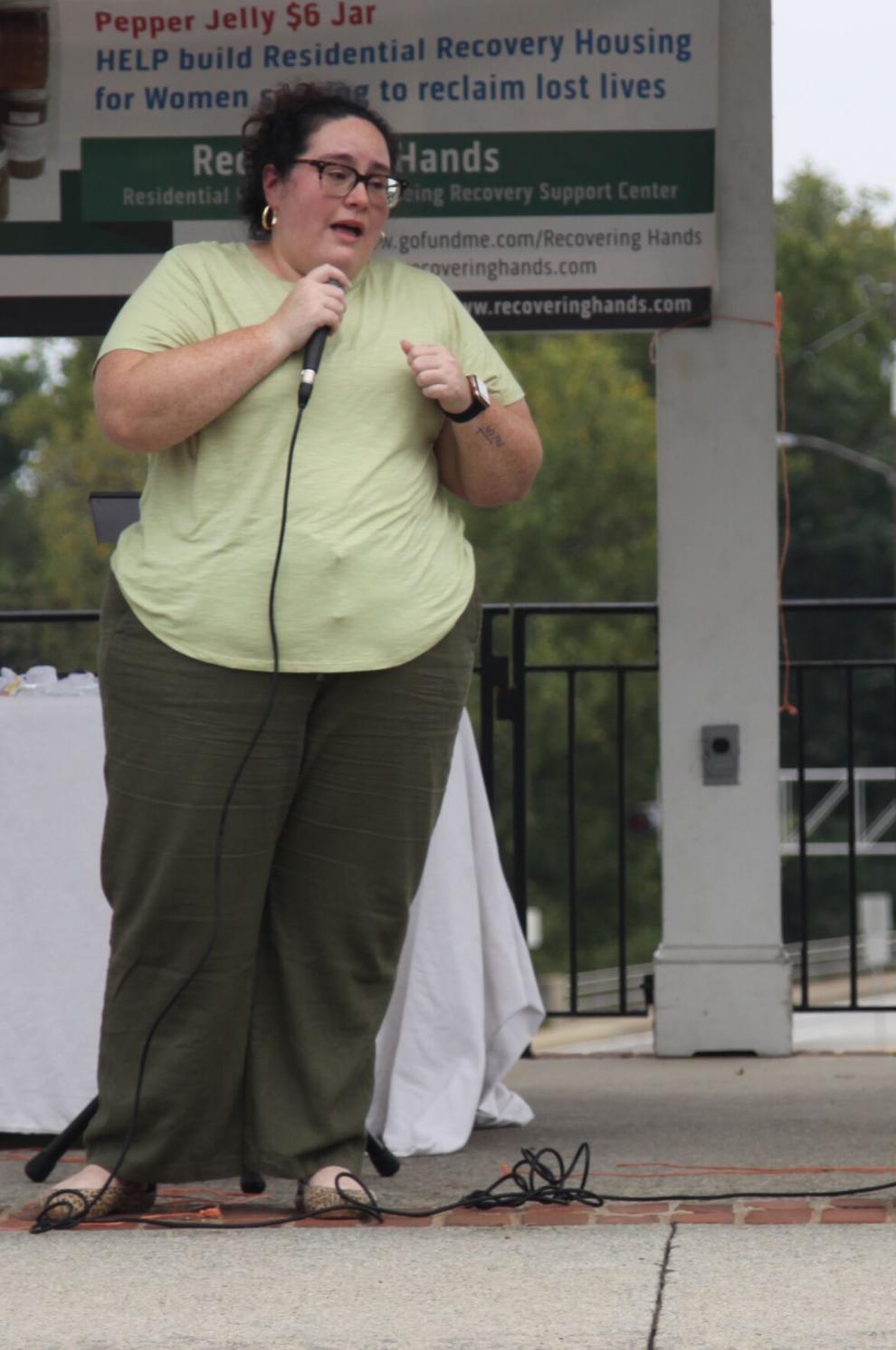 "I want to end the stigma. Those that are battling addictions are not bad people. They can be someone you know. They can be your father, your grandfather, someone that holds an office, a schoolteacher, a principal, anybody," Wallace told the crowd gathered at Constitution Square. "Drug addiction does not discriminate. They have a disease and they need help."
Wallace urged those at Tuesday's event to "keep an open mind" when they encounter someone who is struggling with addiction.
"Give them grace. Give them a hand up," Wallace said. "Let them know that you love them and care about them, because there is life after recovery."
Erika Holt, who was the girlfriend of Wazeka and is the mother of his one-and-a-half-year-old son, Lucas Wayne Wazeka II, also encouraged those in the audience to not define a person by their drug addiction but to see them for the whole person that they are.
"Love them first the way that God loves us and know that they are so much more than their addiction," Holt urged.
Holt remembers her late boyfriend not only as someone who struggled with drug addition and "fought hard" to overcome that addiction but also as someone who was caring, smart and mechanically inclined, with a knack for fixing things.
Wazeka also was the owner of a local business, Precision Contracting.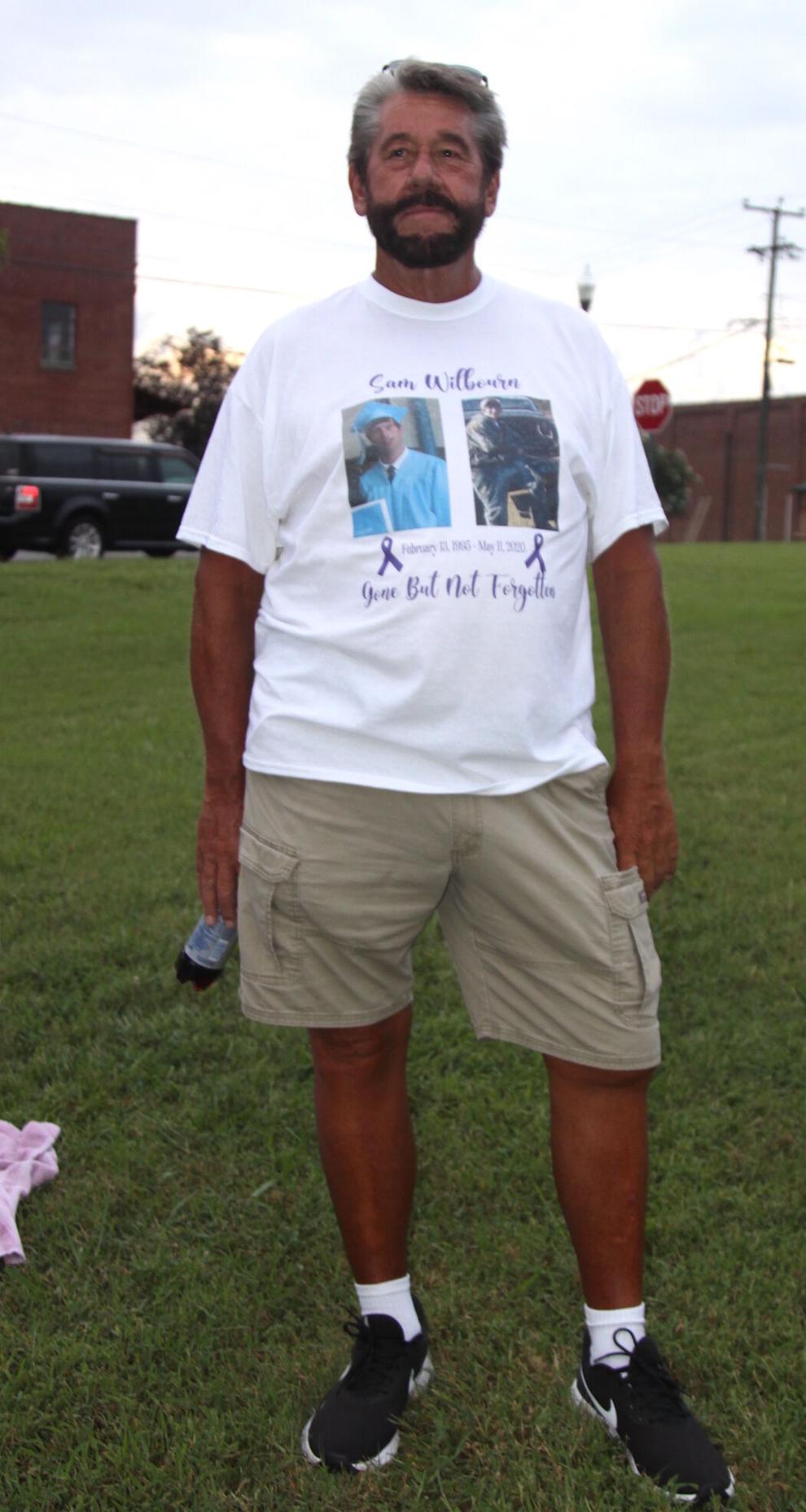 While Wazeka lost his battle with addiction, one member of the audience at Tuesday's event, Ashley Pharr, survived a near-fatal drug overdose and won her battle with addiction.
"I am living proof that miracles can happen, they do happen, and they continue to happen," Pharr shared with the audience. "After eight years of a long, hard drug battle, on April 20, 2020, I had a fatal overdose. I was found on time, I was brought back, and I have been clean for over 16 months now. It has been a long, tough journey."
Pharr attributes overcoming her drug addiction to the strong support system of her family and also to her own willpower.
While she has not relapsed a single time since her near-fatal drug overdose, she has started attending Narcotics Anonymous meetings to make sure she does not relapse.
"The longer I have stayed clean the more I have realized this is a lifelong journey," Pharr said, adding all she can do is continue to work hard every day to live a life free from drugs, and to live her sobriety in part for those who did not get that chance and lost their battle with addiction.
Kim Adams, a recovered drug addict who has been sober for 30 years, also shared a message of hope with the audience.
"Addiction is a treatable disease. Help is waiting," Adams said. "My medicine is I hang around with people trying to do the things that I'm doing. I have loving people around me who heal all the places in my life where the drugs used to live."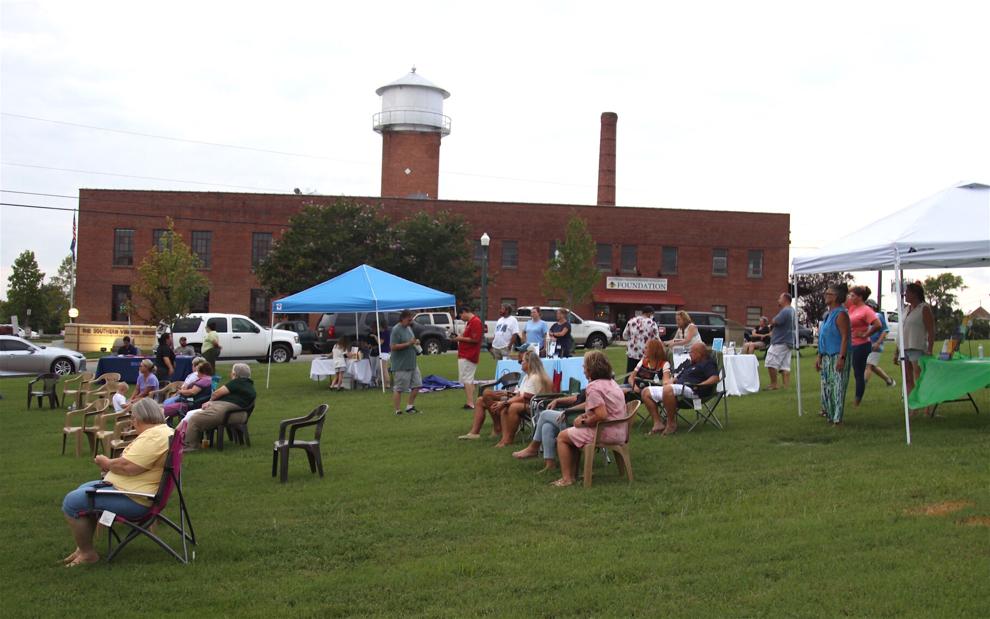 Adams also is the founder of Recovering Hands, a drug treatment and recovery center in Nathalie offering peer support to women struggling with substance abuse. She shared that she opened Recovering Hands after moving to Virginia and seeing the lack of drug treatment recovery centers in the area.
Members of other organizations at Tuesday's event also shared the substance abuse resources they offer. Among them were Narcotics Anonymous, Safe Harbor Recovery Center, an addiction recovery treatment center in Portsmouth, the South Boston Police Department, and Southside Behavioral Health, which offers revive opioid overdose training virtually including instructions on how to administer the life-saving drug Narcan in the case of an overdose.
Drug overdoses on the rise nationwide, Adams related.
Last year, she said the Centers for Disease Control and Prevention estimated that 93,000 Americans died from drug overdoses, with people aged 35 to 44 accounting for the highest number of deaths from drug overdoses. In 2019, 70,630 drug overdose deaths occurred in the United States, according to the CDC.
Adams also shared the grief of family members at Tuesday's event who lost loved ones to addiction. On Nov. 2, 2016, Adams lost her youngest brother to drug addiction, at the age of 50 years old. She remembers her brother as a sensitive soul with a big heart, but as someone who said he often felt alone, and struggled many years with drug addiction.
Another person at Tuesday's event who experienced the pain of losing a loved one to drug overdose is Melvin Wilbourn.
Memories of his youngest son Sam Wilbourn raced through his mind as he placed a luminary on the stage at Constitution Square in his son's honor.
Wilbourn remembers the day he found his 25-year-old son dead of a drug overdose like it was yesterday – May 11, 2020.
As he placed the luminary bag in his son's memory, Wilbourn wore a screen-printed T-shirt featuring two pictures of his son – one of his high school graduation and another of him returning from a hunting trip.
Under the pictures was the phrase "Gone But Not Forgotten," symbolic of all those who lost their lives to drug overdoses memorialized on International Overdose Awareness Day: gone, but not forgotten.