The Men of Sinai group founded by community member Anthony Womack has spurred the founding of two other community groups in Halifax County: the Men of South Boston and the Men of Birchland Park.
"We branched off the Men of Sinai," said Wayne Ferguson, a leader of the Men of South Boston. "We're trying to (ultimately) reach out to all the communities in Halifax County."
Womack founded the Men of Sinai group in May. The group is committed to making positive changes in the west end South Boston community of Sinai and has completed numerous community improvement projects.
Wongee Williams, a leader of the Men of Birchland Park, noted the landscape of Birchland Park – a rural community in the western part of Halifax County – differs from the landscape of Sinai in the western part of the town of South Boston, where Williams' former mentor Womack founded his group. But the premise of the group – neighbors helping neighbors – is the same.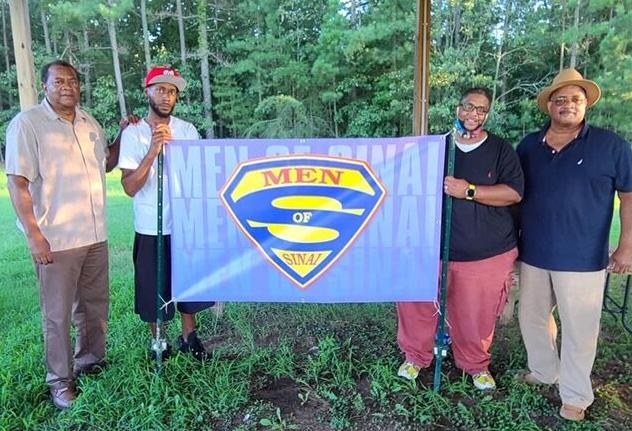 "We've got to look out for our community, we've got to have a bond in our community," Williams said.
Ferguson shared a similar goal for his group, the Men of South Boston: to "reach out and empower the community" and bring about a positive change as a result.
Ferguson and the other leader of the Men of South Boston, Travis Moore, both own downtown businesses. Ferguson owns Executive Cuts barber shop, while Moore owns Drumlogic drum studio, both on Main Street. The men are both military veterans, as well; Moore served in the Marines while Ferguson served in the Army. As business owners and veterans, Ferguson and Moore have the goal of mentoring and motivating the youth to pursue their dreams, leading by example.
"We want to show them they can be what they want to be and chase their dreams," said Moore, adding, "We have to keep them mentally and physically tough."
"We hope to cut down on some of the violence with the young kids by giving them something positive to look forward to," Ferguson offered. "We have different trades within the group. We want to find out what the kids are interested in and help lead them in the right direction."
Ferguson said he is willing to apprentice young men in the trade of barbering at his shop, while Moore, a former high school percussion instructor, can teach young men with an interest in music how to play the drums. In between Moore and Ferguson's businesses is Art Acoustix owned by Melissa Powell, a place where the young men they mentor can learn more about the arts.
"The possibilities are here," said Moore. He explained he would like to expose the youth to skills and career pathways they might not typically be exposed to in their high school classes. At the same time, Moore and Ferguson said they would like to offer help to students in navigating virtual learning, and teach older adults how to be more computer savvy in today's online world, as well.
"We're trying to empower the elderly as well, making sure they are taken care of with food and necessities," Moore said. He added the Men of South Boston group is open to any man in the community wanting to be involved in positive change.
"It's not about color; anybody can be part of the Men of South Boston," he said.
Just as Moore wants to mentor the young men of South Boston, Williams said he wants to mentor the young men of Birchland Park. Williams is a former member of Misunderstood, a mentoring program for young men led by Womack.
"I'm trying to focus on the kids, the next generation," Williams said. "I want to show them if you work hard, you can get what you want in life. I want to teach them the core values of life, such as decision-making."
Earl Howerton, another Men of Birchland Park member, also stressed the importance of involving young people in community projects.
"Everything we do in the county, I think we need to involve the youth, and we need to educate the youth, especially in taking pride in their community and taking leadership," Howerton said.
The newly formed Men of Birchland Park has not yet tackled any community projects; Williams said he plans to start with a simple project such as a trash pickup/ cleanup day.
"We're going to start a cleanup campaign. If you've got a clean community, you'll have more pride in your community," Howerton said. "Hopefully by doing this, we're going to get more community folks involved. This is a grassroots effort."
Along with involving the youth in their projects, Williams said he would like to see the Men of Birchland Park help recently-incarcerated community members re-entering society. Williams knows firsthand what it takes to stay on the right path after re-entering society; he was incarcerated and came home to Birchland Park in 2017.
"When these incarcerated individuals are released and re-enter society, we've got to be there for them and help them out as much as possible," Williams stated. "When you re-enter society after being incarcerated, you've got to stay focused, you can't make the same mistakes. Bad decisions can cost you a lot of time."
In the future, he said he envisions using the church softball field in the area for community gatherings/ events hosted by the Men of Birchland Park.