Families from all over Halifax County received help with their Thanksgiving meal at the L.E. Coleman African American Museum on Thursday morning when volunteers distributed bags of groceries and frozen turkeys.
Volunteers from Southside Outreach Group, the Department of Social Services, the museum and more were prepared to handle the three rows of cars who started pouring in before their 10 a.m. start and gave out all of their food within the first 30 minutes.
"We tried to give everyone something. Every little bit helps," said Rolanda Hudson of the Southside Outreach Group.
When volunteers ran out their 85 of bags of Thanksgiving groceries and 91 turkeys, they began giving away what they had left, vegetables, hot dogs and bolognas.
Throughout the morning, Hudson said she received plenty of gratitude.
"There were a lot of thank yous and God bless yous. This is going to help them because families are coming over and they know they have enough," said Hudson.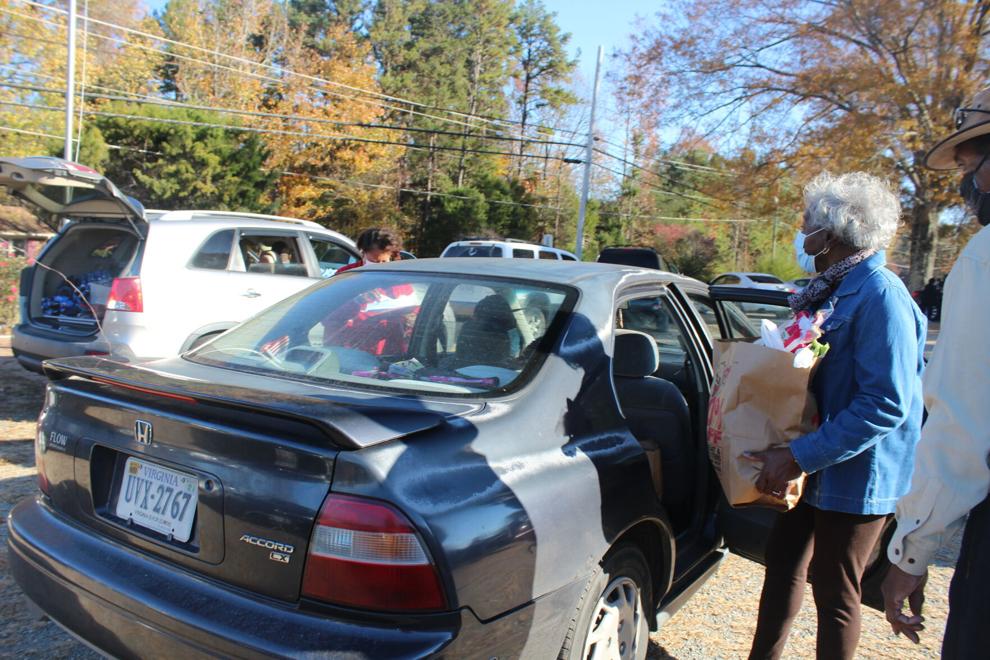 One of the recipients of the holiday meal was Georgia Lovelace of Halifax who said, "it means a lot to me" to receive this meal because she hasn't been able to receive any kind of financial assistance.
While waiting in line watching volunteers load up cars one by one, she said the volunteers were "doing a wonderful job," and she was appreciative of their actions.
"You don't find many offers like this, and a lot of people need it, including myself," said Lovelace.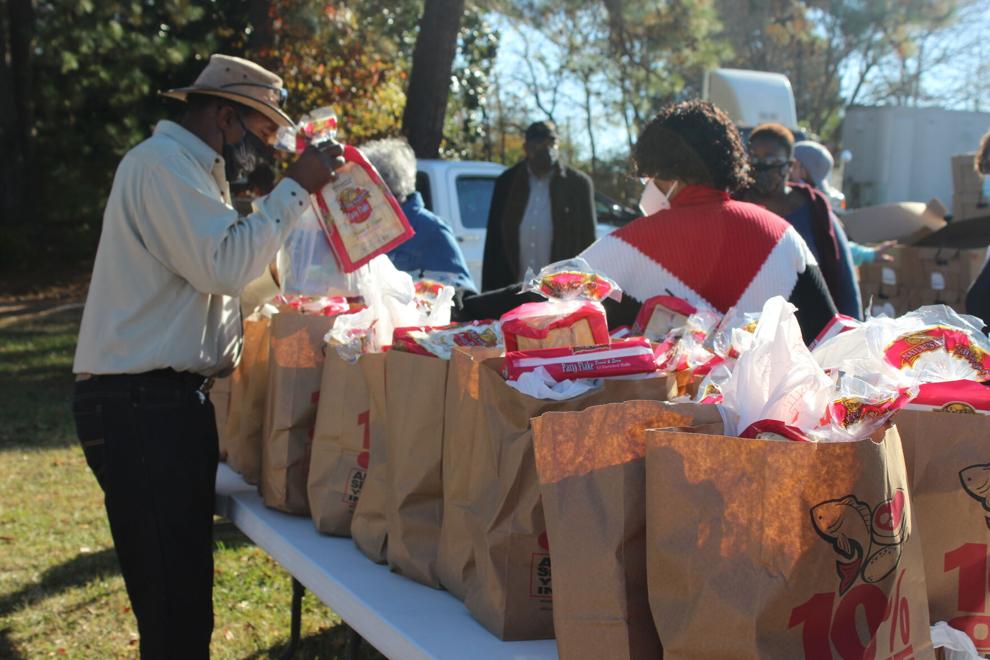 Janice Powell of Meadville also was grateful for the giveaway.
"It's going to be a big help for Thanksgiving. Everything's gotten so high. Every little bit helps," said Powell.
"I really appreciated this great thing," she added.
Receiving one of the last Thanksgiving meals was Maybell Carrington of Vernon Hill. It was her first time getting help from the museum, which offers food to families on the fourth Thursday of each month.
She didn't know the museum distributed food, until she received a call about this giveaway.
"It means a whole lot to me," said Carrington, who doesn't work.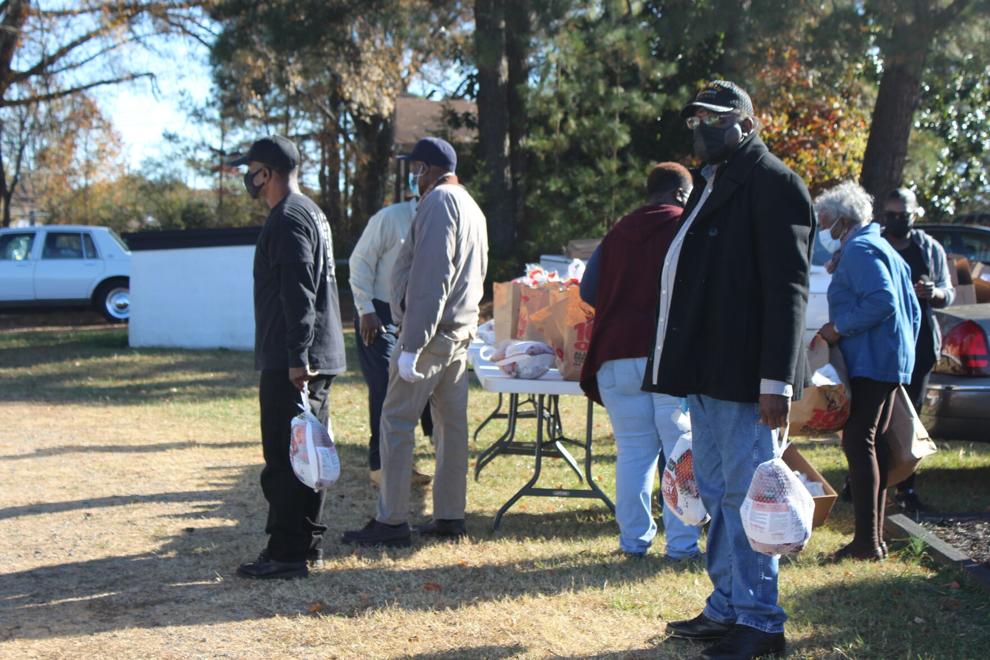 "I want to tell (the volunteers) thank you and I appreciated it… I thank God for the blessing," she said.
Among the many volunteers were La'Wanna Dickerson and Mark Boyd with the Department of Social Services, Arlene Dailey, Larry Lacks and Willie Sydnor with the Black Jacket Cruisers, Wayne Tucker, a member of the museum and more.
Sydnor said finishing up around 10:30 Thursday morning was the earliest they had ever finished.
Dailey agreed saying, "we broke another record."
And, their volunteerism didn't begin on Thursday.
Sydnor said he was among the many others there Wednesday helping unload the groceries and bag up food before returning the next day to help load up cars.
"I enjoy doing this, giving to the ones who need it," he said.
Hudson also thanked all who volunteered.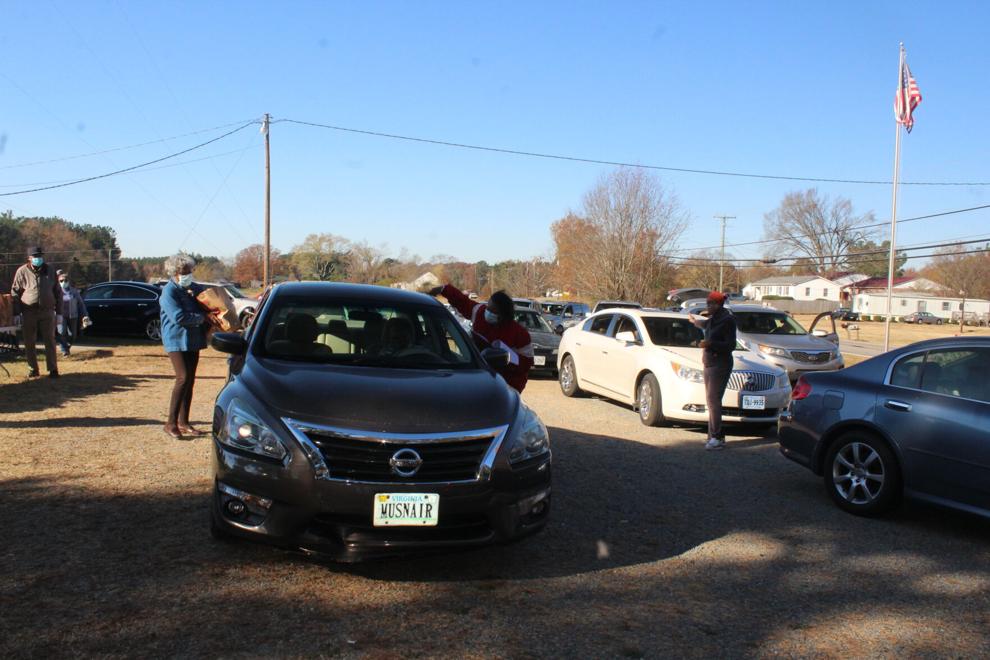 "They were lined up waiting, and we weren't overwhelmed. We had extra volunteers, and thank you to all who helped. We hope to be back every month, if we get more donations," she said.
She also said the Department of Social Services would be instrumental next month in helping pay for the food they giveaway, and she thanked Shoppers Value for always being supportive. The grocery store allows them to purchase groceries at "rock bottom" prices.
"All the donations we get goes to the food," Hudson explained.
So far, many have helped with donations.
Originally their food giveaways began with a $5,000 donation from Microsoft/ChangeX. While Hudson said that seed money went to good use, she said the need went far beyond that initial grant.
"We're very fortunate churches in the area heard our call," she said.
They have received about $3,000 from area churches and individual donations.
She also thanked the museum for being a good host and allowing them to use their space to prepare bags of food and store food in their fridge and freezer.
The date for the December giveaway is to be determined. The November giveaway, which is usually held on the fourth Thursday of the month, was held a week earlier due to the Thanksgiving holiday.