Tires piled high on a property on Wilson Memorial Trail have caused concerns for neighbors.
"It's very unattractive. We cannot believe our eyes," Sandra Garner-Coleman, a resident of Wilson Memorial Trail, said to Halifax County Board of Supervisors Tuesday evening. She said other neighbors had requested she come to the meeting to represent them, and two individuals joined her passing out photos of the tires.
The dozens of tires are located on the former Wilson Memorial Elementary School property, which is now the home of Amy Gautier and Steve Hansen.
Some of Garner-Coleman's concerns regarding the tires focused around possible attraction of mosquitos and snakes, potential negative effects to the soil and the negative aesthetics.
"God forbid he decides to burn them," she added.
Attempts to reach Gautier or Hansen to allow them to respond to neighbors' concerns were unsuccessful as of press time Thursday.
While addressing supervisors, Garner-Coleman also spoke of Hansen's and Gautier's previous attempts to change an easement on their property.
Multiple requests to the county for relocation of the easement, and even a petition in Halifax County Circuit Court, have been denied by the county as they say Hansen and Gautier purchased the property as is.
The access road leads residents to a convenience center behind the property and is located to the right side of the former school and leads beside the residents' vehicles. Hansen and Gautier have repeatedly requested the county move the access road due to safety concerns.
Garner-Coleman also alluded to a quarrel between Hansen and Gautier and neighbor Hubert Pannell, who serves as chairman of the board. Gautier is currently running against Pannell for the ED-3 supervisor seat.
She said she had her land surveyed and her neighbor's storage bin was on her property, but she left the situation alone.
"We didn't ask her to move it… the lord says love thy neighbor as ourselves," said Garner-Coleman.
In 2018, Pannell and his wife filed a civil lawsuit against Gautier and Hansen regarding access to their storage building that was said to be on Gautier and Hansen's property.
Garner-Coleman told Supervisors Tuesday that ever since Gautier and Hansen purchased the property in 2016, they have "disrupted" their lives.
"We really need your help," she added.
Supervisors did not respond to Garner-Coleman's comments. Typically, they do interact with individuals who speak during citizen comments.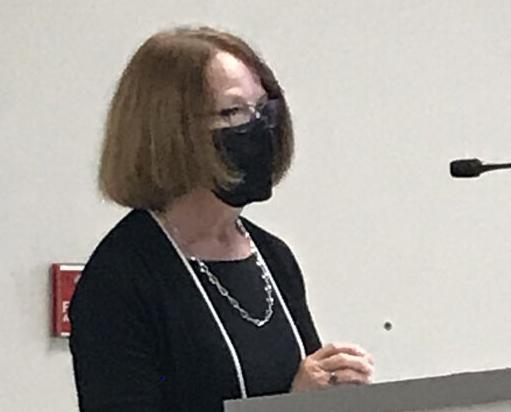 Also Tuesday evening, supervisors received an update on Halifax County Adult Drug Treatment Court from Freda Holliday, coordinator of drug court.
Holliday said drug court personnel have been working towards training and looking for ways to improve its numbers.
In those efforts, she said they have eliminated "intent to distribute" as a disqualifying factor when being considered for drug court, which she said also aligns them with national drug courts. She also noted that the Commonwealth's Attorney still have the power to veto acceptance into drug court.
The drug court coordinator also said they plan to hold a one-day retreat to review policies and procedures to make sure they're up to speed, and she reminded supervisors of drug court's recent three graduates who graduated last month.
Holliday also said they're working to form an alumni group of drug court graduates to allow them to come back and support current members of drug court.
"We're proud of all of our graduates, and we're proud of drug court. We appreciate all the support from supervisors," she added.
Supervisors also completed the following actions Tuesday:
• Unanimously approved a recommendation from the finance committee to authorize county staff to advertise for bids to install fencing around the fire-training site behind Halifax County Middle School;
• Tabled a request from Halifax Soccer Club to use $10,775 in carryover funds to purchase goals and other startup equipment after wanting more clarification from the organization;
• Unanimously approved a recommendation from the finance committee to use $38,760 of American Rescue Plan Act (ARPA) funding to fund bonuses for 12 county deputies;
• Unanimously approved a recommendation from the finance committee to allow the Halifax County Health Department to use $13,000 in carryover funding for shingles vaccines;
• Unanimously approved a recommendation from the ordinance committee to move forward with a public hearing and the process for considering revisions to the erosion and sediment control ordinance;
• Unanimously agreed to authorize staff to execute the vacation of a portion of Florida Trail, and ED-7 supervisor Garland Ricketts noted in his motion that this would in no way restrict access to the Gravitt family;
• Unanimously approved a resolution supporting a decrease in Halifax County membership to the Southside District Planning Commission. The county's membership will decrease from eight to five including three elected officials and two citizens, at large. Supervisors will now have to decide who will serve on the commission and submit those names by January.
• Unanimously approved a resolution to accept the Rural Business Development Grant of $105,000 for the expansion of the Agriculture Marketing Center;
• Received an update on the date and time set for a joint meeting with the Halifax County School Board to be held on Oct. 26 at 6:30 p.m. in the Halifax County High School auditorium; and
• Received a personnel update of positions that have been filled within the past month. Jason Johnson has been hired as the emergency services coordinator.
Olivia Epps, current executive administrative assistance to the county administrator, has been promoted to strategic programs coordinator, opening up the executive administrative assistance position.
Ben Harris has been hired as an accounting and payroll clerk and Jennifer Wagstaff has been hired as a collections clerk and administrative assistant.
ED-2 supervisor Jeff Francisco was absent from the meeting.