While it will likely be the second quarter of 2021 before the general public will have access to a coronavirus vaccine, select health care workers with Sentara started receiving their dosage on Tuesday.
This is after Sentara Norfolk General Hospital received a shipment of 11,700 doses of the Pfizer vaccine at 7 a.m. Monday, and Sentara couriers deployed doses to their 10 locations for the remainder of the day.
Tim Jennings, Sentara's chief pharmacy officer, said during an afternoon press conference that the shipment's arrival went smooth, and arrived earlier Monday than expected.
"They under promised and over delivered," said Jennings.
On Dec. 3, the federal government's Operation Warp Speed, said Virginia was preparing to receive an estimated total of 480,000 doses of vaccine from two manufacturers, Pfizer and Moderna, by the end of December 2020.
Pfizer Inc. (NYSE: PFE) and BioNTech SE (Nasdaq: BNTX) announced Friday that the U.S. Food and Drug Administration (FDA) had authorized the emergency use of the mRNA vaccine, BNT162b2, against COVID-19 in individuals 16 years of age or older.
Brookie Crawford with the Virginia Department of Health said the initial allotment is 72,000 and will go to 18 health care facilities around the state.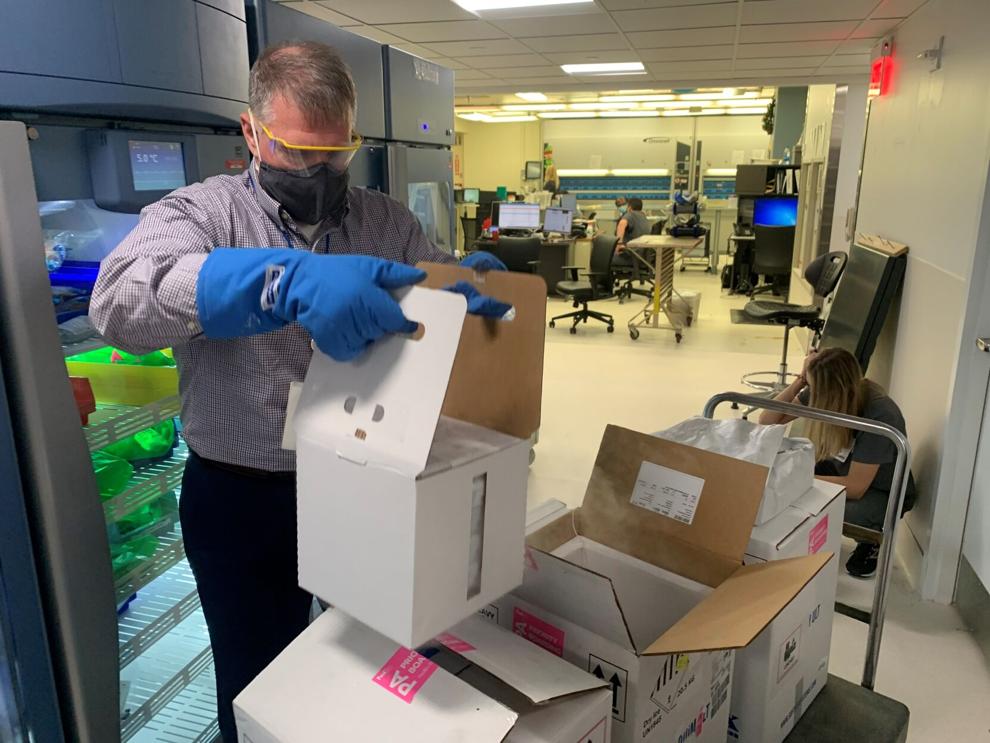 "We have identified hospital systems with ultracold storage throughout the state to ensure coverage in every region. At this point, we are not identifying specific facilities. But suffice it to say, arrangements have been made to ensure vaccine storage and availability across the Commonwealth," Crawford said in an email.
The initial allotment will vaccinate healthcare workers and nursing home residents first after the Centers for Disease Control and Prevention's Advisory Committee on Immunization Practices (ACIP) voted to formally recommend HCP and LTCF residents as top priorities for vaccination. In response, the Virginia Disaster Medical Advisory Committee (VDMAC) and the Virginia Unified Command voted to officially adopt ACIP recommendations in Virginia and provide initial vaccines to both HCP and LTCF residents.
"We hope to start vaccinating employees on Wednesday," said Mary Morin, head of Sentara's COVID-19 Vaccine Taskforce.
Vaccination is voluntary for employees, and Morin said in an initial survey of employees, 80 to 85% expressed interest in receiving the vaccine.
"Our vaccine process is if, they schedule a vaccine appointment, they get to have a safe and efficient process," she added. "We're are a 24/7 business, so they'll be offered seven days a week at various times to meet the needs of those that work not just normal working hours, but on the off shifts."
The initial vaccine distribution will go to a priority group that includes emergency department staff, ICUs, COVID patient units, respiratory unit staff and hospital staff who provide services in these areas (e.g. ESD, food service, staff who go into patient rooms), among others.
Then they will open the vaccine up to a broader group of hospital employees as well as medical officer personnel who interact with patients. Then the vaccine will be available to first responders, EMS, firemen and police.
"It will likely be the second quarter of 2021 when the vaccine becomes widely available," said Morin.
Those who receive the vaccine will have to come back in 21 days to take a second dose of the Pfizer vaccine.
Sentara also is hoping to receive a shipment of 20,800 doses of the vaccine from Moderna on Dec. 21.
The U.S. Food and Drug Administration has scheduled a meeting of its Vaccines and Related Biological Products Advisory Committee (VRBPAC) on Thursday to discuss the request for emergency use authorization (EUA) for a COVID-19 vaccine from Moderna Inc.
Morin said they've identified roughly 12,500 priority Sentara health care workers who are interested in taking the vaccine, and once they open it up to the broader healthcare workers, they're anticipating at least 12,000 more staff.
Jennings and Morin said they are confident they'll have "ample vaccine" to give to all employees who want to take it, especially after the second shipment.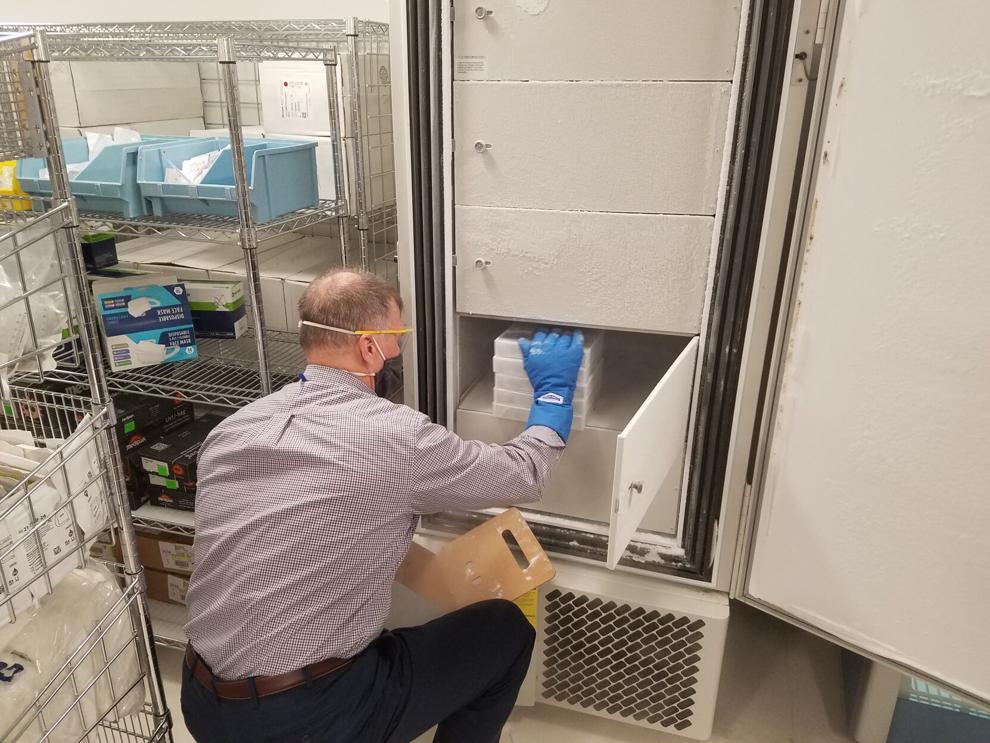 The FDA based its decision to approve the EAU on the totality of scientific evidence shared by the companies, including data from a pivotal Phase 3 clinical study announced last month and published in The New England Journal of Medicine.
The Phase 3 data demonstrated a vaccine efficacy rate of 95% in participants without prior SARS-CoV-2 infection (first primary objective) and also in participants with and without prior SARS-CoV-2 infection (second primary objective), in each case measured from seven days after the second dose.
The Data Monitoring Committee for the study has not reported any serious safety concerns related to the vaccine. Efficacy was consistent across age, gender, race and ethnicity demographics. All trial participants will continue to be monitored to assess long-term protection and safety for an additional two years after their second dose.
In clinical studies, adverse reactions in participants 16 years of age and older included pain at the injection site (84.1%), fatigue (62.9%), headache (55.1%), muscle pain (38.3%), chills (31.9%), joint pain (23.6%), fever (14.2%), injection site swelling (10.5%), injection site redness (9.5%), nausea (1.1%), malaise (0.5%) and lymphadenopathy (0.3%).
Sentara said they are prepared to handle any allergic reactions that an individual may have after taking the vaccine and plan to screen employees before administering the vaccine to see if they're prone to severe allergic reactions.
All Sentara staff will continue to wear proper PPE, including masks, and follow Sentara's COVID-19 protocols regardless of vaccination status.
Leaders with Sentara also hope that once employees begin taking the vaccine that other employees will want to follow suit.
"I think we will see as people get the vaccine we will see a much higher vaccine rate amongst healthcare workers," said Morin.
Sentara also plans to keep their employees and patients informed about the vaccine as more information becomes available.