South Boston native Brenda Forlines describes her mission work with refugees a "calling." Forlines coaches people of the Karen ethnic group from the country of Myanmar, formerly known as Burma, through the process of becoming American citizens.
Forlines teaches a class on the process of attaining American citizenship each Monday evening at her church, Friendly Avenue Baptist in Greensboro, North Carolina. It is a gratifying process for Forlines – seeing the refugees who suffered persecution in their native country becoming citizens of a country they can claim as their own for the very first time.
"They are so, so happy to become American citizens. They just feel so blessed. They've never really had a country of their own," Forlines said. "We as Americans take it for granted."
The refugees from the Asian country of Myanmar have survived a great deal even before their arrival in the United States, Forlines explained – persecution at the hands of a military-run totalitarian government and a difficult journey in which they had to cross a body of water to reach the refugee camps in Thailand.
Forlines shared that the Karen people were promised their own country, or state, at the end of World War II, but that promise was not kept, and the country was given to the largest ethnic group, the Burmese, instead. The Karen people, one of several ethnic groups in Myanmar, have been persecuted ever since, and the persecution has worsened since the military coup took over the country's government last year.
Once they make it to America, the Karen people face even more challenges — having to learn to speak and read English, adapt to American culture, and learn multiple facts about American history and events so they can pass the test to become American citizens. That's where Forlines comes in, helping the refugees navigate life in America and gain full citizenship status.
Forlines says she has gained many meaningful friendships with the refugees along the way, and her life's work in missions has been rewarding. Forlines first became interested in mission work in the early 1960's, as a student at Halifax County High School and a member of a missions group at First Baptist Church in South Boston. That missions group laid the foundation for Forlines' life's work as a missionary, sharing the love of Christ with others, outside the traditional bounds of church walls.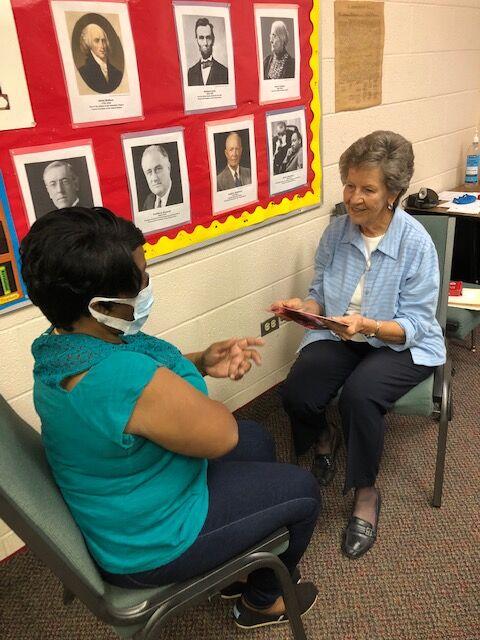 "I've been in missions work most of my life," Forlines shared, adding, "I am so thankful I grew up in South Boston. It was an ideal place where I learned the value of community, the importance of family and hard work, and the joy of meaningful friendships."
After graduating from high school in 1962, Forlines left her hometown of South Boston to attend Mary Washington College in Fredericksburg. While in college, Forlines experienced her first taste of missions work, on a summer mission in Michigan. On that trip, Forlines said she felt a "very definite calling" to the mission field, and she has been doing mission work ever since.
Perhaps one of the most rewarding missions Forlines has ever done is her current work of helping the Karen refugees at Friendly Avenue Baptist Church become American citizens. Forlines explained the long and arduous process that the refugees undergo to become American citizens.
"They have to be in the country with a green card for five years before they can apply for citizenship," she noted. "They have to demonstrate that they can read and write English, and there are hundreds of questions about history and all kinds of events that they have to learn. The citizenship application is 16 pages. It's very difficult."
Forlines relishes seeing the Karen refugees attain gainful employment and move into their own apartments and houses after attaining their American citizenship.
"They're just thriving here," Forlines stated. "They're honest people and they work hard."
Forlines first started working with Karen refugees while working with the Florida Baptist Convention at a church in Jacksonville, Florida. While there, Forlines shared she taught the refugees how to speak English as a second language and how to "navigate life in America" by helping them open bank accounts, read their mail and adapt to American culture.
Today, Forlines said the refugee ministry in Jacksonville has grown from 15 or 20 members to 250 or 300, the largest refugee church ever started by the Florida Baptist Convention to date.
Forlines' mission work has taken her all over the world and the United States, from the Ukraine to east Africa to inner city Philadelphia, and Columbia, South Carolina. Wherever she goes, Forlines says her mission is the same – venturing outside the walls of the church to minister to the community and share Christ with others.