"It doesn't take long for all your dreams to go up in smoke."
Ruth Emswiler made that comment Tuesday afternoon to her husband Verlyn Emswiler as the couple watched Verlyn's shed full of machinery for his tree business, "Not Just Trees," burn to the ground.
"That was his dream; he loved that tree business," Ruth Emswiler said. "He had jobs lined up; he won't be able to do them now."
Firefighters from multiple fire departments worked from mid-afternoon until evening to put out the fire at 2050 Ponderosa Road, just outside South Boston. No one was injured in the fire.
South Boston Fire Chief Steve Phillips estimated the damage to the outbuilding and equipment inside at $750,000 — a total loss. The fire is still under investigation, and the cause of the blaze is unknown at this time.
"It was fully involved when we got there. It was burning really bad," Phillips said. "We got the call at 2:37 p.m. and were on the scene until about 7 p.m."
The South Boston Fire Department responded to the fire call with three trucks and 19 firefighters. The fire department was assisted by four other fire departments in the county: the Cluster Springs Volunteer Fire Department, responding with two trucks and six firefighters; the Virgilina Volunteer Fire Department, responding with two trucks and four people; the Turbeville Volunteer Fire Department, responding with one truck and two people; and the Midway Volunteer Fire Department, responding with two trucks and six people.
Phillips commented that he was happy with the response from the volunteer fire departments at a call in the mid-afternoon, when people are typically at work. He added some firefighters showed up to assist with the call after 5, when they got off work.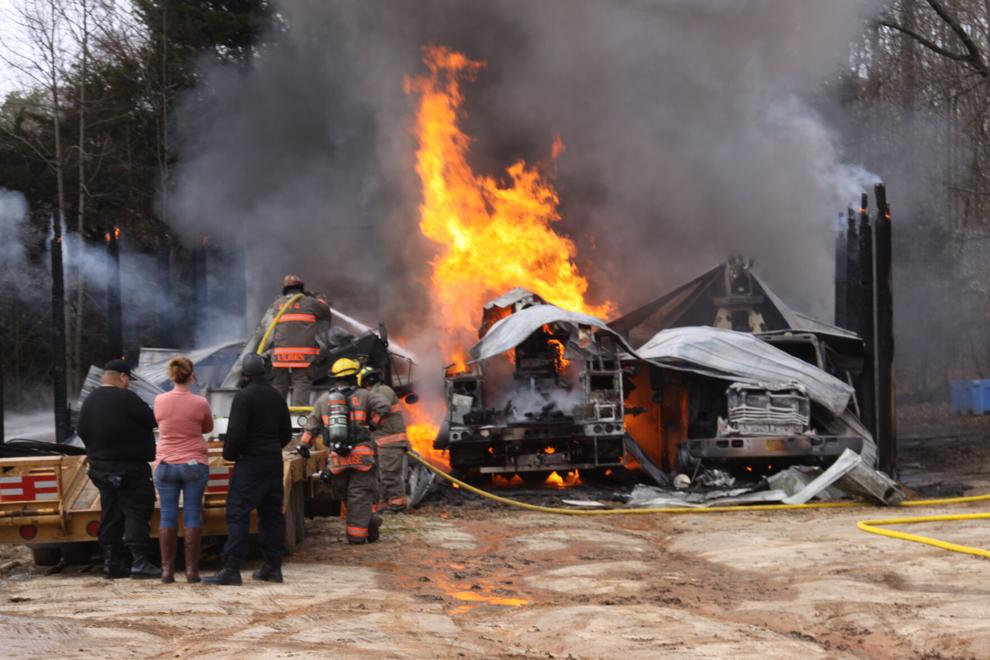 "With a fire like that, you have to have the manpower, but you have to have the water supply, too," Phillips said. "Firefighters made three trips back and forth to the fire hydrant at the World of Sports to fill up their tankers with water."
Emswiler said she and her husband were in Clarksville at the time the fire started and heard about it from friends.
"As soon as we heard, we headed this way as quickly as we could. We saw the smoke when we were leaving Clarksville," Emswiler related. "It's a total shock to us, because he (Verlyn) hasn't worked with any of this equipment in a couple of weeks because of the rain."
Along with losing equipment for his tree business, Ruth Emswiler said her husband Verlyn lost some pieces of equipment that were sentimental to him – a tractor and a spreader truck that belonged to his late father.
"They were special to him. Some things money can't replace," she shared.
Despite being saddened over the loss of items that were valued by her husband, Ruth Emswiler said she is thankful that no one was harmed in the fire and that she and her husband's home, which is at a distance from the equipment shed, was untouched by the fire.
Emswiler added that she is thankful for all the firefighters and family members who "really stepped up" to help her and her husband Tuesday.