A Mecklenburg County driver succumbed to injuries, and his passenger was seriously injured late Wednesday afternoon when the pickup truck they were riding in crashed on Highway 58, just east of the former Hyco Landing Store at 9024 Bill Tuck Highway.
Virginia State Trooper J. A. Wilmouth said the driver of the truck, 26-year-old Danny Stanley Jr. of Buffalo Junction, and a passenger, 19-year-old Michael Thomas Martin of Skipwith, were airlifted to Duke University Medical Center in Durham, North Carolina, for treatment of injuries sustained in the single-vehicle crash.
Stanley, who was airlifted from the scene of the crash, died later Wednesday evening, state police confirmed Thursday morning.
Martin was airlifted from the South Boston landing zone.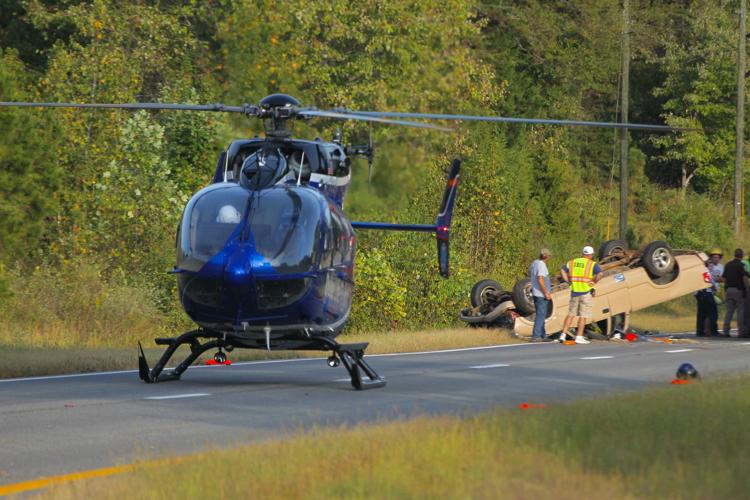 Both men were ejected from the truck during the crash. The two men were not wearing a seat belt at the time of the crash, according to Wilmouth.
Wilmouth said the 1998 Chevrolet pickup truck was headed east on Highway 58 when the crash occurred at 4:45 p.m.
According to Wilmouth, the truck came up on a Virginia Department of Transportation crash prevention truck.
Stanley, he said, swerved to avoid hitting the VDOT truck, lost control of his vehicle, overcorrected, and the truck ran off of the road and overturned, coming to rest on its top on the shoulder of the highway on the westbound side of Highway 58.
The VDOT truck was part of a VDOT line-painting team that was at work in the area.
The Chevrolet pickup was a total loss.
Investigation of the accident is continuing.