The floors are buckled, and the porch railing is protruding more and more as the days pass.
The home, located at 1012 Temple Hill Road in Scottsburg, was deemed unsafe or unfit to live in and a code official prohibited its use after a logging truck struck the back corner around 1 p.m. Tuesday.
But thanks to an outpouring of community support, the Hatcher family now has a place to live.
"I was stuck at the hospital for three hours, and when I came home, there were over a hundred people here. It was really something," said Robert Hatcher, who went to the emergency room as a precaution.
He had been lying in his bed dozing off for a nap when the accident occurred, and he was thrown into the floor.
He said he checked out "fine" at the hospital.
Immediately following the accident, Hatcher said all he could think about were the individuals involved in the wreck and was hoping for their recovery as well as where his family was going to live now.
What he did not know was a lot of work was going on "behind the scenes" as he called it.
His son, Neal, had made a Facebook post asking for boxes or anything to help them move items out of the uninhabitable house.
That's what started to put things into motion.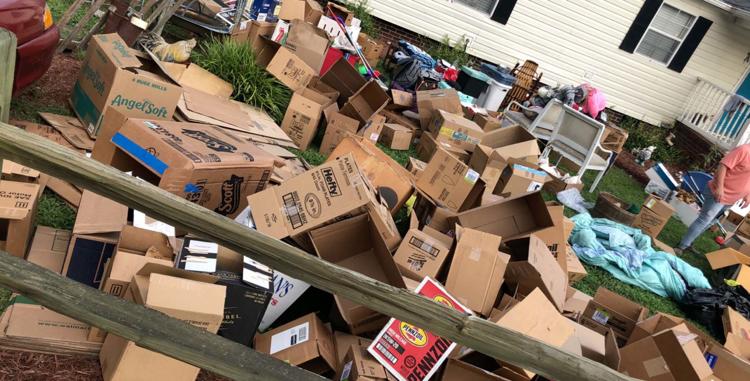 That post was soon shared more than 250 times, and shortly after, groups of people began to arrive with boxes, water and trailers.
"It didn't matter about race, religion, none of that," said Neal.
He said everyone just wanted to help.
"It's hard to imagine that all of those people were willing to help," said Neal's dad.
Until dust, these people, some the Hatchers didn't even know, helped load up boxes and fill up trailers. They loaded up four to six trailers before Tuesday night was over.
They wanted to get as many items as they could out of the house before they removed the logging truck, because the family had been told there was a chance the house could collapse when the truck was moved.
Around 6 p.m., crews showed up to remove the logging truck and they moved the large crowd that had gathered away from the structure for their safety. But, the house didn't come down.
Since the wreck, the doublewide has continued to shift, but as of Thursday, the Hatcher's home — a place that holds roughly nine years worth of memories including holidays when their mother and wife Pattie would decorate the home from top to bottom — is still standing.
"It was really special," said Robert. "The holidays are going to be tough this year."
But, thanks to working with Dr. Michael Haskett, David Ashwell with Virginia Farm Bureau Insurance and Jeremy Holt with Long and Foster, the family has a place to lay their head.
It's their home for the next several months until they can decide what their next step will be.
But for the Hatchers, the house that now sits in shambles will always be home.