Another ice storm is in the forecast for Halifax County Thursday morning.
"This is going to be at least as impactful if not more impactful than the last system that just came through," said Reggie Roakes, a meteorologist with the National Weather Service in Blacksburg. "A good case scenario is a quarter inch of ice for the South Boston area, but we're leaning toward the half inch side. We are looking to possibly bump up that (forecast) ice amount later this afternoon."
The amount of ice accumulation from last weekend's storm varied from a quarter inch to a half inch of ice across Halifax County. Thousands of Halifax County residents remained in the dark Tuesday from last weekend's ice storm that wreaked havoc on trees and power lines.
As power companies work steadily to restore service to customers, another impending ice storm looms ahead, with predictions of more widespread power outages.
"Start making plans now for alternate heating sources," Roakes advised. "More trees are going to come down, and more power lines are going to be brought down."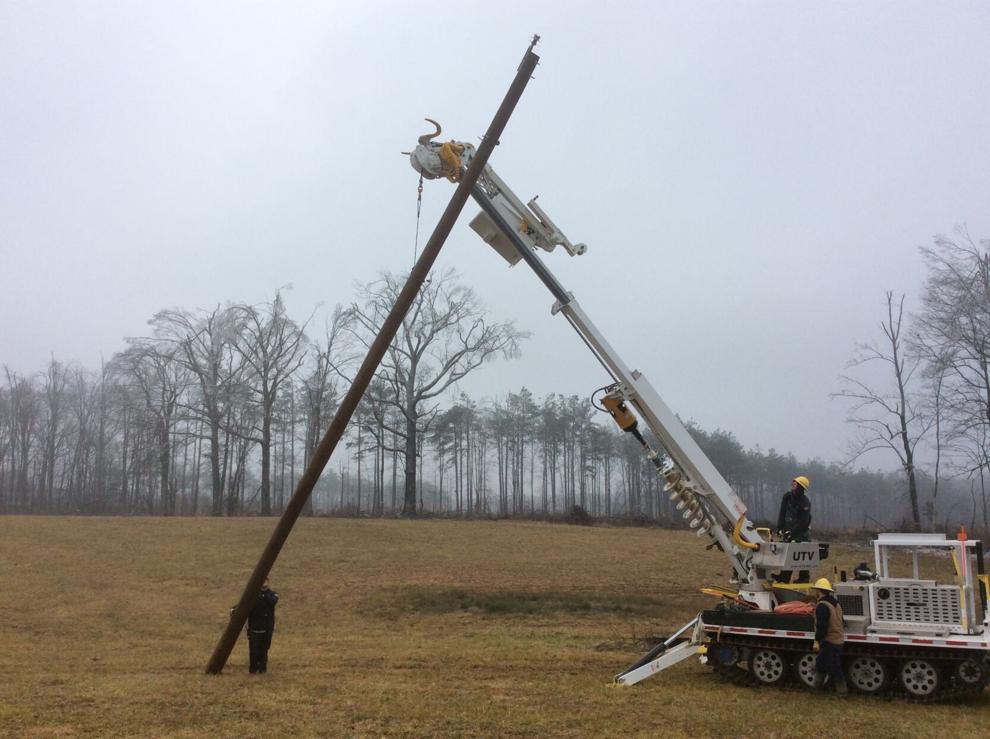 The NWS has issued a winter storm watch for Halifax County in effect from late Wednesday night through Thursday evening.
Roakes said the precipitation from the storm system is expected to start as a freezing rain and sleet mix in the very early Thursday morning hours, quickly changing over to freezing rain. The freezing rain is projected to continue throughout Thursday morning and into the day Thursday.
The icy forecast is bad news for the power company crews still working to restore power to customers and customers who just had their power restored following last weekend's ice storm.
The widespread power outages led to the closure of Halifax County Public Schools on Tuesday and Wednesday.
Tuesday would have been the first day of face-to-face instruction in nearly a year for pre-kindergarten through third grade students. Special education students and English Language Learners also were set to return Tuesday.
Dr. Mark Lineburg, superintendent of Halifax County Public Schools, said on Monday that four schools were without power. On Tuesday, Lineburg said power had been restored to one of those schools — Sinai Elementary — but Sydnor-Jennings Elementary and Meadville Elementary remained without power, and the power had been on and off at Scottsburg Elementary.
In addition to the schools being closed for face-to-face instruction Tuesday and Wednesday, the superintendent said no virtual learning sessions were held because of many students' lack of internet access due to the widespread power outages.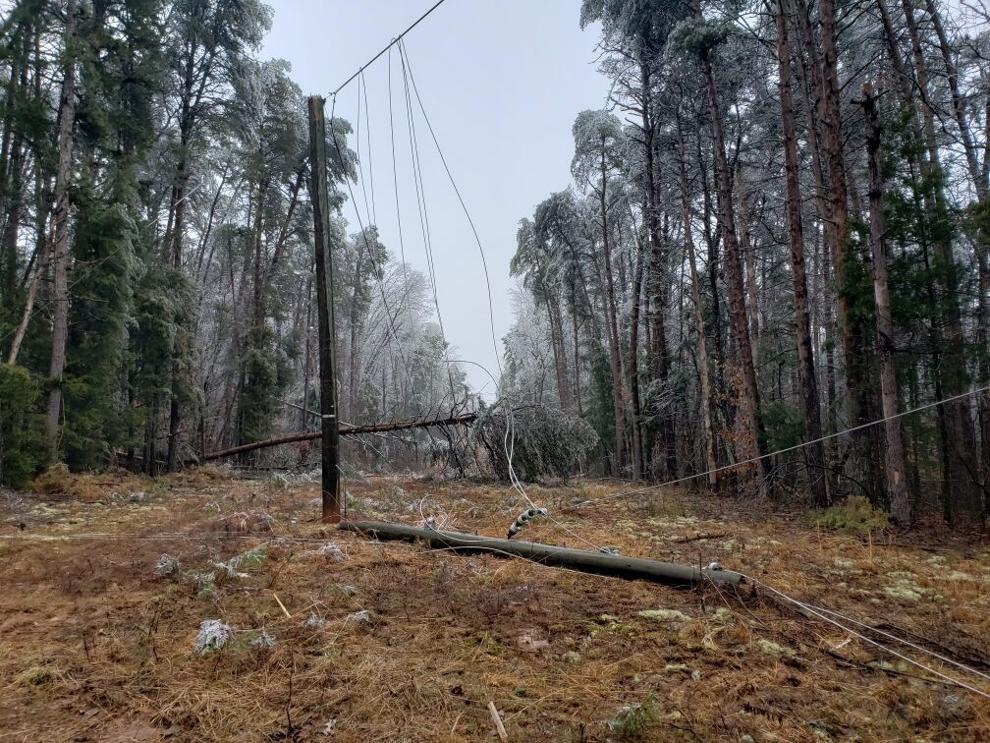 "Halifax County was one of our hardest hit areas during the ice storm," said Jeremy Slayton, a spokesperson for Dominion Energy, on Tuesday. "We're working around the clock to get the vast majority of customers restored today, but for the harder hit areas, it could be tomorrow until we're able to get them restored."
As of 10:30 a.m., 2,818 Dominion Energy customers in Halifax County were still without power out of the total 13,683 customers in the county the power company serves. At the peak of the outages mid-day Saturday, 7,908 Dominion customers in Halifax County had lost power, according to Julie Mills Taylor, a communications consultant for Dominion Energy.
Slayton added ice presents challenges from an infrastructure and a safety standpoint.
He explained the ice accumulation leads to broken poles and downed wires, and ice can linger on power lines for a period of time depending on the temperature as in last weekend's storm, making it unsafe for crews to begin repairing the lines.
In addition, Slayton said downed trees across roadways could make lines in need of repair inaccessible to crews until they are removed.
Nonetheless, he said Dominion Energy's line workers finishing up power restoration work from last weekend's storm are prepared to meet the challenges the next ice storm may bring.
"Our line workers are experienced. They're trained to perform the repair work," Slayton asserted. "Whenever the challenge arises, they will answer the call."
Mecklenburg Electric Cooperative crews also are working to restore power to customer in Halifax County. As of Tuesday morning, 2,748 MEC customers in Halifax County were without power. That number is down from the 4,253 MEC customers in the county without power on Sunday, at the peak of the outages.
"From southern Halifax County east, we're making some solid progress getting service restored to customers," said David Lipscomb, vice president of member and energy services for MEC.
He added northern Halifax County was one of MEC's hardest hit areas, and because of the amount of work necessary to repair those power lines, it is taking longer to restore service to those customers.
"In the devastated areas of Pittsylvania County and north Halifax, crews will continue to make repairs to mainline three-phase outages and then move to larger neighborhoods," Lipscomb said in a Tuesday morning outage update issued to media outlets.
Out of 82 broken power poles throughout MEC's service area, Lipscomb said 23 had been replaced as of Tuesday morning.
He said the ice from last weekend's storm was so heavy that it had pulled up the anchor wire that helps support the power poles inches out of the ground.
Lipscomb also said the ground was so saturated in places that it was not safe for linemen to enter the areas to restore power, so MEC had been using track machines (pole-setting machines on bulldozers) to reset power poles in those areas.
NWS meteorologists caution the saturated ground in Halifax County could present problems with another round of precipitation in the forecast.
On Tuesday, the NWS issued a flood warning for the Dan River at South Boston, with the river predicted to crest at 23.8 feet — minor flood stage — Wednesday morning.
But Roakes cautioned that the runoff from creeks and streams into the Dan River from Thursday's weather system could lead to another river crest later in the week.
"This system is going to have a lot of liquid precipitation with it. We're looking at an inch and a half to two inches of liquid precipitation," Roakes said. "Be wary and keep an eye out on the river level."
The good news is that a slight warm up is in the forecast for Friday with temperatures reaching the mid-40's, bringing the potential to melt some of the ice from Thursday morning's storm. But the chilly weather will return Saturday, with high temperatures only reaching the 40-degree mark.
Crews working on Mountain Road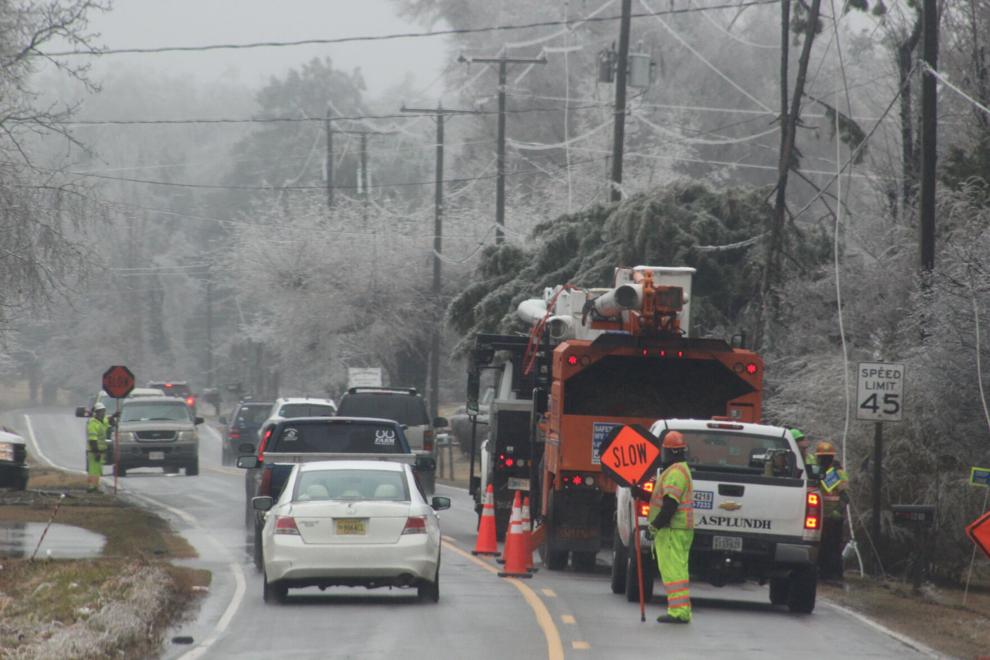 Trees across Mt. Zion Church Road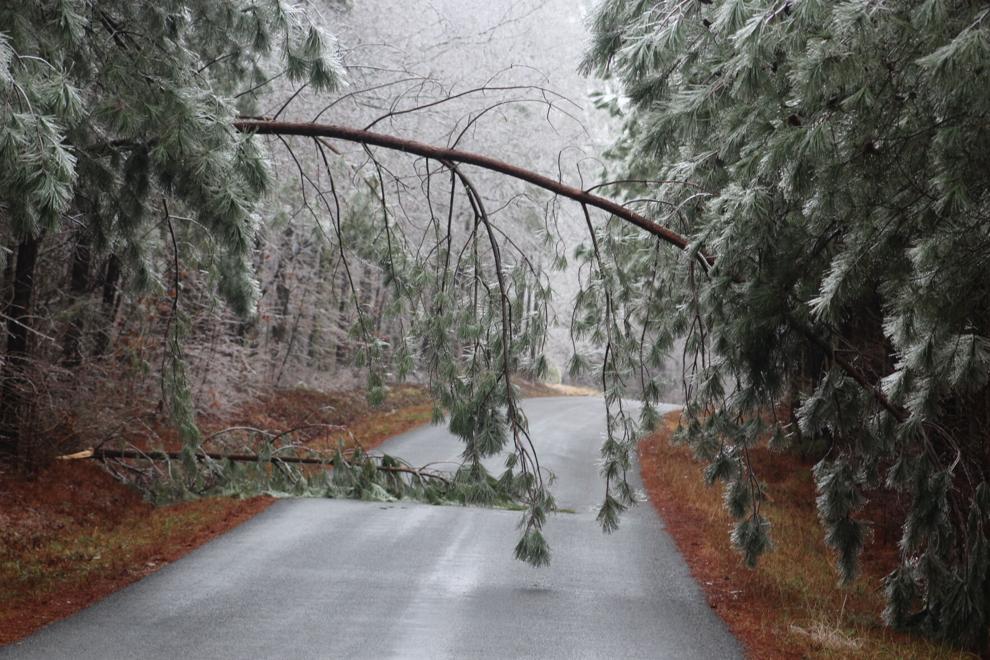 Branches in Hundley Road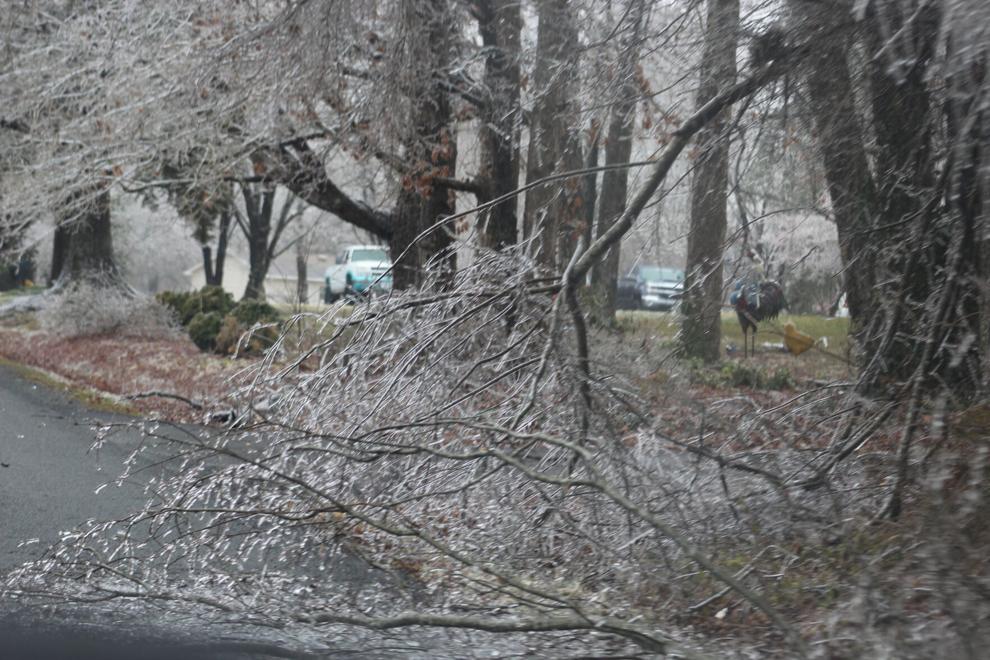 Downed trees along Bethel Road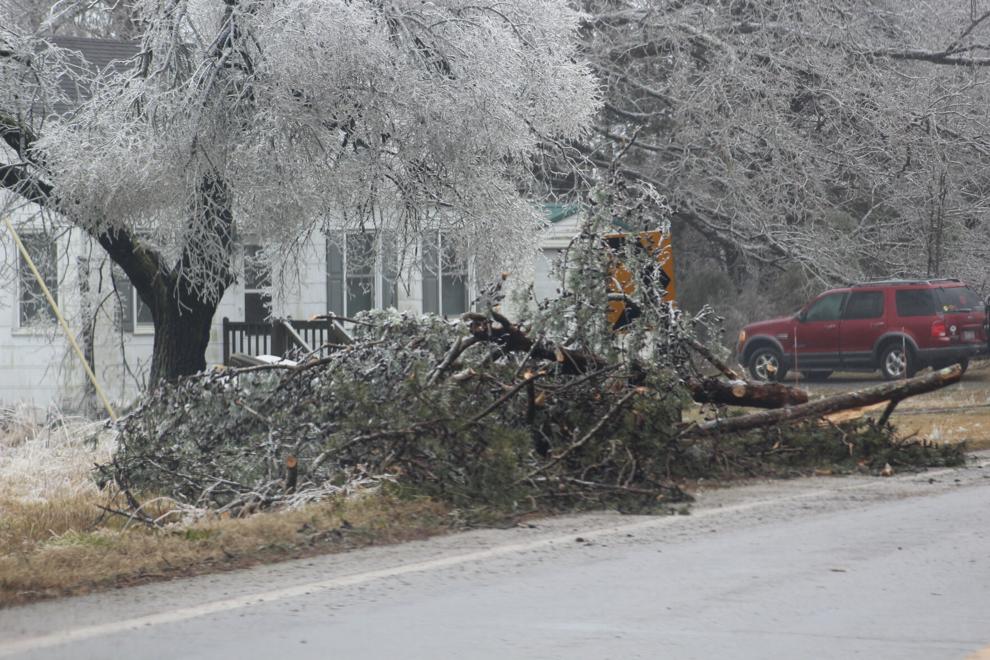 Tree on Rodgers Chapel Road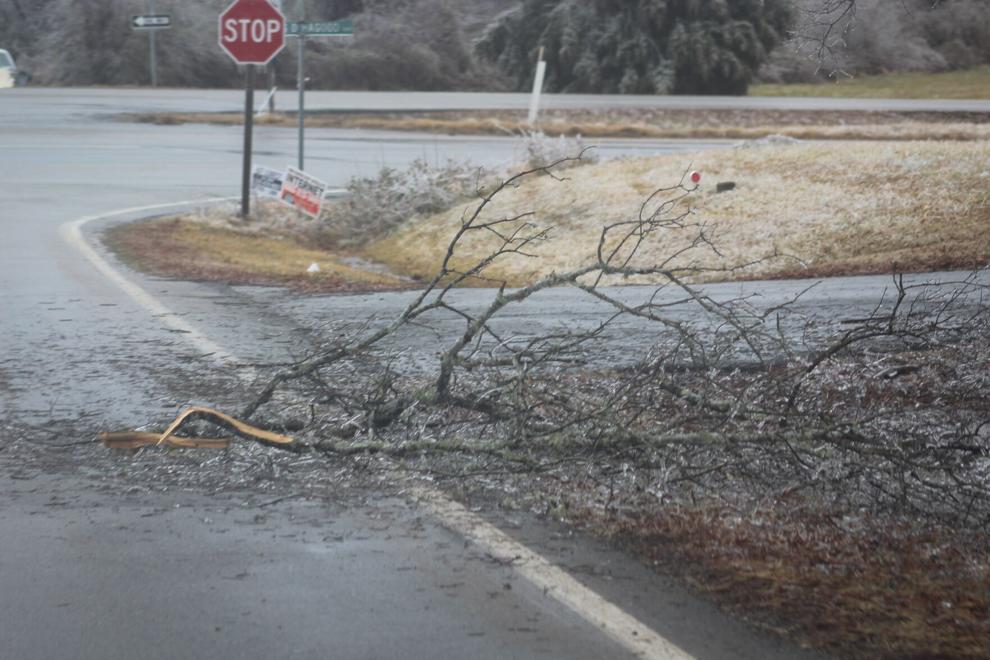 Ice on power line on Bethel Road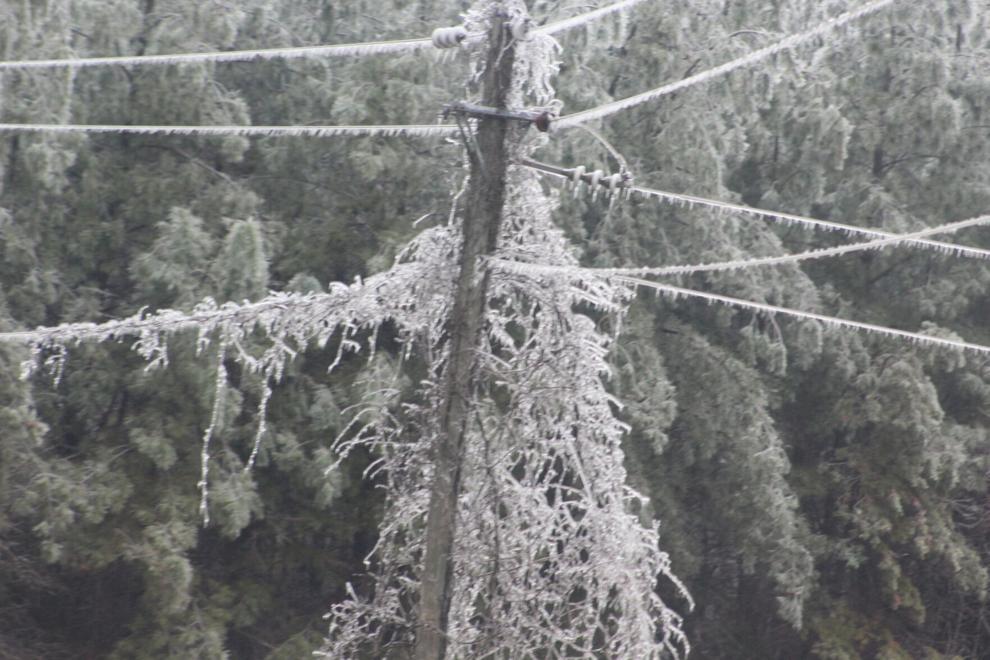 Icy fence on Clays Mill Road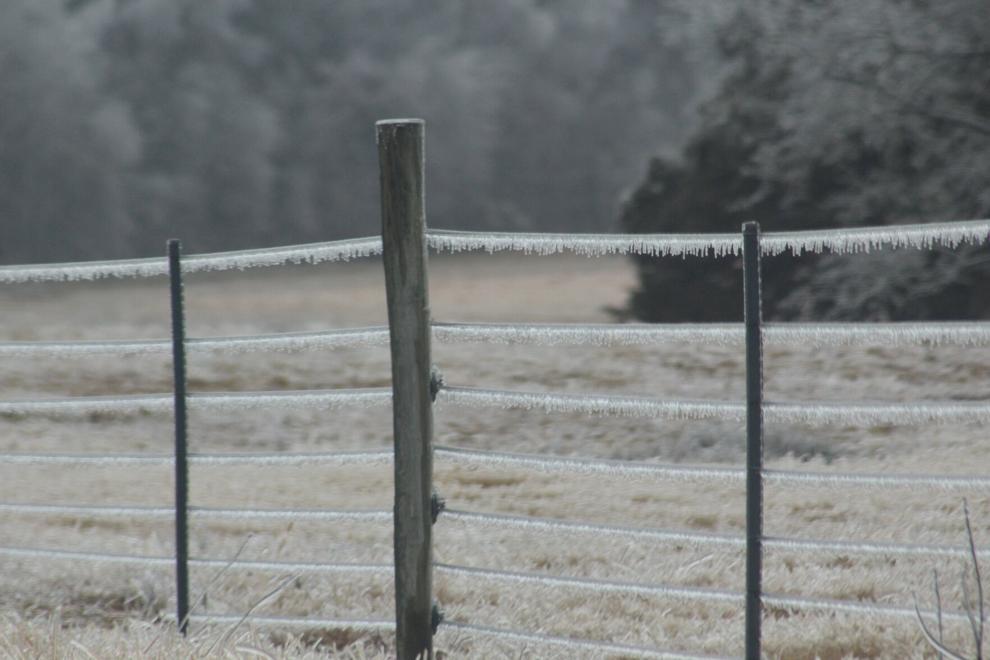 Abbott Hill Road sign with ice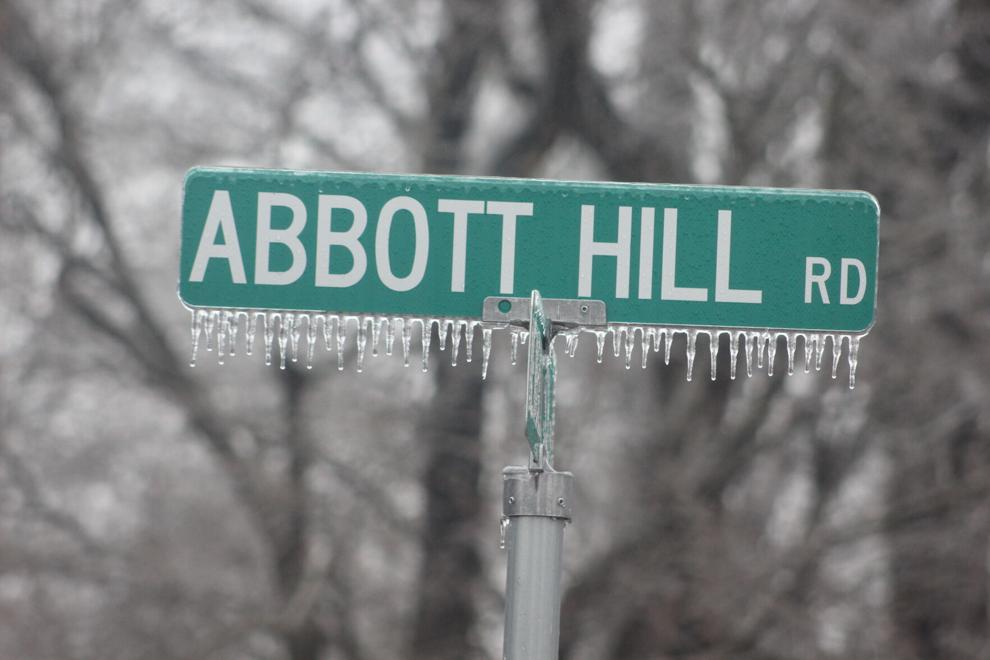 Tree near intersection on River Road near Sinai Road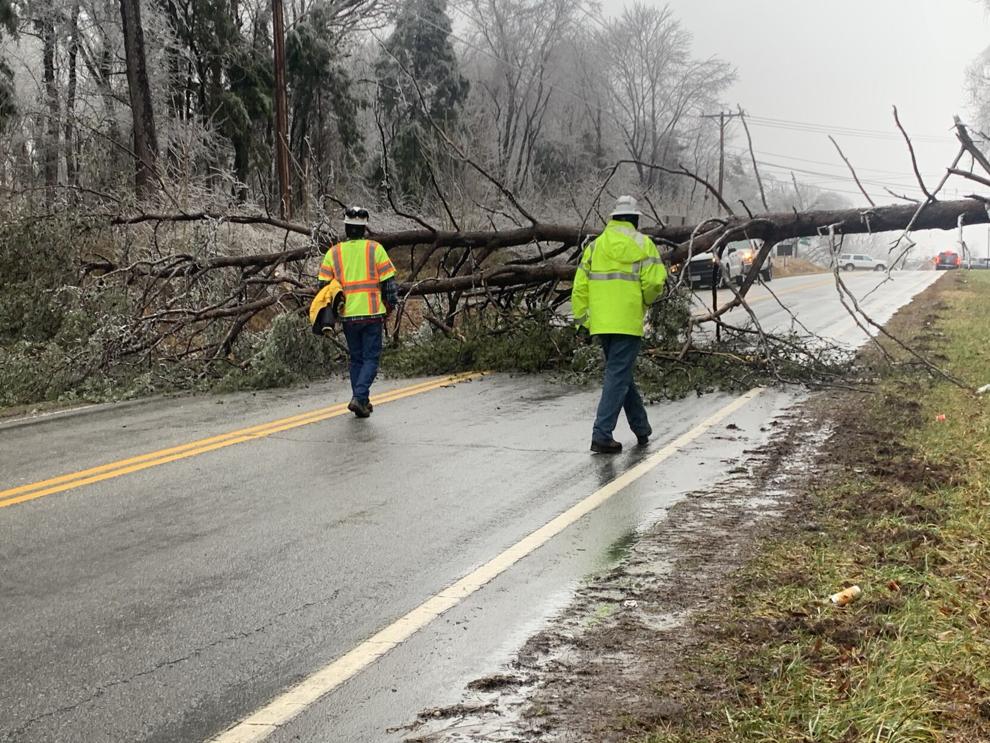 Tree on River Road near Old Grubby Road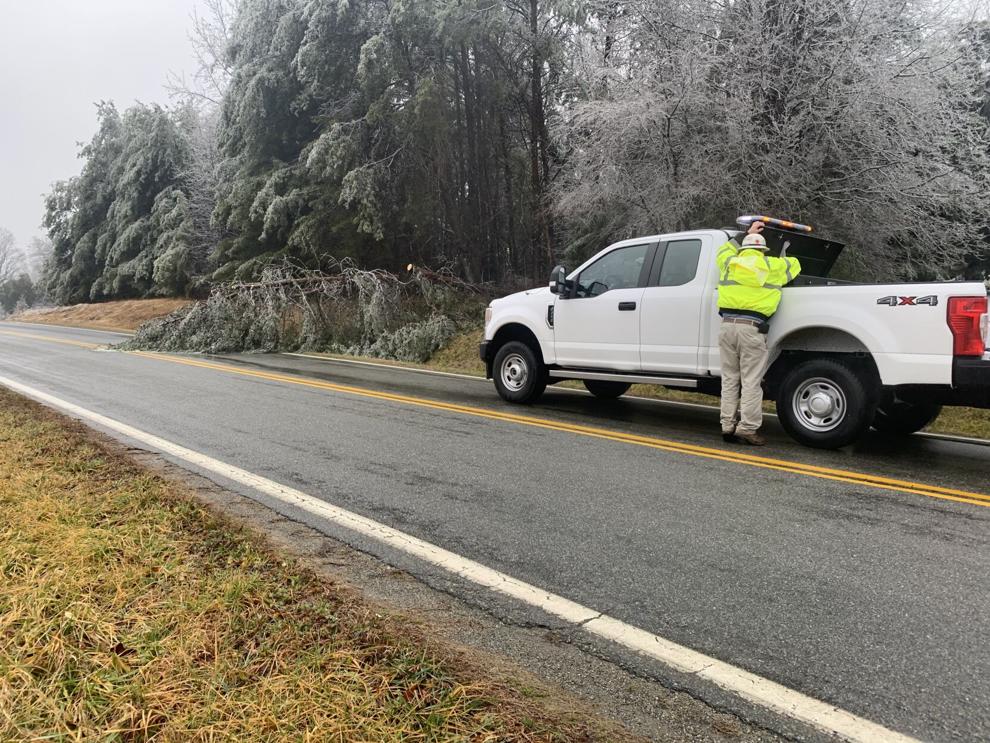 HIDE VERTICAL GALLERY ASSET TITLES