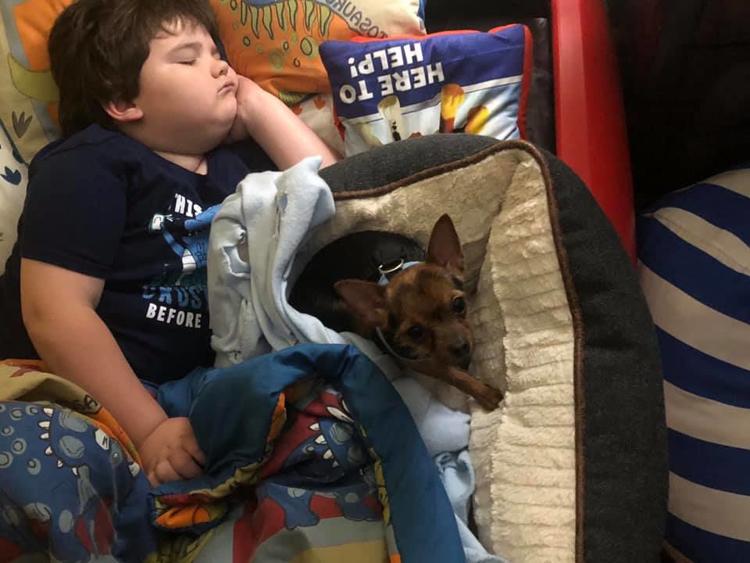 When the Martin family of Roxboro, North Carolina, first began fostering Polly and Penny, they had no idea their 5-year-old autistic son would find the furry friend he has needed to help him handle "life."
But, that's exactly what happened.
According to his mom, this young boy, who is on the lower end of the spectrum scale, has never wanted to be around a crowd or loud noises. In the past, he also has had difficulty controlling his emotions. But now, he has come out of his shell, thanks to his best friend, Polly.
The Martin family first met Penny and Polly on June 24 when they decided to help the Halifax Dog Squad rescue the dogs.
Since Penny wasn't quite as friendly, Ethan took to Polly.
"She became very interested in Ethan too," said his mother, Cindy.
And when Ethan started having one of his "meltdowns," all of the family noticed something special about Polly.
"She put her paw on his chin and started licking him, and Ethan deescalated. It was like she was calming him," said Ethan's mom.
At first they thought it was a coincidence, but three hours later, the same thing happened again.
They began to see more and more changes in Ethan the longer Polly hung around him.
One such change involved Ethan's irregular sleeping habits.
Usually when Ethan's dad, Daniel, works night shift, the 5-year-old would end up in the bed with his mother before the night was over.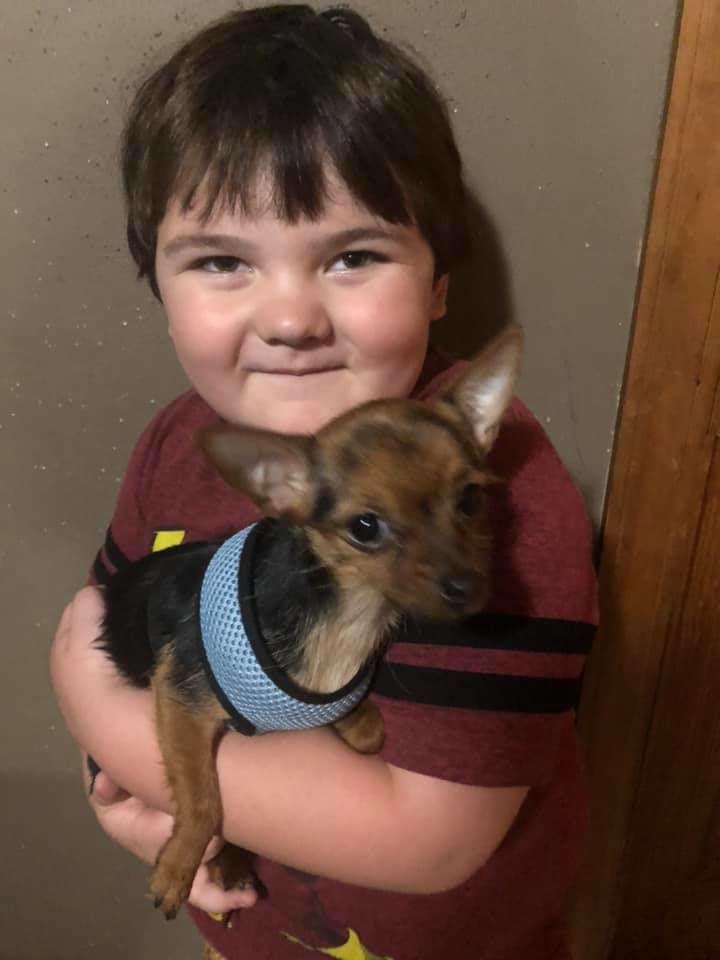 But ever since Polly has shown up, that has not been the case.
The first morning after it happened, Cindy said she called her husband to tell him. And once again, they thought it might just be a fluke.
They still weren't convinced this 4-pound Yorkie Chihuahua mix could be helping their son overcome his fears and anxieties, but evidently she was.
"Every night (since Polly came), he's slept in his bed," Cindy said, who for once feels relieved. "We're able to enjoy family outings again."
Before Polly came into their lives, it had been a struggle when 5-year-old Ethan, 9-year-old Lexi, 15-year-old Caine and 17-year-old Conner would go out with their parents.
"There was tons of anxiety," their mother said, explaining how Ethan would "throw a fit" when they would even try to go to the grocery store.
Every night now, Polly watches over him, and each morning, here comes Ethan with Polly in tow. Where Ethan goes to play that day, Polly isn't far behind watching, and she intervenes if she's needed.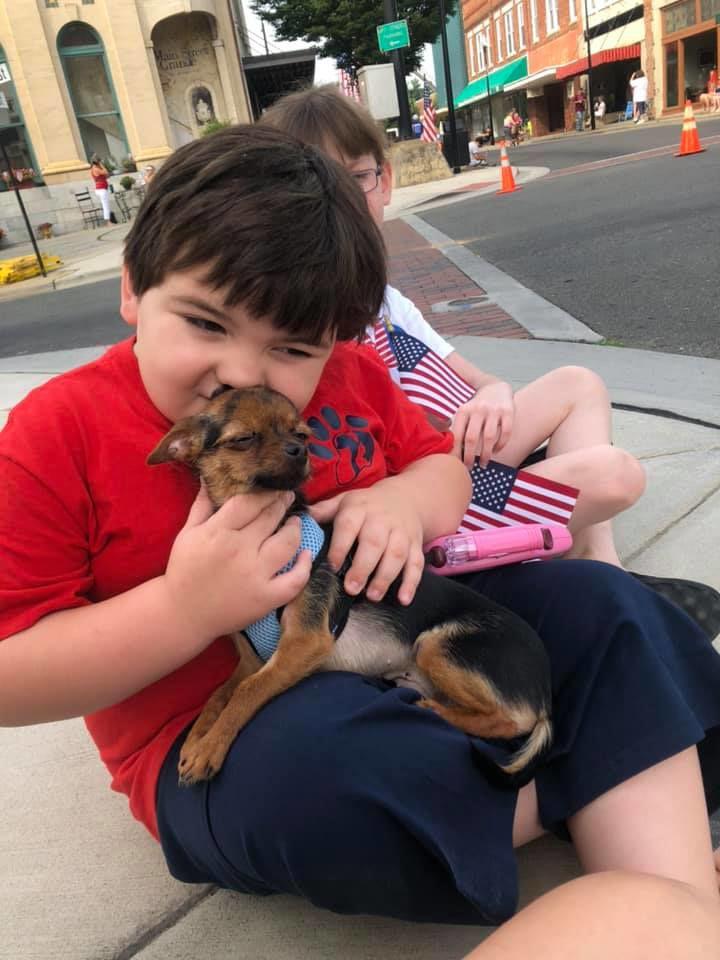 The duo recently attended the Fourth of July parade in Roxboro, and for once, Ethan was able to enjoy it.
Usually the crowd and the loud noises from the fire engines upset him, his mother explained. But with Polly in his arms, his parents said he is like a different child.
When they first started fostering Polly and Penny, the Martin family had every intention of finding them a home with another family, but now they have decided Polly has to stay in the Martin household.
"And, don't worry. We found a home for Penny," said Cindy.
But there was one nagging concern after they decided to keep Polly. They needed to make sure they could cover the adoption fee.
Cindy shared her son's story on Facebook along with the family's desire to adopt Polly, and Vicky Cole contacted them on July 7 telling the family, "You have an angel on your shoulder. An anonymous donor has paid for the adoption fee."
She couldn't wait to get home to tell Ethan that Polly was now officially his "fur-ever friend."
When she told him, Cindy said the excitement and joy spread across his face as he gripped Polly giving her a hug.
Since their first encounter, Ethan has had Polly by his side everyday, so it was only natural for the family to become somewhat nervous as the date grew closer for their impending family vacation cruise.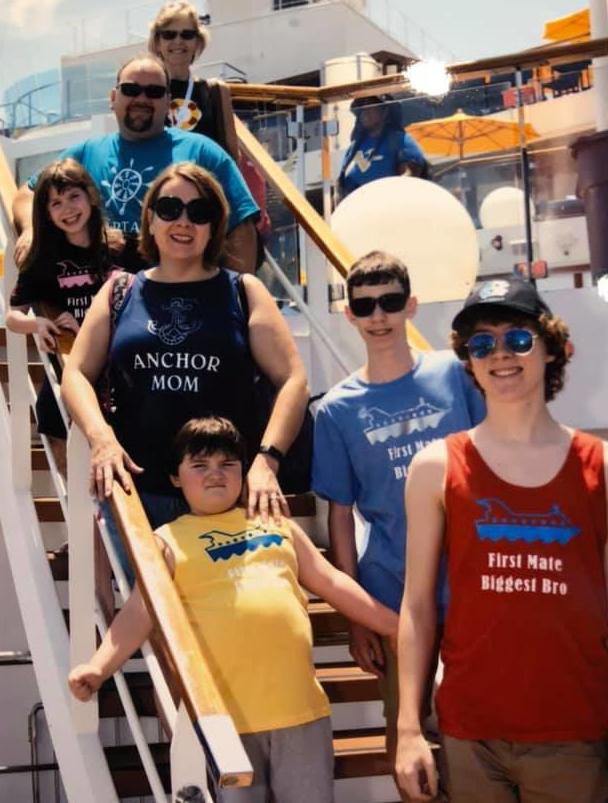 Although the family had no choice but to leave Polly behind, they made sure Ethan had a little piece of her each day.
"Every morning he received a letter from Polly," said Cindy, who said that gesture kept Ethan calm for the majority of the trip.
She said there were times when he would say, "I need my Polly. I miss her."
But for the most part, he took the cruise experience in stride.
He even visited a piano lounge where he performed "Three Little Birds" in front of the crowd.
"He's found his personality," his mother said.
And Ethan is quick to add, "Polly found the human fit for her."
Now Polly is registered as a service dog, and decked out in her official service harness, she is ready to be by Ethan's side at a moment's notice.
And Ethan welcomes her every day with open arms.
"I love her 100,000," said Ethan.