It did not take long after the Centers for Disease Control and Prevention — in a somewhat surprising move — changed its face masks stance for a domino effect of optimism to abound across the nation and Virginia, ushering a nearby end to COVID-19 restrictions almost as quickly as they were imposed.
It was a mere 24 hours after the CDC announced vaccinated individuals need not wear facial coverings — unless in a specific public place, such as an airport or on a bus — that Virginia eliminated its mask mandate.
Gov. Ralph Northam, appearing via video Friday afternoon, said effective starting Saturday, the commonwealth no longer had state-imposed rules for face masks.
However, private businesses still may choose to mandate the masks, just like some businesses require shirts and shoes for service.
But, the mask lifting was only part of Northam's update. He also moved up the day Virginia will essentially eliminate all distancing and capacity restrictions. That will now take place on May 28, ahead of the Memorial Day weekend.
The move comes as virus caseloads across the state have dramatically declined to levels not seen since last summer.
"Virginians have been working hard, and we are seeing the results in our strong vaccine numbers and dramatically lowered case counts," said Northam. "That's why we can safely move up the timeline for lifting mitigation measures in Virginia."
While there's no statewide mandate any longer, the commonwealth — mirroring the CDC's stance — still recommends those who are not fully vaccinated to continue to mask up.
Translating that on the local level, that means about 70% of the population should still don face coverings, especially inside public spaces. Only 30% of county residents are fully vaccinated, meaning they have received two doses of the Pfizer or Moderna version or one shot of the Johnson and Johnson version.
Exceptions, even for those fully vaccinated, include schools and health care facilities.
Employees who work in certain business sectors — including restaurants, retail, fitness, personal care and entertainment — must continue to wear masks unless fully vaccinated, per CDC guidance, the governor's office announced Friday.
"I strongly urge any Virginian who is not yet vaccinated to do so — the vaccines are the best way to protect yourself and your community from COVID-19," Northam said. "The message is clear: vaccinations are how we put this pandemic in the rearview mirror and get back to being with the people we love and doing the things we have missed."
A state of emergency in Virginia will remain in place at least through June 30 to provide flexibility for local government and support ongoing COVID-19 vaccination efforts.
Northam is expected to take executive action to make sure anyone who wants to wear a mask after June 30 may do so, since the state already has a law banning masks in public.
The change also appeared to catch the Virginia Department of Health off-guard. A note on the website Sunday stated the department was updating its guidance for fully vaccinated people. In addition, sponsored ads from the health department on Facebook still advised everyone to wear masks with unknown variants circulating.
Mobile unit coming to county
From 3:30 to 7:30 p.m. May 29, a mobile vaccination unit will be established at the Halifax County Fairgrounds.
That's part of an effort by the Southside Health District — in coordination with the Virginia Department of Emergency Management — to offer a series of smaller and more local clinics, primarily in rural and underserved areas where vaccine access can be challenging.
These vendor-operated, mobile vaccination clinics will move from place to place to support local health department efforts in the Southside Health District and across the state, a news release announced Friday.
"We are very excited to be able to offer the convenience of these mobile clinics in our health district," said Dr. Scott Spillmann, director of the Southside Health District. "You can stop by on your way home from work or while you are out running errands. No pre-registration needed."
These clinic sites were selected based on demonstrated needs and available data in order to reach unvaccinated Virginians in the Southside Health District at times and places that are closer and more convenient, the release said.
The mobile units will administer the one-dose Johnson & Johnson vaccine.
"It's never been easier to get the COVID-19 vaccine," Dr. Spillmann said. "The safe and effective Johnson & Johnson vaccine is very convenient – one dose and you're done!"
The Johnson & Johnson vaccine is available to all Virginians ages 18 and up. No registration needed at these clinics, and walk-ins are welcome.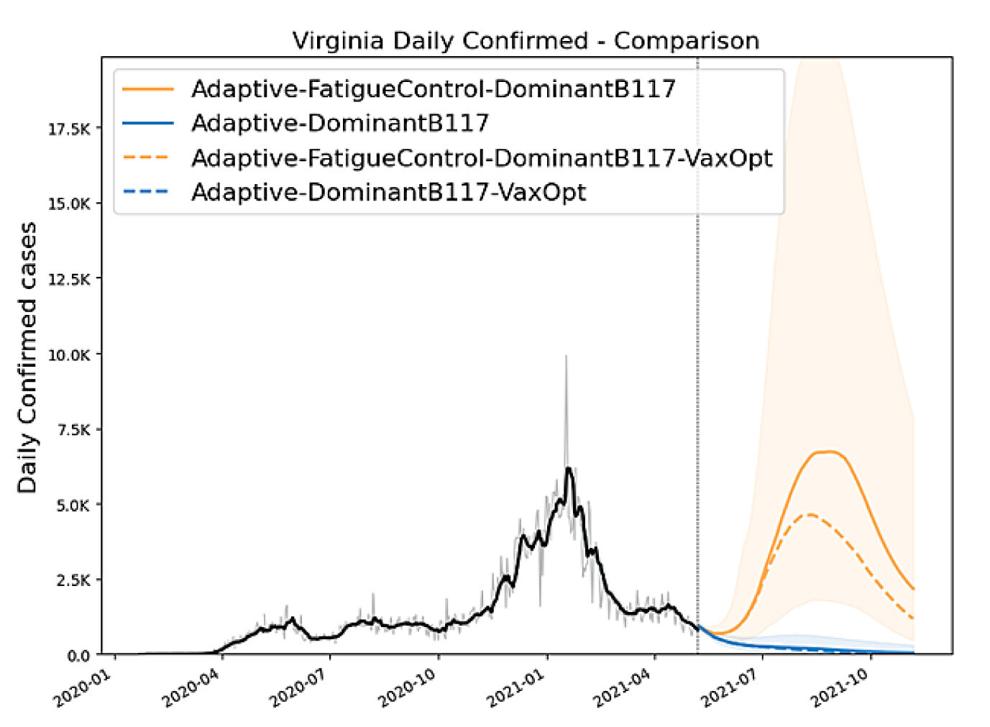 The future
A weekly report by the University of Virginia's Biocomplexity Institute acknowledges the success with a drop in cases, hospitalizations and deaths.
But mixed with an optimistic tone was an assessment of vaccination situation.
The number of doses administered each day is declining rapidly, with first doses dipping below 15,000 daily recently, the report said.
This is happening around the entire state, even in areas like Northern Virginia.
"In order to increase the number of vaccine doses administered, Virginia has been working to ramp up its outreach efforts," researchers wrote.
The report — released before Virginia lifted its mask mandate — did not make mention of the CDC's latest guidance. In fact, researchers advised just the opposite.
"As case counts get lower and lower — and states are further relaxing their restrictions, it's important that Virginians continue to practice healthy behaviors like social distancing, wearing masks and getting vaccinated when eligible," researchers wrote.
The report introduced a fourth model used to predict the track of the pandemic. These models each use different factors, like Virginians sticking with tried-and-true prevention measures, or residents returning to pre-pandemic life and variants spreading beyond control.
All models show declining cases until the end of the month. Then, two models suggest an uptick and one — factoring in the worst possible path — shows another surge heading for Southside this summer.
For Halifax County, UVa said the recent case declines are promising, but the unvaccinated population is large enough to make a resurgence possible. In a worse-case situation, if residents loosen prevention measures for an extended period of time — and variants continue to remains strong — Halifax County may see another peak with 483 cases by the end of August. To put that into perspective, there were only 258 weekly cases in the January surge.