The Dollar General in Halifax at the corner of Highway 501 and Route 360 has become an "eye sore" for those entering the town, according to members of Halifax Town Council who met Wednesday evening.
What started as a discussion on possible changes to an ordinance in town code on "health and sanitation" including weeds and debris, turned into a discussion on the lack of upkeep at that particular Dollar General and whether or not amending that town code to enforce change is the route to go.
Members of council agreed the tall grass and large stumps on the property needed to be addressed.
Steps have already been taken to address the situation at Dollar General with Town Manager Carl Espy saying he had reached out to the company, shared photos and let it be known they needed to "clean up the overall parcel.
"At a minimum, the grass should be cut by the end of the week," said Espy.
He said he spoke with a Dollar General maintenance person who agreed it was "not a good corporate image."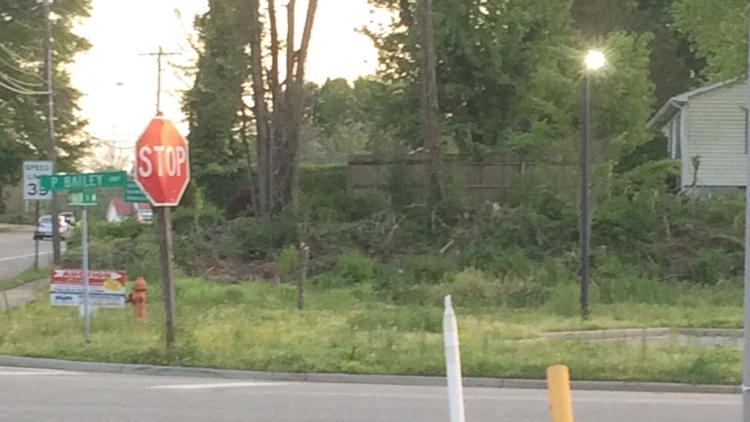 Councilman Jack Dunavant questioned if Dollar General is required to landscape the property.
"That property has never been landscaped. There are 50-year-old stumps sticking out through kudzu. That's just not right. If we don't have something in here to take care of that, then let's put something in there," he said referring to the proposed ordinance.
Espy suggested to further address the situation they could amend the health and sanitation code to add stumps to the existing weeds and debris.
But Dunavant said simply adding a word would not address the entire landscaping issue.
"A private owner cannot get by with what Dollar General is getting by with," Dunavant added.
Councilman Mike Trent countered Dunavant's argument saying, "I think we need to be careful changing the ordinance for one instance."
He said he believes it is fair to have different landscaping requirements for a resident versus a commercial business.
Trent argued, "There's a connection between weeds and debris and landscape, but they're different. Weeds and debris are simply saying there are certain things that are a nuisance whereas landscaping is more of a positive beautification… I don't think it needs to be a part of the weeds and debris ordinance."
He said he would be glad to write a new, separate ordinance for landscaping.
Councilman Bill Confroy added, "If we were a homeowners' association, and this was the debate they were having, I could understand that. But I don't think you can regulate what a person is going to do in their yard. If I had to cut down a tree, and I had a stump, I don't want to see any ordinance that's going to require me to dig that stump up… I don't think we should do that. We're not a homeowners' association."
Dunavant replied, "We're a town owner's association. That's what we're here for or else we wouldn't even be meeting. Why get together?"
Confroy responded, "Some things are practical, some things are not, and Jack, I love you, but I disagree with you."
Meanwhile, Dunavant said neighbors have been reaching out to him about the property and are asking why he can't do anything about it.
But Confroy said, "I'm not going to vote for anything that's going to be about residential property requiring certain types of landscaping and removing stumps… I don't think the town should be regulating what you're going to do in your front yard."
Dunavant countered with the argument a certain standard of decorum should be followed by town residents, and Trent said he felt the health and sanitation code sets that standard as it is.
As currently proposed, the amended code states it is unlawful for town residents to have "weeds or invasive weeds standing more than 15 inches in height or any debris."
Once notified of the violation, residents have 10 days to rectify the situation or present a remediation plan to the town manager.
"As far as this ordinance is concerned, we've been working on this thing for about five months, and I am going to go ahead and recommend that we approve it as presented," said Confroy.
Trent also agreed he felt council should go ahead and approve the ordinance as presented.
Mayor Dexter Gilliam suggested the issue with Dollar General could be handled by reviewing the zoning ordinance.
He said landscaping requirements should have been set when the company applied for a rezoning request.
Espy said he would be glad to check the zoning ordinance to see what requirements were set and get it to council by next week.
Dunavant argued they should hold off on approving the ordinance because if proper requirements were not in the zoning ordinance, they would need to amend the town code.
If they had approved the town code Wednesday evening, he said the town code would once again have to go before Halifax Planning Commission before they could amend it again.
Gilliam pointed out that because the April meeting was postponed until April 24, council members have only a couple more weeks before they meet again, and they could approve it then.
Council ultimately decided to table the matter until their May meeting.