South Boston town manager Tom Raab introduced the town's new police chief at Monday's town council meeting at the Washington Coleman Community Center.
Bryan Young, 43, will start his new role as the town's police chief on Jan. 18, with the retirement of Jim Binner, who has been the town's police chief since 2007.
Young currently serves as chief of the Virginia Conservation Police for the Virginia Department of Wildlife Resources. He has 23 years of state law enforcement experience.
"It is a distinct honor and a privilege to be before you this evening and to be selected as the new chief of police for the town of South Boston," Young said as he addressed the town administration, town council, police department leadership and the residents in attendance at the meeting with his wife Tina and their 7-year-old daughter Emma by his side.
"I have the fortune of coming into this position at a police department that has a very, very solid foundation. The solid foundation has been set by Chief Binner, and I have the utmost respect for what Jim has done here as police chief for the last 13 years. Jim, thank you for your leadership, your friendship and your support as we make this transition."
Young said he felt "at home" sitting at the table with Raab and town clerk Jane Jones during the interview process for the position of town police chief and that Capt. Dennis Barksdale of the South Boston Police Department has "rolled out the red carpet" and really made him feel welcome, as well.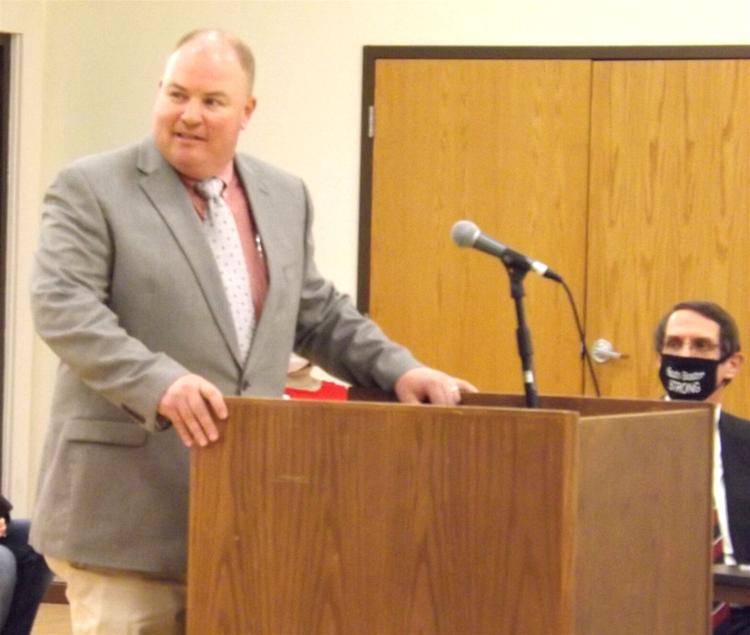 Young and his family also received a warm welcome from town council.
"I'd like to welcome you to the community. We're privileged and honored to have you," said councilman Tommy Elliott.
South Boston Mayor Ed Owens said the town's leadership is "excited" to have Young as the new chief of police.
"We've heard nothing but good things about you, and we look forward to working with you," Owens said.
Young is no stranger to Halifax County. He spent three years from 2003-2006 supervising police operations in and around Halifax County, and it was during that time that he met his wife Tina. The Franklin County native said it was very easy to make Halifax County his "second home."
"We're excited and we're humbled by the opportunity to be here and be a part of your community once again," Young expressed, on behalf of he and his wife Tina, who is a graduate of Halifax County High School.
He added he is grateful for the relationships he established, both professionally and personally, during his previous time in Halifax County, and he believes they will serve him well in the new role as the town's police chief.
Young was one of six candidates who interviewed for the position of South Boston's chief of police on Nov. 20 at the Berry Hill Resort and Conference Center, Raab shared at the council meeting.
After being interviewed by a distinguished police chief panel, the candidates met with Raab and Jones at town hall. Raab said he and Jones as well as the panel selected Young as the candidate of choice for the town's police chief.
"The elephant in the room is, 'How does a conservation officer come in here and be our chief of police?'" Young said. "I think it started 23 years ago, when I sat at the Central Virginia Law Enforcement Academy in Lynchburg, and I was surrounded by officers from places like Lynchburg, South Boston, Halifax County, Charlotte County, Mecklenburg County, and I built relationships on day one…I've been able to carry those relationships throughout my career."
After graduating from the Central Virginia Criminal Justice Academy and spending the first five years of his law enforcement career in the Lynchburg area, Young started rising through the ranks throughout Virginia, working in the Roanoke Valley area, Southside Virginia and the Smith Mountain Lake community, according to a news release issued by the town of South Boston.
Young is a 1994 graduate of Franklin County High School and holds a Bachelor of Science degree from Bluefield College (1998).
According to the news release, Young has completed the FBI Command Leadership for Law Enforcement Managers, FBI Supervisor Leadership Institute, FBI National Academy Management Course, PMG Experienced Supervisors Institute and the Commonwealth Management Initiative.
Young recently completed nearly a year of comprehensive leadership training in the National Association of Conservation Law Enforcement Chief's Leadership Academy.
In his free time, Young enjoys hunting, fishing, traveling and spending time outdoors with his family.