South Boston's representation on the Southside District Planning Commission will be cut in half after town council approved a resolution at its Monday evening meeting to reduce the SDPC's overall membership.
The resolution approves SDPC's proposal to pare down its overall membership from 28 to 17 members. As part of that cut, South Boston's representation will be reduced from four to two members.
Approval of the resolution came at the recommendation of town manager Tom Raab.
"I have been on this committee. Twenty-eight is a very large group; 17 is a better working group. I think this is a move in the right direction," Raab stated.
The commission serves as the official regional planning and development agency acting to promote "intergovernmental cooperation and coordination on mutual problems of regional significance." South Boston's current representatives on the SPDC are town councilman Joe Chandler, town councilman Winston Harrell, George Leonard and Ernest Vass.
Harrell agreed with Raab's remarks that the reduction in membership will result in a better working group for the SPDC.
"With a 17-person group, each person would be more likely to contribute at the meetings," Harrell said.
The reduction will take the number of members from 15 elected officials and 13 citizens at large to 10 elected officials and seven citizens at large, effective Jan. 1, 2022. Along with the town of South Boston, the SPDC is comprised of members from Halifax County, Brunswick County, Mecklenburg County and the town of South Hill. The SDPC was originally formed in 1969.
Chandler commented that while he "hates we – South Boston — are losing representatives" on the SDPC, he believes that tightening up the SDPC's membership is the right thing to do.
But councilman Bill Snead voiced his disapproval of the reduction in South Boston's representation from four to two members.
"There's probably no question that it's a good idea to reduce the members from 28," Snead said. "But I'm baffled that they've cut us 50%. If we use that same population percentage that they did with South Hill, we should have had 3.39 members. I'm baffled that they didn't at least put us at three."
Leonard, chairman of the SDPC's bylaws committee, addressed Snead's concerns about the reduction in representation.
"We did go back and forth on this and it has been kicked around a lot," Leonard said. "I think it's for the good of the commission that we're doing this."
Following the discussion, Harrell made a motion to approve the resolution and vice mayor Bob Hughes seconded the resolution. The resolution passed in a 4-1 vote, with Snead casting the only dissenting vote and councilwoman Sharon Harris absent from the meeting.
At Monday's meeting, town council also received an update on the Halifax County Small Business Recovery Assistance Fund from Tamyra Vest, executive director of Destination Downtown South Boston.
Vest started working with the town of South Boston on the administration of the small business recovery grants in June 2020. To date, she said 60 businesses had received grants totaling $500,000. The commonwealth of Virginia is in the process of reviewing the last 15 businesses in that $500,000 pot of funding, Vest added.
The grants are designed to help sustain the operation of small businesses as they adjust to COVID-19 related demands. The maximum grant amount that an individual small business is eligible to receive is $15,000.
Vest has asked for additional grant funding – in the amount of $100,000 – as well as an extension for local small businesses to apply for grant funding. She shared that the extension until March 31, 2022 has been granted and she has received verbal approval of the additional funding.
"We have six applications ready to go when we get word that we'll get more funding," Vest noted. "We plan to continue this grant program as long as they'll keep giving us an extension and as long as we have applicants, because we want all our businesses open, thriving and viable."
Chandler thanked Vest for her "hard work and diligence" in administration of the grant program, which he commented has been "vital to the town to keep our business afloat."
Vice mayor Bob Hughes also thanked Vest.
"I think because of your efforts, you've probably saved a number of small businesses from going under because of the existing economy and COVID-19, and I think that's a distinguishing difference in a town our size," Hughes told Vest. "I sure appreciate it and I hope this community does."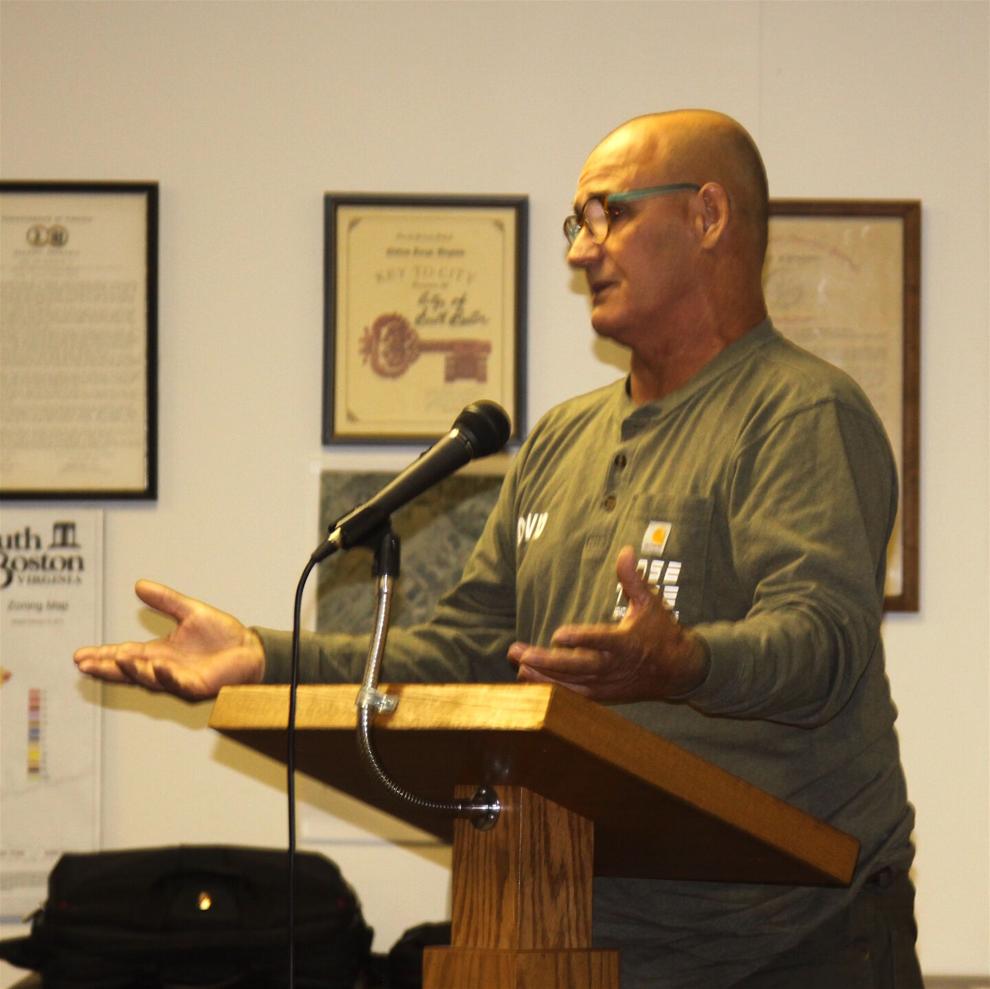 Also during the meeting, a local professional tree cutter, David Rose of Rose Tree Service, aired a complaint about not having a place in town to dispose of the refuse.
"I don't have any place to put this stuff. I can't put it on the street. Any way I go, I'm breaking the law. An $1,100 job costs $2,200 because I have to take it all the way to Chase City, and they charge us," Rose told council. "We're willing to do anything, you guys."
Raab responded that it is the responsibility of professional tree cutters to get rid of their own refuse. 
"We don't have the capacity," the town manager said. "We don't have a dump."
If a town citizen cuts down a tree and leaves it on the street, he said the town would dispose of it, with brush trucks regularly making residential rounds in town picking up debris as well as other items such as old furniture and mattresses. He elaborated that some of the brush is transported to the power plant and ground up, a process that is expensive.
Rose added he is a resident of the town of South Boston, paying "double taxes," in South Boston and in Halifax County. Assistant town manager Dennis Barker said the town does everything it can to help small businesses but reiterated that the town simply does not have the capacity to dispose of professional tree cutters' refuse, especially with the increase the town has seen in residential debris collections.
In other action at the meeting, council approved the following:
• Designation of a 2021 Constitution Week resolution declaring the week of Sept. 17-23, 2021 Constitution Week in the town of South Boston;
• An application by Cissy Martin for a sign permit at a new hair salon at 1015 Arch St.;
• Designating mayor Ed Owens as the voting delegate at the 2021 Virginia Municipal League annual conference, set for Oct. 4 in Leasburg; and 
• Charging off delinquent real estate taxes in the amount of $239.21 for the year 2000 and delinquent personal property taxes for the year 2015 in the amount of $9,090.72, and delinquent vehicle decal taxes for 2015 in the amount of $8,871.41, including penalties and interest.