The town of South Boston is looking at some big projects down the road, including a $1 million milling and repaving of North Main Street and needed expansion of the South Boston Fire Department building.
It took a first necessary step toward those goals after adopting a proposed amendment to the current $10,665,703 budget totaling $3.45 million on Monday.
Council adopted the amendment to the budget after a public hearing where no one spoke either for or against the proposed budget.
The amended budget includes in the revenue summary $2 million in loan proceeds for the South Boston IDA to complete development of Imperial Lofts LLC with 25 additional apartments.
The revenue summary also includes $1 million from VDOT State of Good Repair Funds for paving North Main Street; $300,000 in carry-over funds from prior year surplus for the addition to the South Boston Fire Department; and a $150,000 appropriation from Halifax County for the new addition at the fire department.
The amendment does not affect any tax or license fee rates and applies only to the general fund.
Councilman Bob Hughes made the motion to adopt the budget amendment on its first reading, with a second from Councilman Michael Byrd.
Council is set to adopt the amendment on its second reading at its Aug. 12 meeting.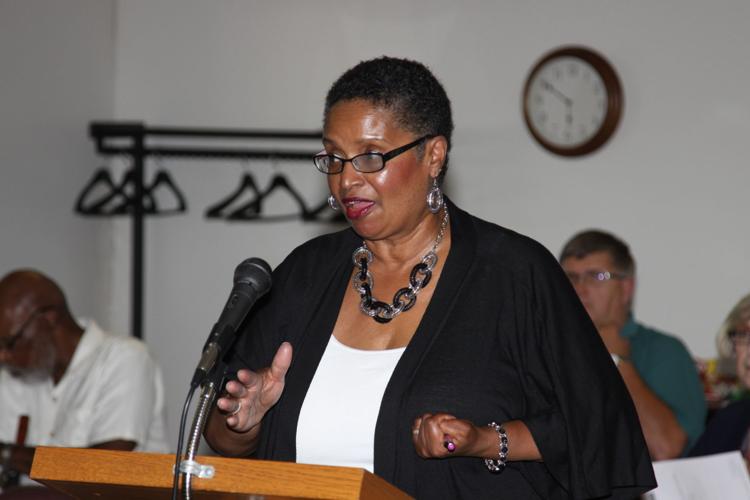 Citizen requests crosswalk
The busy intersection of Hamilton Boulevard and Wilborn Avenue (U.S. 501) in South Boston encompasses six lanes, including turn lanes, and it has concrete curb cuts for wheelchair access.
But it currently has no marked or signaled crosswalk, and Benita Griffith Wanzer asked South Boston Town Council at its Monday work session to look into the possibility of installing a signaled crosswalk.
In a letter to Jane Jones, South Boston town clerk, Wanzer said she is a disabled resident of Cavalier Apartments, located at 200 Hamilton Boulevard, and the owner of a Hoveround power wheelchair.
Wanzer told council she has watched the light change seven times before being able to cross the busy intersection, which includes four traffic lanes and two turn lanes.
Currently, there is no walk light or pedestrian cross walk markings at the intersection.
There are two housing communities on Hamilton Boulevard that house disabled and/or senior citizen residents, according to Wanzer, including Woodcrest Apartments and Cavalier Apartments.
A signaled crosswalk would "be a blessing" to disabled residents in the area, who would have improved access to destinations such as Hupps Mill Plaza, Wanzer told council.
Town manager Tom Raab told council he had researched the issue and discovered the traffic signals at the intersection were maintained by the town, not by VDOT, with the town having to shoulder the costs of a consultant to conduct a traffic study at the intersection.
Raab estimated it will cost approximately $4,000 to hire an engineer to study the Hamilton Boulevard-Wilborn Avenue intersection, and that engineer could also perform a similar study for the possible installation of a similar crosswalk at the southern part of the intersection of Old Halifax Road and Halifax Road.
Raab gave a rough estimate of between $8,000 and $10,000 to install a dedicated pedestrian crosswalk at the Wilborn Avenue-Hamilton Boulevard intersection.
The town manager, with council's go-ahead, said he would hire an engineer and get an official cost estimate for crosswalks at both intersections, in addition to the cost of building a sidewalk along Hamilton Boulevard from its intersection at Wilborn Avenue to Cavalier Apartments.
Grant updates
Raab informed council on Monday the town had been awarded $9,000 in post-disaster recovery funds to reimburse South Boston for expenses related to recovery from Hurricane Florence.
Raab added he had not yet received word on an application for post-disaster recovery funds to reimburse the town for damages related to recovery from Tropical Storm Michael.
Four other grant requests totaling almost $4 million are "in the pipeline," according to Raab, the biggest being a $2,657,891 hazardous mitigation grant application to help move businesses out of the Riverdale flood plain.
Federal Emergency Management Agency would cover 75 percent of the grant, Virginia Department of Emergency Management would cover 20 percent, and the town would be responsible for 5 percent, according to Raab.
Raab said if the grant were received, businesses in the Riverdale flood plain would have the option of moving out of the flood plain or staying.
Another grant application is being sought through the Department of Housing and Community Development (DHCD) for $700,000 to assist with infrastructure costs (water, sewer, roads) at the Poplar Creek Street project, with DHCD responsible for the entire $700,000 amount.
A grant application for $221,280 for expanding the Rails to Trails to downtown South Boston is in the works, with the town responsible for 10 percent of that cost, according to Raab, and another grant application seeking $500,000 is in the works for a boat landing along the Dan River at South Boston, to be named Green's Crossing Landing.
Department of Conservation and Recreation would be responsible for $400,000 of that grant, according to Raab.
Conflict of interest training
Jones reminded council on Monday that effective July 1 council members must bi-annually take on-line conflict of interest training.
Elected officials must take a mandatory on-line, 55-minute webinar before Dec. 31 and must re-take the training every two years.
Newly-elected officials taking office after July 1 must take conflict of interest training within two months of being elected to office.
Training records are required to be maintained as public records by the clerk of the local governing body or school, Jones told council.