The heavily traveled corridor of North Main Street in South Boston is in line for a repaving estimated to cost $1 million, and the best news of all is Virginia Department of Transportation will cover the costs.
Tom Raab, South Boston town manager, reported that news to town council Monday during its monthly work session along with details of the next two VDOT revenue sharing projects for next year estimated to cost almost $1 million.
One revenue sharing project, estimated to cost $713,000 is meant to address storm water issues along a section of Irish Street, with the town's share being $356,000, Raab explained.
A section of Greenway Drive currently dealing with stormwater runoff problems will see improvements to the tune of $246,000, with the town responsible for half that amount.
North Main Street, from the post office in downtown South Boston to Love Shop, will be repaved at a cost of $1 million, with the current pavement ground down before repaving, according to Raab, who anticipates the project will start next spring.
Raab also updated council on the recent water line breakage and repair on North Main Street, with the repair process complicated when work crews accidentally hit a Terra cotta storm water drainage pipe while repairing the water line.
Public Works Superintendent Danny McCormick estimated the town's portion of costs associated with repairing the break cost from $10,000 to $12,000.
Council approves $10,000 to help implement strategic plan
Council approved a $10,000 donation to the Halifax County Chamber of Commerce on Monday to help implement the community strategic plan recently formulated by the chamber.
Raab explained the Halifax County Chamber of Commerce has sponsored a campaign supporting a "yes" vote on an upcoming referendum for a 1-cent increase in the sales tax to be used to support capital funding needs for Halifax County Public Schools.
Part of the strategic plan involves educating the public on the sales tax referendum, said Mitzi McCormick, chamber executive director.
A bill that recently passed muster in the Virginia General Assembly offers an alternative for county residents to help fund a new high school by adding a local one-cent tax to the current 5.3 cents state sales tax.
A majority of voters would have to vote yes in a November referendum before the tax levy could go into effect.
Councilman Bob Hughes remarked that new business owners and professionals looking to move to the community are always interested in their children attending good schools.
Over the years, the current high school has served the community well, according to Hughes, but the town has an opportunity to "sort of nudge the ball in the right direction," he added.
Hughes suggested the town donate $10,000 to the effort, and councilmen Bill Snead and Michael Byrd made separate motions to contribute $12,500 and $15,000, respectively, with each motion failing due to lack of a second.
Councilman Winston Harrell moved to donate $10,000, with a second from Councilwoman Sharon Harris, with that motion passing unanimously.
Council, on a motion by Hughes with a second from Byrd, also voted unanimously to allocate $1,000 for a pair of benches at the park adjacent to Taylor Lofts in South Boston, including concrete pads for both benches.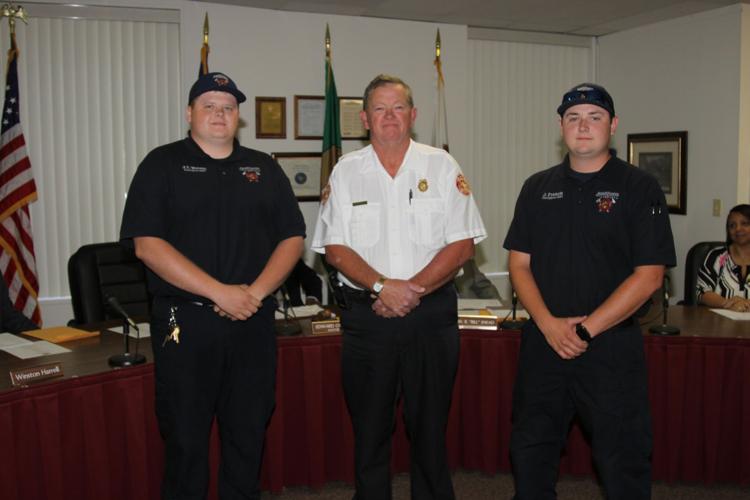 Also on Monday, Steve Phillips, South Boston fire chief, introduced two new firefighters who have joined the fire department, including fireman/EMT Judson "Jud" Francis and fireman/EMT J. T. Watson.
In the citizen comment portion of Monday's meeting, Ernelle Bellamy thanked the town for its help in helping him organize events to benefit the youth of the community.
Finance report
Finance director Mickey Wilkerson reported revenues of $9,863,994 and expenditures of $9,373,805 as of May 31, out of a budget of $10,561,379.
Revenues were slightly ahead of the target goal of 91%, while expenditures lagged behind at 89%, according to Wilkerson.
As of Monday, revenues stood at 104% of budget, and expenditures stood at 97%.
The cash operating general fund as of May 31 was in the red at $135,099, with a year-to-date balance of $3,177,891.
All but one selected general fund revenue category reflected collections above the target percentage of 91% as of May 31, with occupancy tax revenues standing at $210,758 or 110.9% of a budget of $190,000; business license tax at $595,778 or 104.5% of a budget of $570,00; current personal property at $547,339 or 103.3% of a budget of $530,000; meals tax at $1,869,357 or 101% of a budget of $1,850,000; and current real estate at $942,344 or 100.2% of a budget of $940,000.
Local sales tax revenues stood at $399,969 or 95.2% of a budget of $429,000, and categorical aid stood at $2,074,016 or 72% of a budget of $2,882,067.
Consumer utility tax collections stood at $381,357 as of May 31 or 94% of a budget of $405,000, and telecom tax collections stood at $472,778 or 84% of a budget of $560,000.
As of Monday, categorical aid collections stood at 101%; current real estate at 100.4%; current personal property at 104.2%; local sales taxes at 105.6%; occupancy taxes at 117.5%; meals taxes at 109.5%; and business license taxes at 104.6%.
As of Monday, cigarette tax collections stood at $92,061, according to Wilkerson.
As of May 31, delinquent personal property tax collections stood at $18,856 or 86% of a budget of $22,000, with $75,939 in delinquent personal property taxes remaining due; and delinquent real estate tax collections stood at $21,379 or 86% of a budget of $25,000, with $44,257 in delinquent real estate taxes remaining due.
Delinquent mobile home taxes stood at $202 or 101% of a budget of $200.
As of May 31 delinquent decals collections stood at $15,319 or 90% of a budget of $17,000, according to Wilkerson.
Current and delinquent real estate collections for May were $1,022.50 and $1.046.54, respectively.
With penalties, interest, and delinquent decals collections, the total delinquent due as of May 31 was $184,499, compared to $240,547 as of July 1, 2018.