South Boston Town Council is banking on the old axiom, "build it, and they will come," adopting a resolution at Monday's meeting supporting a Virginia Department of Transportation grant application in support of a 700-foot extension of the Tobacco Heritage Trail in South Boston.
Council, with council members Sharon Harris and Robert Hughes absent from the meeting, also granted Tom Raab, town manager, authority to execute project agreements in connection with the project.
No member of the general public spoke either in favor or against the application for grant funding in the public meeting following Raab's review of the project.
The town of South Boston is requesting VDOT transportation alternative funds to assist with construction of approximately 700 linear feet of new trail from the existing Tobacco Heritage Trail system to sidewalks along Seymour Drive.
Trail users will be able to follow the connection on Seymour Drive to Main Street, past Constitution Square across the Norfolk and Southern Railway before connecting to the existing Tobacco Heritage Trail.
Trail users currently can access the trail from the Cotton Mill Park site, and the addition of 700 linear feet would allow them to follow the connection on Seymour Drive to Main Street and readily access all amenities available in downtown, Raab explained to council.
Plans call for an ADA rail crossing and an ADA access trail ramp, and the trail also will be wheelchair friendly, making it a safer route according to the town manager.
Construction plans include a 10-foot wide asphalt path, which also meets ADA requirements, with the total project cost estimated at $221,279.78, according to documents presented at Monday's meeting.
A resolution adopted by council at the meeting in support of the extension commits the town to providing a minimum 20% matching contribution to the project and any additional funds needed for completion.
The town of South Boston will be responsible for maintenance and operating costs of any improvements to the trail or facility constructed with transportation set-aside funds, according to the resolution adopted by council.
Construction of the trail extension comes at a good time for South Boston, which is looking to attract more visitors to downtown, Raab explained.
"It will encourage more use of the trail," said Raab, adding the extension will encourage more trail use in connection with continued development of the John Randolph Hotel, among other downtown attractions.
The pre-application was submitted July 1, and the full application is due Oct. 1.
The Tobacco Heritage Trail is a system of long distance, recreational, multi-use, non-motorized trails associated with the Roanoke Rails to Trails program.
The trail, when fully developed, would be comprised of 150 miles of rail-trail connecting corridors in Halifax, Mecklenburg, Lunenburg, Brunswick and Charlotte counties.
The first section of the Tobacco Heritage Trail was officially opened in September 2005.
In other action on Monday, council granted a request from Mid-Atlantic Broadband Communities Corporation to close and vacate a publicly dedicated alley lying within property recently acquired by MBC for the new Microsoft SOVA Innovation Hub.
Council's action came after a public hearing where no one spoke either for or against the request from MBC to close the 336.52-foot alley of variable length lying from Wilborn Avenue northeast to intersect with another alley.
Council appointed town clerk Jane Jones to select a three-person board of viewers from a pool of five candidates to report back to council if any inconvenience to the public would result from closing the alley.
Raab asked the issue be resolved by the end of the month.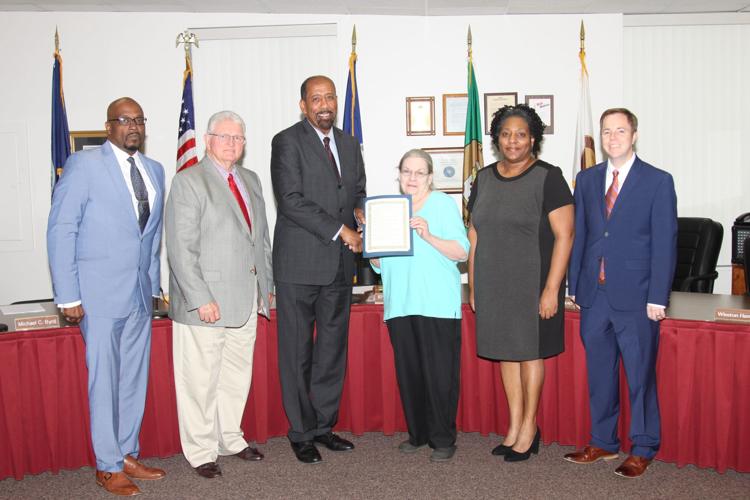 In other action on Monday, council also adopted a proclamation recognizing Sept. 17-23 as Constitution Week, and it appointed Marcus Hargrave to the Lake Country Development Corporation Board of Directors, replacing Coleman Speece.
In addition, Raab informed council an official house raising ceremony for a Habitat for Humanity House located at 313 Wickham Street in South Boston is set from 9:30 a.m. to 10 a.m. on Saturday.
The town manager also reminded council the annual conference for the Virginia Municipal League is set for Oct. 7-8 in Roanoke.