The South Boston Police Department is bidding farewell to two veteran department members while promoting three of its newer members, as the department continues to recruit new officers to fill its ranks.
At a police department retreat Thursday at Edmunds Park, South Boston Police Chief Bryan Young presented certificates of promotion to Blake Jones, who moved up to the rank of corporal on July 5, Cameron Collie, who attained the rank of investigator on May 9, and Kent Bane, who was promoted to the rank of investigator on July 5.
"Investigator Collie and investigator Bane are highly professional and well respected in the community, and they work well together as a team," Young said. "I look forward to seeing how they can revamp our investigations division."
Jones, Collie and Bane were selected for promotion by their performance in two separate competitive promotional processes, one for corporal and one for investigator, which included a written examination, interview and practical, Young explained.
"We are very fortunate our young talent is stepping up," Young said.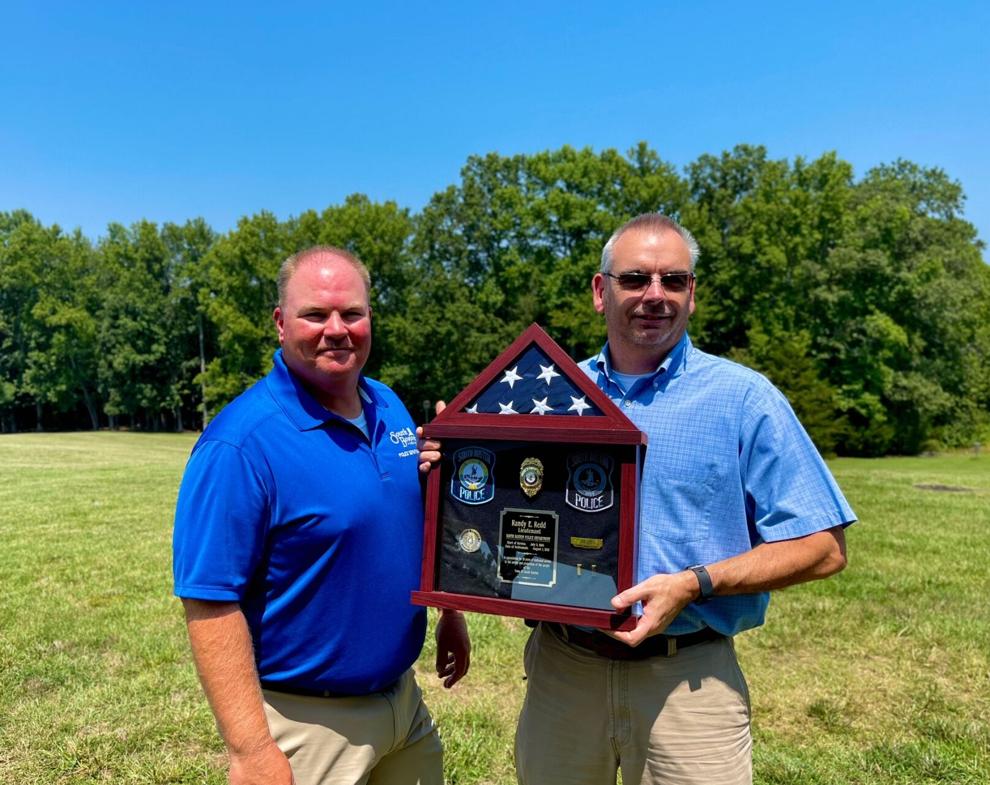 Along with recognizing department members receiving promotions at the retreat, Young also recognized a department retiree – Patrol Lt. Randy Redd.
He presented Redd, who retired on Friday, with a memorial shadow box for his 26 years of service with the police department.
Sgt. Mike McGregor also retired from the police department on Friday.
McGregor was assigned to the Halifax/South Boston Regional Narcotics and Gang Task Force.
Young said he is fortunate to have department members capable of wearing "multiple hats" and willing to take on new responsibilities to fill in the gaps left by veteran members Redd and McGregor. Redd's retirement brings the number of lieutenants heading up the department's divisions from three down to two.
For now, Young said Lt. Tiffaney Bratton, who heads up the department's investigations division, would assume the patrol responsibilities previously handled by Redd.
At the same time, Young said Lt. Freddie Edmunds, who heads up the department's administrative division, would handle the administrative duties previously handled by Redd.
The South Boston Police Department's staff has changed drastically since Young took the reins as chief in January following former police chief Jim Binner's retirement, due to retirements of several veteran members coupled with a restructuring of the department.
Young restructured the department in April with the promotion of Bratton to the rank of lieutenant and command over the department's investigations division.
"We have a different control staff than we had six months ago," Young said. "Our investigations team is totally different."
On his last day of service with the South Boston Police Department, Redd thanked his fellow department members and his family for allowing him to live out his dream of a life of service to the community.
"I've always felt called or led to a life of service and helping others. I became a volunteer fireman when I was 15 and throughout my lifetime I served at two fire departments – the South Boston Fire Department and Halifax Volunteer Fire Department. I also volunteered at the Halifax County Rescue Squad," Redd shared.
"Working for the South Boston Police Department has been very challenging, and it has been quite rewarding at times, as well. It has given me the opportunity to build bonds and relationships with people I probably otherwise would not have."
Redd joined the South Boston Police Department on July 5, 1995. He started his service as a patrol officer, and moved up the department ranks to narcotic investigator, patrol sergeant, sergeant assigned to criminal investigations and eventually to patrol lieutenant.
With the departure of veteran members, Young said the police department would continue to develop talent and build on skills of newer department members with the ultimate goal of getting those members to the competency level that they can eventually step in and fill in the gaps.
While the department is shifting responsibilities of its members, the department is struggling to recruit new officers to fill its ranks.
"We are right in the middle of actively recruiting for some new officers," Young shared.
Despite the challenges of filling the officer positions, the police chief said he is confident in the department's ability to move forward in its service to the community, noting the "deep talent" that runs through the department from its patrol officers all the way up to its command staff.