South Boston Town Council unanimously agreed to give the Southern Virginia Botanical Gardens $1,000 to help secure current fencing around the Healthy Harvest Community Garden at Edmunds Park.
This decision came after a presentation from Maria Traynham, chairperson for the Healthy Harvest Community Garden, and William McCaleb, master gardener coordinator, on a series of needs and accomplishments of the garden.
According to McCaleb, the fencing was donated and installed by Burton Construction, but was put into the ground without the use of concrete and without top rails to hold the fence securely to uphold in varying weather conditions.
The total to correctly fix the fencing around the garden is approximately $700-$800, but does not include labor fees, McCaleb said.
But, fencing was just part of the funding request.
Since the opening of the Southern Virginia Botanical Gardens, there also has been 4,400 pounds of fresh vegetables grown for the county.
"There is not a part of the county that hasn't benefited from our fresh vegetables," said McCaleb.
Now those with the garden would like to purchase a refrigerator to store food and also asked to consider funding for an extension of electrical service from the wellhouse to the green building, which would total approximately $3,355.40.
Also, each year, the garden also brings in eight to 10 interns on board to work in the horticulture field, and in 2021, the cost of the program was just under $10,000 covering the salary of $600 per intern who contributed 75 hours during the growing season.
"The internship program we provide has helped many high school students with college applications and making a decision on their future career, that they may not have had if not for us," said McCaleb.
Traynham also explained they have explored grant opportunities and were granted a $45,000 grant by the health department and Sentara Halifax Regional Hospital to fund the internships the botanical gardens have.
Following their presentation, councilman Joe Chandler told council he would be in "favor of a one-time special of $2,000."
However, councilman Bob Hughes noted that while the botanical gardens are a "beautiful asset to our community," the budget process had ended, and that he would be in favor of the town giving $1,000.
"Perhaps next year you can submit a needs request that would be incorporated into the budget since our budget process has ended," said Hughes.
McCaleb thanked council saying, "I want to thank you for considering and helping me with the South Boston garden. We will be back when the budget process reopens but again, I would like to thank you for everything."
Town council also unanimously approved the motion to enact the first recoding process for the town of South Boston in 20 years.
The ordinance, which went into effect at midnight Tuesday, says, "all ordinances of a general and permanent nature enacted on or before June 14, 2021, and not included in the code or recognized and continued in force by reference therein, are repealed."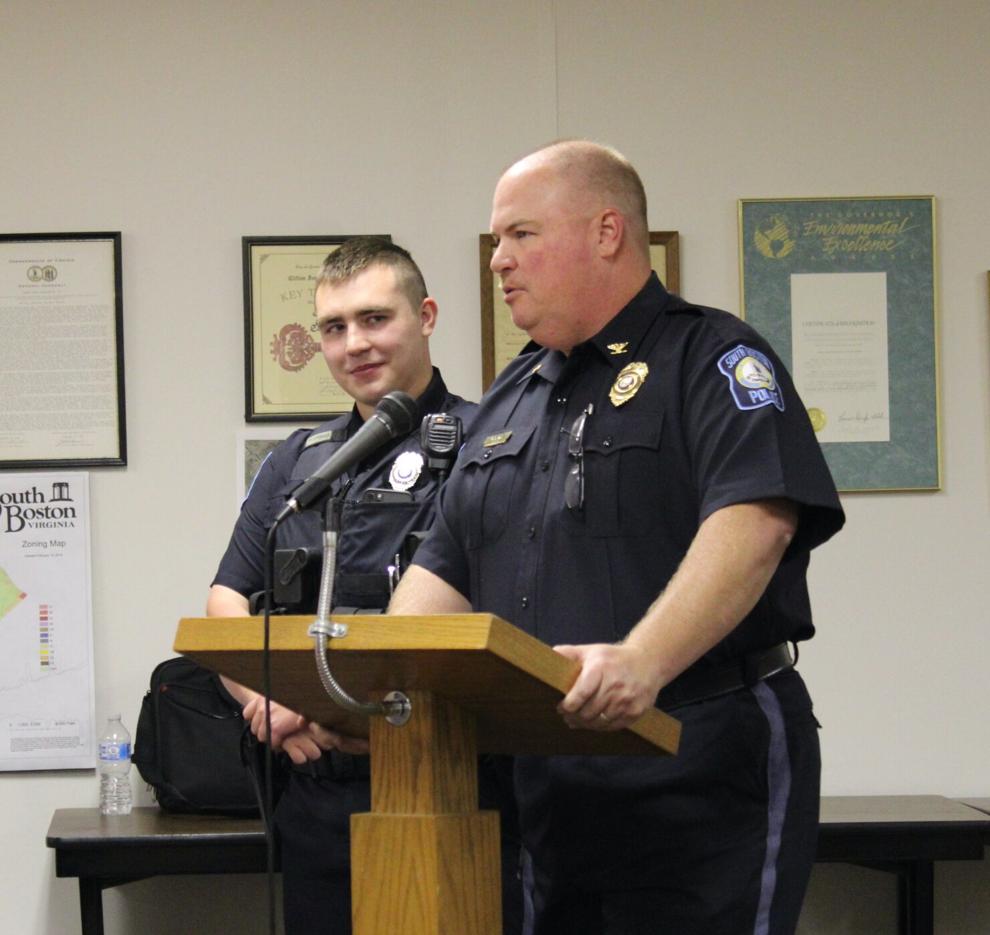 Also Tuesday evening, South Boston Police Chief Bryan Young introduced his newest police officer Jeremy Eanes.
Eanes is a resident in Cluster Springs and has ties within local law enforcement. He attended Southside Virginia Community College, where he earned his associates degree and continued his education at Longwood University, where he received his bachelor's degree in criminology.
Councilman Tommy Elliott was absent.